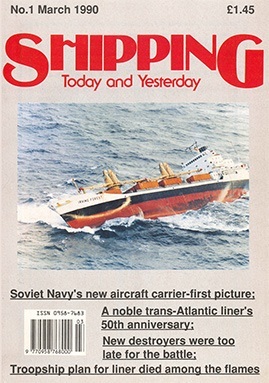 Shipping Today & Yesterday was first produced in March 1990 by, the then Editor and Publisher, John Young. The first edition stated that it would, "offer a news service covering important developments in the Shipping industry Today and will look back at ships and events of Yesterday, with regular features on merchant ships."
In September 1992 the title was bought by TANDY Media with John Young remaining in his role as Editor. The magazine continued to flourish and sustained its objective from the first issue. After editing 205 issues of Shipping Today & Yesterday John Young stood down and the April 2006 issue saw Nigel Lawrence (the current Editor) take up the gauntlet.
Shipping Today & Yesterday has changed and expanded considerably from its first issue, but it still provides the same informative news service and interesting features from the World of Merchant Shipping. This monthly magazine has a strong and loyal following throughout the UK and abroad and appeals to anyone with an interest in ships and life at sea, past or present.
TANDY Media also produces Warships International Fleet Review. Warships IFR is a monthly title that brings you all the latest news and developments in the world' s navies.
Click on this link to locate a newsagent near you that stocks Shipping Today & Yesterday.
Please note that we provide some free content on this site, to access more please register. Full access is only available to subscribers (payment required).