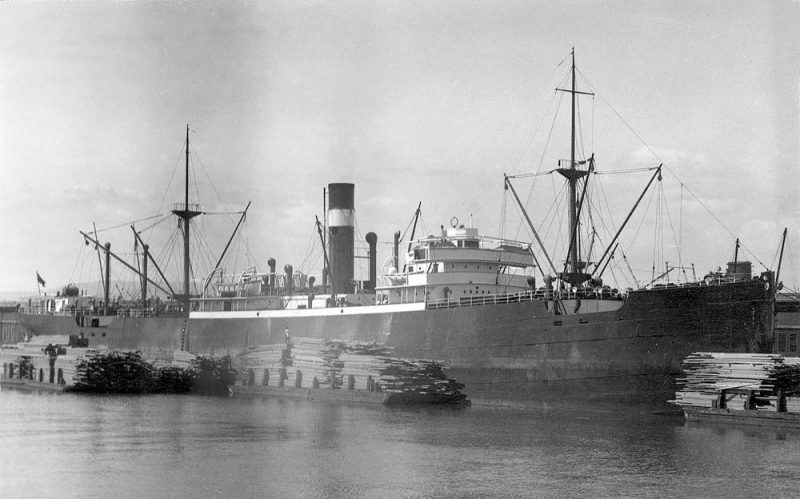 August's unknown ship brought only a few replies most of whom identified her as the Blairlogie.
Please reply to:
The Editor,
Shipping Today and Yesterday,
PO Box 1055, Alderney,
Channel Islands GY9 3BL
or by e-mail:
editor@shippingtandy.com

Peter Sommerville writes: I think this month's ship is the Blairlogie (4,425gt) owned by George Nisbet & Co., Glasgow (Clydesdale Navigation Co. Ltd.). She was built as the Portfield by Craig Taylor on the Tees in 1929 for the Portfield SS Co. of Cardiff becoming the Grovedene in 1935. A year later she was sold to Nisbet & Co. becoming the Blairlogie and was sunk west of Bishop Rock on the 11th September 1939 by U30.
John Jordan writes: This one is difficult. It seems to be a William Gray built ship from about 1929. Going on the counterstern and the cowl topped derrickposts I am suggesting it may be SS Glendenee owned by Dene Shipping Company. She was torpedoed off West African coast by a German submarine, U-125, 8th October 1942. Five were killed and 38 survived to the ships boats. After collecting stores from other boats and the submarine they set off for Freetown. They were picked up by SS Agapenor, Blue Funnel, but promptly sunk by another U-Boat, U-87, they survived the second sinking and were picked up by HMS Petunia taken to Freetown. They were later taken home by a Royal Mail steamer.
Alan Blackwood writes: This month's 'unknown' is the 4,425 grt single screw steam tramp Blairlogie. Completed during October 1929 as Portfield by Craig, Taylor & Co. at their Thornaby-on-Tees yard, near Stockton, she was the first of two sisters ordered by W.E. Hinde & Company of Cardiff and registered to the ownership of the Portfield S.S. Co., Cardiff.
With dimensions of 380'3" x 52' x 25'3", her main machinery consisted of a 373 nhp triple expansion engine, constructed by Blair & Co.(1926) Ltd., of Stockton, to produce a speed of 9 knots.
Consequent to the bankruptcy of W.E. Hind, another family member, W.S. Hinde, acquired the vessel during 1935 and renamed her Grovedene, under the registered ownership of the Grovedene Shipping Co., Cardiff. The following year she was sold to George Nisbet & Co.'s Clydesdale Navigation Company, when renamed Blairlogie and registered at Glasgow.
During the predawn hours of 11th September 1939 whilst on an unescorted voyage from Portland, Maine to the UK with a cargo of scrap iron and steel, she was attacked by gunfire from the surfaced U-30, under the command of Oberleutnant zur See, Fritz-Julius Lemp, who only 8 days before, was responsible for the sinking of WWII's first maritime casualty, the 13,465 grt Donaldson liner Athenia, with the loss of 93 passengers and 19 crew, whilst on a voyage from Glasgow via Liverpool to Montreal.
Of the 18 shells expended by U-30's deck gun, 3 direct hits upon Blairlogie caused her to stop, when her crew of 30 abandoned ship, taking to her two lifeboats. At 0530 hours the vessel was sunk by a single torpedo in position 54.58N/ 15.08W, some 200 miles W x S of County Donegal's Bloody Foreland. German reports of the attack indicate that Blairlogie's crew was presented with two bottles of gin and cigarettes before U-30 departed the scene. Another report indicates that the submarine also fired off a series of red stars until dawn, to alert any other vessels in the area, to the plight of Blairlogie's crew. They were later picked up by the neutral (US) flagged 1921 Hog Island built 7,556 grt refrigerated cargo/passenger ship American Shipper of the United States Lines of New York and ultimately landed there.
Peter Harris writes: The August ship appears to be of a WW1 A Class design adopted by so many shipping fleets, so hard to decide who she is. Looked at Sheaf Holm of Souters but think she is one of a series s built for Newcastle S.S. Co. Ltd. and managed by J&C Forster, all being acquired by J&C Harrisons in 1924. 4,200g built 1917 by William Pickersgill. I think she is the Shannonnede, Harpalyce, Leonides Z Canboin. Sunk by U74 3.4.1941.
Mike Goadby writes: This month's unknown ship is the 4,425grt steamship Blairlogie, built in 1929 as Portfield, ON 148310, by Graig Taylor & Co. Ltd., Stockton-on-Tees, yard no 225, for the Portfield SS Co. Ltd., Cardiff. She was sold in 1935 to Grovedene Shipping Co. Ltd., Cardiff, and renamed Grovedene. In 1936 she was purchased by George Nisbet & Co. Ltd., Clydesdale Nav. Co. Ltd., Glasgow. On the 11th March 1939 Blairlogie was shelled, torpedoed and sunk in position 54º58'N – 15º14'W by U30. She was on a voyage from Portland Maine to the UK with scrap iron.
David J. Smith writes: I think the August Unknown Ship is Blairlogie of Clydesdale Navigation Co. Ltd. and owned by George Nisbet & Co. of Glasgow, year of build 1929. She was abandoned and sank west of Bishop Rock after being torpedoed and damaged by gunfire in September 1939.