The aftermath of Napoleon's wars left a fractured society in central Europe, with principalities, and mini states left in an unstable limbo.
From mid-century in the Germanic region industrialisation rapidly grew including chemicals, coal, iron and where Bessemer invented the process of producing steel in 1856. All this was supported by a vast growing railway network, mirroring that of Great Britain.
In 1862 the autocratic Otto von Bismark became the leading minister in a fragmented Germanic state, wanting to bring together the North German Federation (of 1867) and Prussia, the dominant force in the region. Bismark played a cautious and conservative role attempting to unify the frequently quarrelling regions. During the 1860s Prussia had gone to war with the Danes, Austrians and the French.
Mass emigration started to take hold of a dispossessed and desperate population attempting to escape their hardships, almost five million souls left, mainly to seek peace and employment in the United States.
A few companies from Bremen and Hamburg ran on the Trans-Atlantic route, but could not cope with the sheer human volume, as it was taking ten weeks for each round voyage by sail.
While other companies ran feeder services to ports in the UK, mainly Hull, where huge numbers of fleeing emigrants then travelled onto Liverpool, where they embarked onto liners bound for the New World.
The Netherlands were the dominant global trading nation for the landmass for mainland northern Europe. The 'Free' cities of Bremen, Hamburg etc. were also the centres of marine international trade, and also traded with the Guilds of the Hanseatic League which thrived along the North Sea coast.
Global trade was in the hands of companies such as F. Laeisz, Sloman etc., who traded with barques exporting coke outward, returning with grain, wool, cotton, nitrates etc. While sailing ships from Hamburg were a common sight on the Yangtze as Prussia had traded in Chinese waters after the Opium wars. In time a legations and trading concessions were set up in the various Treaty Ports along with Britain, other European nations and the U.S.A.
By 1871 William I of Prussia, was proclaimed Emperor of a united Germany, which included twenty six regions consisting of kingdoms, grand duchies, duchies and principalities.
Hamburg merchants formed companies in 1872 to trade to South America, and in time became the second largest trading nation to the continent after the United Kingdom.
Of these, one had been originally started in 1869 when a local agent, along with Tyneside ship owners Watts, Milburn Co. and shipbuilder Charles Mitchell, who initially chartered three Watts, Milburn ships to their Hamburg Brazilian S.S. Co. who then sold them to Hamburg South America Line in 1872. Their homeward bound voyages brought coffee, cocoa, sugar cane and tobacco to continental ports.
The new owners returned to the same shipyard for further twelve additions to their fleet. One of these the Paranagua, 1,653grt/ 1878 was sold to the German Levant Line in 1892, but lost in August of the following year after a collision in the Sea of Mamara, colliding with Papayanni's Roumelia.
In 1884 at a conference in Berlin the northern European nations decided amongst themselves to partition of under developed countries of Africa, leading to colonisation of the continent. Not surprisingly political and economic rivalries continued for many years. To accomplish this, new shipping lines emerged to exploit this neglected continent.
Bismark wanting to counter balance the British Empire influence abroad and in 1885 got the Reichstag to pass a steamship subsidy bill, allowing companies to build a modern fleet of steamships to expand their trade. It cannot be under estimated that there was also a hidden geo-political agenda to spread Germany's influence further afield.
In 1888 William II (later known as the Kaiser) became Emperor, and two years later got rid of Bismark. The new regime was more militaristic in their attitudes seeing that the British Empire had expanded to cover a fifth of the world's landmass and one quarter of its population. In an attempt to offset its influence, Germany concentrated more of its manufacturing into building up a formidable war machine to supply Europe's strongest Army as the gradual drumbeat towards war increased. Consequently their own shipyards were so busy building up the Kaiserliche Marine (Imperial Navy) under Admiral Tirpitz's directions, which left commercial ship owners with no other choice but to build ships abroad.
Although there were only a handful of shipyards in Germany compared with over sixty in Great Britain capable of building deep sea ships. As an example, up to World War 1 Hamburg America Line built 350 ships, over half of these were built at shipyards on the Mersey, Belfast, Clyde and the North East Coast.
In 1881 the Hansa Line which had been created in Bremen, who traded initially in European waters, and expanded their business in 1889 to meet the demand for cotton, jute and rice forged a link to trade to the U.S.A. India and further East. To meet the demand they too turned to Tyneside shipbuilders John Wigham Richardson at Walker for a continual supply of ships.
From the mid-1880s North German Lloyd and Deutsche-Australia started to trade with the Dutch East Indies and Australia, for rubber and wool. Later in 1899 Hamburg America along with North German Lloyd had bought all eleven ships operated by Alfred Holt which were running on the Singapore to Thailand (Siam) and British Borneo to gain access to the rubber trade.
At the same time over eighty cargo ships were built on the Tyne alone, with more coming from yards on the Wear and Tees. The orders for the shipyards were welcome, as a threat of empty building berths loomed, because the world economy was about to go into another of its cyclical depressions in the 1890s.
The majority of the ships went about their business uneventfully, however the careers of some of the more interesting Tyne built ships are listed below:-

Stolzenfels was the the first ship built for Deutsche D.G. Hansa, of 2.328grt completed in December 1881 by Charles Mitchell & Co. at Walker. On 10th May 1884 when at anchor in the Saigon River, she was run down and sunk by the Canton of 1,773grt, owned by J.C. Jacques of London. She too had been built on the Tyne by J. Wigham Richardson & Co. at Walker in 1880.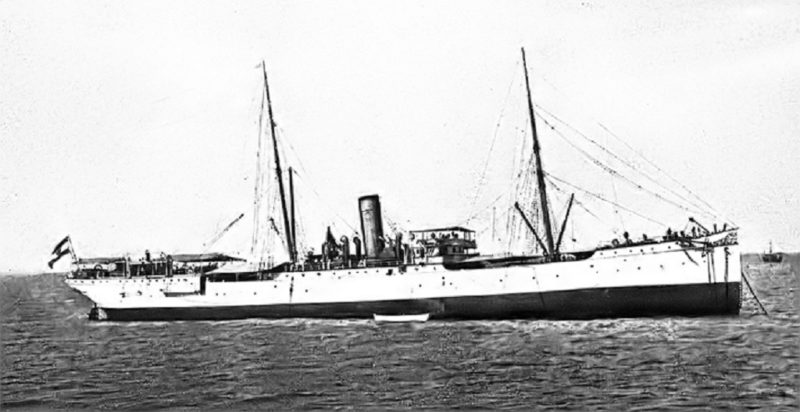 The same yard built Tijuca (above) of 2,179grt the eighth in a series they built for Hamburg South America Line in 1886. She was sold to Hamburg America line in 1896 taking the name Valdivia, two years later she undertook a lengthy exploration of the South Atlantic and Pacific, on behalf of the German Government. It can only be assumed that she was reconnoitring the area for use by the country's warships and raiders in the forthcoming war. In 1900 she was used as a troop transport to China, to support the eight nation alliance during the Boxer Revolution. In total 20,000 armed troops were transported there, to protect the interests of the 'foreign devils'. Later in 1907 she had a boiler room explosion when 100 miles off Cape Hatteras and had to be towed into New York for repairs. By 1909 she had been sold again this time to the Soc. General Transport Maritime of Marseilles, renamed Flandre and returned to her original service, transporting emigrants to South America until broken up in1927.
Up to the outbreak of World War I, Hansa had 28 ships built at the Neptune shipyard of J. Wigham Richardson. Their trade was in two directions, one to the Indian sub- continent and the other to the gulf ports of the USA, in the main bringing cotton back to Germany.
Their first contract was for the Ehrenfels in 1872, which had been ordered by Stumore & Weston, but bought whilst building. By 1901 she had been sold to Matson Navigation Co. and renamed Enterprise. The ship was laid up at Antioch, California in 1926 and finally broken up in Osaka in 1937.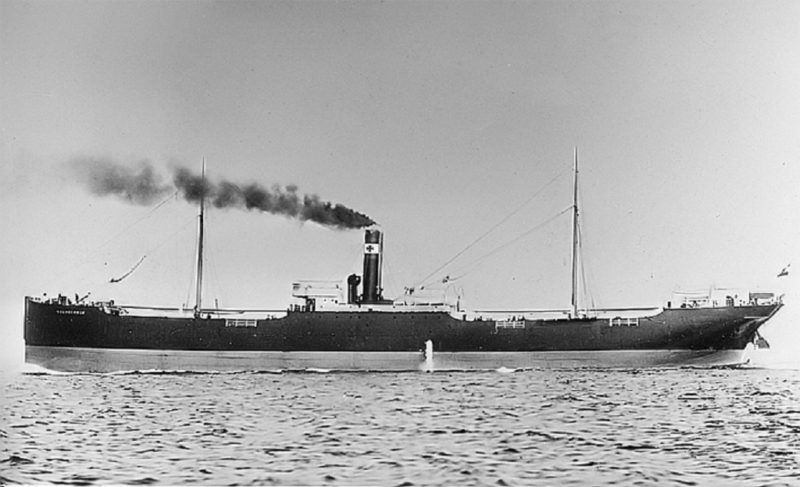 Above is the Walker built Goldenfels (3,632grt/1895) was captured in the Mediterranean in August 1914 by H.M.S. Chatham, and awarded by a War Prize Court to James Knott Co., who renamed her Polar Prince. She was to become another victim of war when torpedoed and sunk off Cape Spartel in September 1917.
Tannenfels was completed in 1898, but a year later when 620 miles from Colombo, near the Maldives broke her shaft in the stern tube. Drifting helplessly she was seen by the China Mutual steamer Kintuck which took her in tow to Colombo. The master and owners were awarded £6,500 for the salvage. In October 1914 she was captured by the Royal Navy off the Philippines, and transferred to The Shipping Controller as the Hunslet. One of her wartime voyages was to transport horses across the Atlantic from the USA to the UK. For the rest of the war she was transporting troops across the English Channel. In 1921 she was sold to Woermann taking the name Waganda for the East African services until broken up in 1933.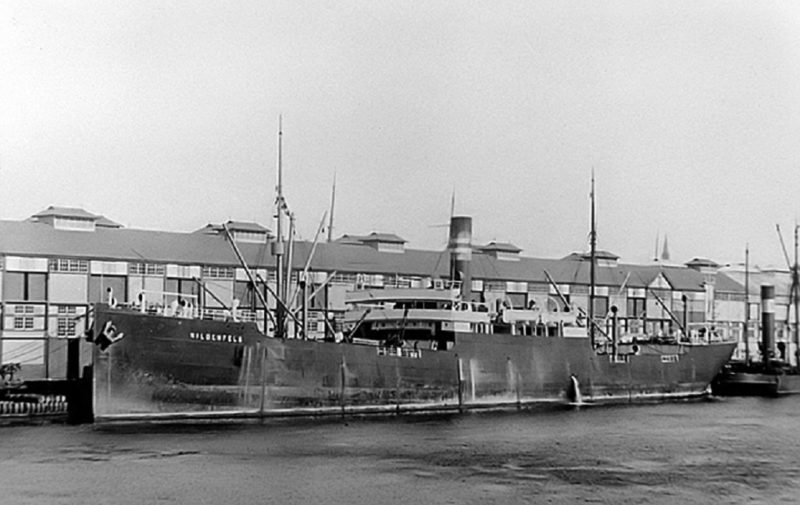 Wildenfels (above) of 5,732grt, was ordered in March 1900 and delivered a year later, like my of her fleet sisters she was seized on the outbreak of war. Wildenfels had been berthed in Melbourne, and taken over by the Australian Government, running for them until 1923. She was sold to Italian owners as the Manon and was captured by the Royal Navy in February 1941 when near Kismayu. The ship was then transferred to the Ministry of War Transport, with British India S.N. Co. as managers. Her forty two year career ended when torpedoed and sunk in October 1942 while north of Madras. During the war quite a few ships were interned at various ports around the world, and taken over by The Controller of Shipping and re-allocated to British companies to compensate for ongoing war losses.
A sister ship the Neuenfels of 5,650grt with a speed of 12.5 knots was launched on 19th April 1901. During the war she was discharging her cargo in a Spanish port, when she was detained and eventually interned by the Spanish authorities. A prize court awarded her to Spain after the war as partial reparation for losses suffered by the Spanish.
In 1921 when named Espana No.6 she was taken in hand by the dockyard in Barcelona for conversion into a seaplane/balloon ship for the Spanish Navy, emerging in May 1922 as the Dedalo. The ship was capable of operating 25 seaplanes and two 130 foot airships which were moored to the foremast. The ship had a complement of 400. Her main deployment was in 1925 when she was used during the invasion of Morocco, but her cramped and limited aircraft handling facilities soon made the ship obsolete. In 1939 she was towed to Valencia but sank at the berth and had to be blown up to clear the harbour.
Another Hansa ship with a varied career was the 4,749grt 1903 built Rabenfels. She was seized at Port Said in August 1914 when on passage from Rotterdam to Bombay. It was requisitioned by the Royal Navy and commissioned in June 1915 as H.M.S. Raven II, for use as a seaplane tender, carrying two French float planes and six seaplanes, serving in the Red Sea and Indian Ocean. When lying at Port Said in September 1916 she was damaged by bombs from German aircraft. De-commissioned in 1917 taking the name Ravenrock she was used as a store carrier, collier and troopship. After the war and a brief British ownership, she was sold to the Japanese. Sometime during World War II she had the name Kane Maru, and was sunk again by an air attack when lying in the Saigon River in April 1944. The stern section was re-floated in June 1956 and was under tow to breakers in Hong Kong but was lost in heavy weather.
Sir Charles Palmer's shipyard at Jarrow was also party to the bonanza of orders building a dozen ships for Hamburg America. Of these the Belgia (7,477grt/1900) was sold to the Russian Navy in 1904 and converted into an auxiliary cruiser with the name Irtysh which was damaged in the battle of Tsushima on 27th May 1905 and was scuttled by her crew.
Another ship in this batch of orders was the Adria (5,472grt/1896) which was soon sold to the Russian Volunteer Fleet and renamed Kazan, but was wrecked South West of Ceylon in 1906 when on passage from Odessa to Vladivostok.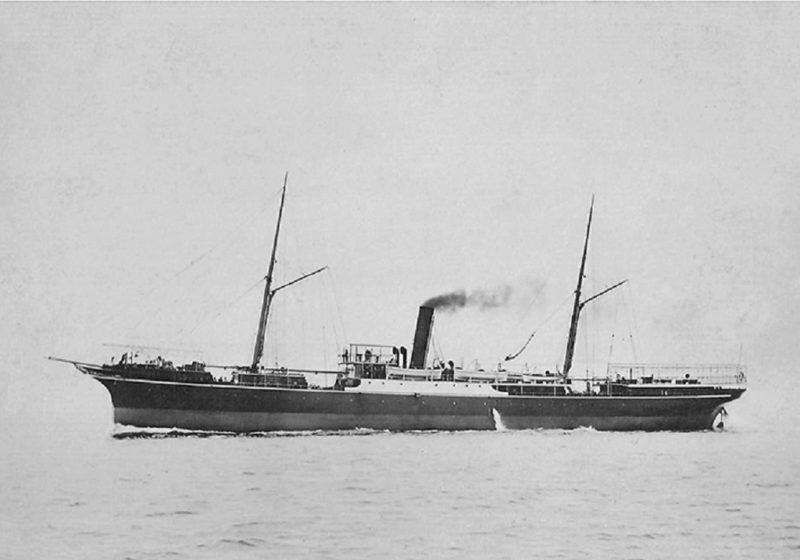 One of the myriad of small operators in the Chinese waters was the Chinese Coastal Association of Hamburg, working around and up the Yangtze. Wigham Richardson built two steamers for their trades the Lyeemoon 1,925grt/1890 and Loongmoon (above) 1,971grt/1895 which each carried around 22 first, 7 second class and 152 Chinese deck passengers, on the Canton-Hong Kong-Shanghai service. In 1901 Hamburg America bought both ships and continued on the routes. During World War I, Loongmoon was part of the fleet train network for Vice Admiral Graf Spee's cruiser squadron, which operated in the Pacific. Both ships were only two of many German flagged ships that were seized and interned in 1917 by the United States Government after it had declared war on Germany. The U.S. Shipping Board at Manila and Honolulu subsequently took control of these two ships.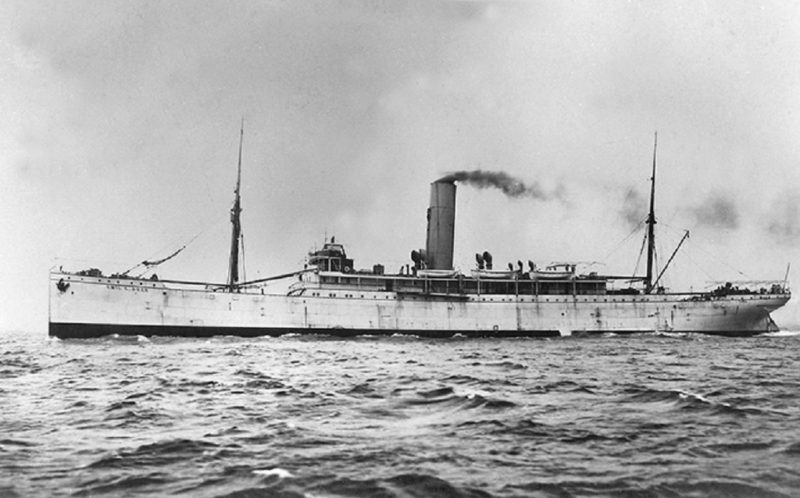 In 1911 Hamburg America ordered two large twin screw passenger carrying fruit ships from Swan Hunter's Wallsend yard. Each ship was of 6,011grt and with 72 first class passengers with a speed of over 15 knots, the first launched was the Colombia, but renamed shortly afterwards to Karl Schurz (above) as the owners transferred them to their associate Atlas Line. The second ship was launched as the Emile L. Boas. The owners' American partners in the U.S. fruit trade persuaded Atlas to sell their ships to Elders & Fyffes in March 1914! The ships took the names Changuinola and Motagua, but later in the year as war broke out both were commissioned into the 10th Cruiser Squadron, each armed with six 6-inch guns. Their role was to blockade the North Sea and patrolling from the Norwegian coast and deep into the Atlantic's western approaches. By 1920 they had been returned to their owners who then ran them on their normal fruit run into Avonmouth, until they were broken up in 1933.