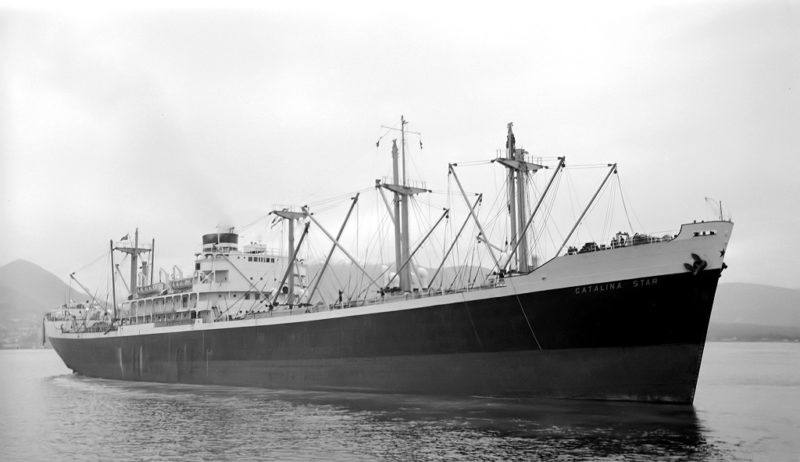 It was Wednesday the 16th August 1961, and my leave was coming to an end, so I started to pack and get ready to go back to sea.
One bright morning, I made my way into town on the local bus and then onwards to the train station, where I caught the train to Woolwich, and then the ferry across the Thames, and on to the docks.
I had reported to the Federation Offices in the Royal Group of Docks, where they gave me the ship Catalina Star of the Blue Star Line with the job of Cook's Assistant. This job was much the same as a galley boy.

The ship was berthed in the Surrey Docks. so I made my way out of the docks where I caught the local bus to the docks. My cabin was situated on the main deck and was a four berth cabin, which consisted of two sets of bunks with storage underneath, four lockers and a settee, however only two of us occupied this cabin. This cabin seemed to be very cramped after some of the cabins on previous ships.
My job function was the preparation of vegetables, general washing up and cleaning in the galley and learning to cook.
I signed on, on Thursday 24th August and my wages for this voyage was to be £36-10-0 a month. We were due to sail to Avonmouth later that day.
Subscribe today to read the full article!
Simply click below to subscribe and not only read the full article instantly, but gain unparalleled access to the specialist magazine for shipping enthusiasts.