A Great American Tanker Fleet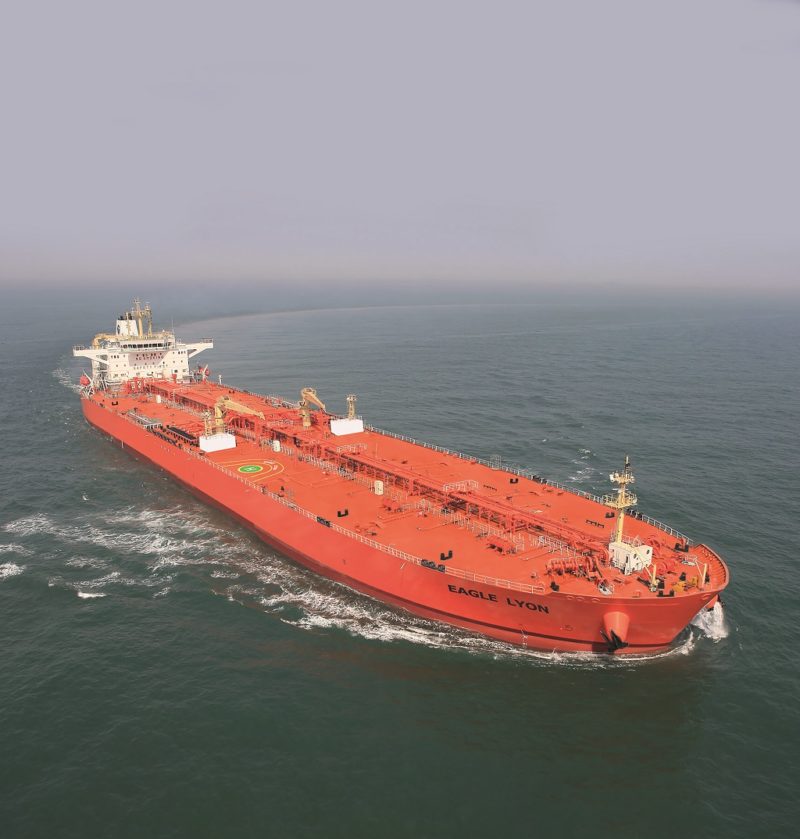 The American Bald Eagle in fact is not bald but has beautiful white head feathers, and became the national symbol of the U.S.A. on 20th June 1782 after the founding fathers wished to choose such a national emblem, and it was not an easy task. The majestic American Eagle holds the meaning of respect, honour, decency and dignity to all of the over two hundred million citizens of the U.S.A.
United Maritime Corporation of 250 Park Avenue in New York was founded on 7th November 1949 to operate American flag tankers in the coastal cabotage trades around the coasts of the U.S.A.
Three million dollars in bonds was borrowed from U.S. Banks to build four T5-S-12b types with bridge 'midships, engines aft tankers, two of 26,575 dwt and two of 31,850 dwt. Eagle Tankers Inc., Eagle Carriers Inc., Eagle Terminal Tankers Inc. and the Sea Transport Corporation were formed to own these four tankers before delivery from the Ingalls Shipbuilding Corporation of Pascagoula (Mississippi) in 1958 and 1959 as yard numbers 1030 through 1033. Eagle Courier as yard number 1030 was launched first on 20th June 1958 and delivered on 10th October 1958.
The tankers Eagle Courier and Eagle Transporter, and Eagle Traveler and Eagle Voyager of 32,036 dwt made typical voyages to Jacksonville and Port Everglades in Florida from Philadelphia in Pennsylvania and Corpus Christi in Texas with oil products.
They frequently were seen moving upstream and downstream in the South West Pass of the Mississippi river.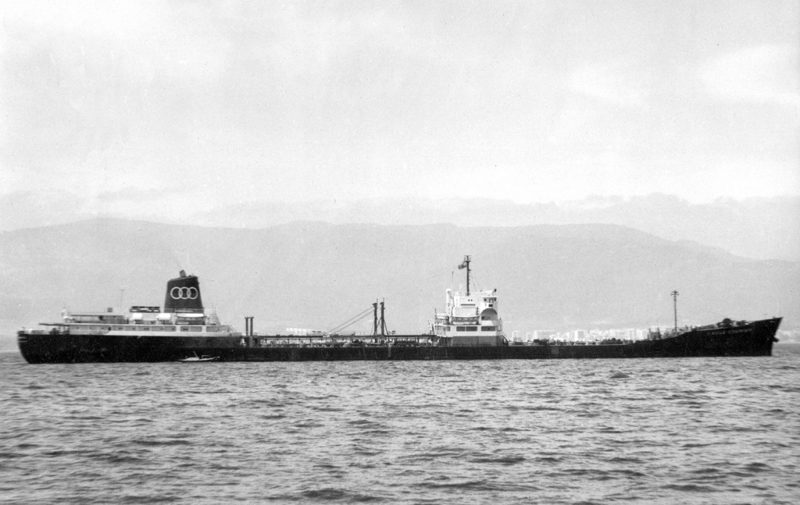 They were joined in 1969 by two larger tankers, Eagle Charger and Eagle Leader of 38,414 dwt, from the Bethlehem Steel shipyard at Sparrows Point on Chesapeake Bay. The telegraph address of this fleet of six tankers was 'Eaglefleet' of New York, which operated until the early 1980s, and United Maritime Corporation was dissolved on 26th September 1983.
Eagle Courier was sold in 1976 to the Keystone Shipping Company and was fitted with a new forebody and fo'c'stle during 1980 and 1981, with the navigating bridge moved to a position above the aft accommodation to make her an 'all aft' tanker. She was renamed Fredericksburg and continued in service on American coastal cabotage voyages, running aground on 10th June 1999 after a steering gear failure at mile marker 43 on the Columbia River.
She was fortunately aground on soft sand banks and was refloated with no damage. She damaged her hull plates in 2002 after hitting the quay in Houston, and was frequently inspected by the U.S. Coastguard and deficiencies in boiler maintenance and oil leakages were noted as by this time she was the oldest tanker still trading in the U.S. fleet. She arrived for breaking up at Chittagong on 16th April 2004 after loading a cargo of grain in Houston which was discharged in India.
Eagle Traveler was sold in 1978 to Kurz Tankers Inc. of Philadelphia and later to Keystone Shipping Inc., and renamed Chilbar and was rebuilt in 1981 at Hampton Roads in the same manner as her sister Fredericksburg. She remained in service until she carried a last cargo of grain for Port Qasim in Pakistan in January 2005, and then joined her sister Fredericksburg for breaking up on the beach at Chittagong a month later. The two sister tankers had long careers of 47 years. Eagle Transporter was sold in 1977 and renamed Kansas and then Coastal Kansas in 1978 by the Coskan Shipping Corporation of Houston and traded until broken up in 1983. Eagle Voyager was also sold to Kurz Tankers Inc. of Philadelphia in 1977 and renamed Meton and traded for another ten years until broken up in 1987.
Eagle Leader and Eagle Charger were sold to Ogden Tankers Inc. in 1979 and renamed Ogden Leader and Ogden Charger, changing the prefix to 'OMI' in 1985. OMI Charger on 9th October 1993, whilst anchored at Boliver near Galveston, work began on sealing a previously discovered leak on a cargo tank when a crew member lit an arc welder inside a tank igniting gasoline vapours and causing a huge explosion that killed 3 crew members and injured 7 more.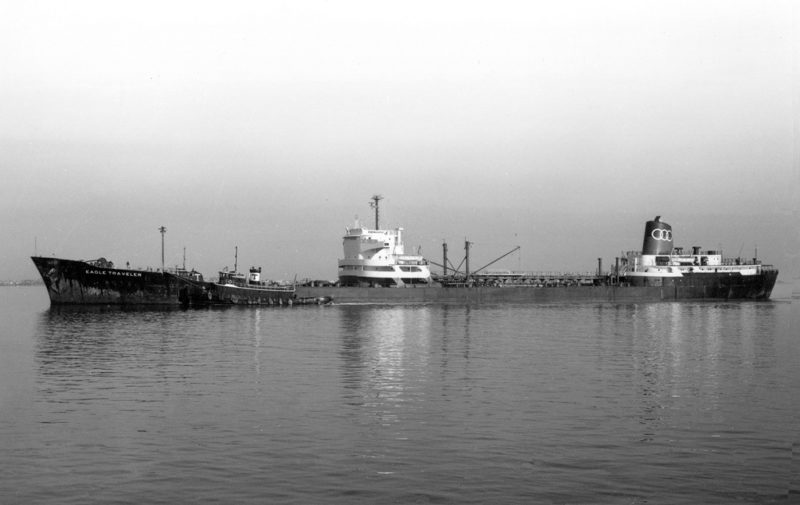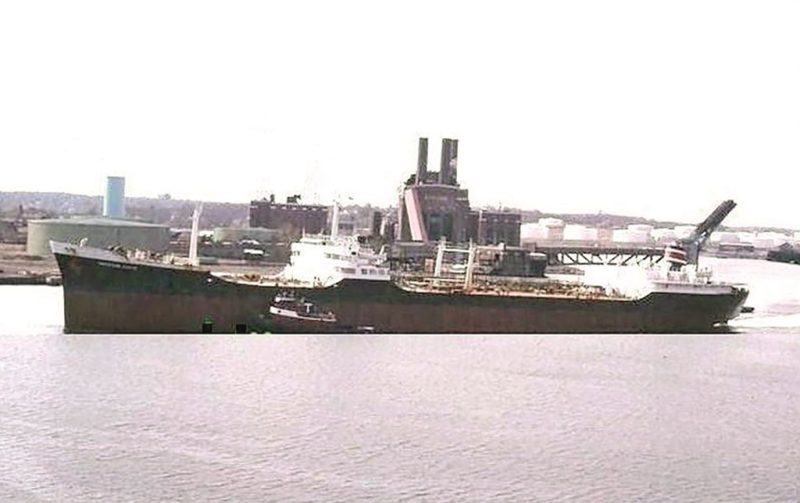 The subsequent fire burned for five hours and the tanker was a total loss. The court of enquiry found that the tank had not been cleaned properly and was insufficiently tested prior to the accident. Eagle Leader was renamed Leader in 1994 for the Sabine Transportation Inc. of Cedar Rapids and was still trading after the Millennium.
A turbine powered tanker named American Eagle of 33,169dwt was completed in 1959 by the Bethlehem Steel yard at Sparrows Point for American Eagle Tankers Inc. of 80, Broad Street in New York. She traded in the U.S. cabotage trades for 25 years until she exploded while sailing in ballast on 26th February 1984 with the loss of four crew. She sank during the following day and the subsequent enquiry concluded that the most probable cause of the explosion was the use of a steam powered air ventilator fitted with a long plastic sleeve in a non-gas free tank.
A new company, American Eagle Tankers (Texas) Inc., was formed on 13th October 1994 in Houston to serve the U.S. Gulf lightering market with a fleet of just four tankers and two lightering support vessels (LSV). Eagle Centaurus, Eagle Corona, Eagle Leo (ex Nagasaki Spirit of Teekay Tankers) and Eagle Lyra, in the range of 80,000 to 90,000 dwt, operated from the LOOP (Louisiana Offshore Oil Port) to Texas City, Lake Charles, and New Orleans. The company grew to become a major force in that rapidly developing market, and the fleet was expanded in 1997 to include the Eastern Seaboard ports of New York and Philadelphia to be served from the Point Tupper refinery in Nova Scotia in Canada. Seven more tankers of 100,000 dwt joined the company shortly afterwards in Eagle Auriga, Eagle Baltimore, Eagle Beaumont, Eagle Birmingham, Eagle Boston, Eagle Memphis and Eagle Milwaukee to give a fleet of seventeen Aframax tankers. American Eagle Tankers (New Jersey) Inc. was formed on 1st February 2001 for the East Coast oil trades and lightering.
In July 2003, the owners Neptune Orient Lines of Singapore sold the fleet of 25 'Eagle' tankers to MISC Berhad of Malaysia, formerly the Malaysian International Shipping Corporation (MISC) for an undisclosed amount. MISC Berhad could then operate the fleet not only in the U.S. oil trades, but also those covering the Atlantic Basin, the Persian Gulf and the Far East.
The American Eagle Tankers fleet had been on the following voyages at the close of Millennium year of 2000:-
Eagle Albany  – Houston (TX) to Coatzacolcos (Mexico)
Eagle Anaheim – Houston (TX) to LOOP Offshore Oil Port
Eagle Aries –  Chiba (Japan) to Rayong (Thailand)
Eagle Atlanta – Texas City to LOOP Offshore Oil Port
Eagle Augusta – Beaumont to LOOP Offshore Oil Port
Eagle Auriga – Houston (TX) to LOOP Offshore Oil Port
Eagle Austin – Fos (Marseille) to Skikda (Algeria)
Eagle Baltimore – New York to Point Tupper (NS)
Eagle Beaumont – Yorktown to Point Tupper (NS)
Eagle Birmingham – Philadelphia to Point Tupper (NS)
Eagle Boston – New York to Covenas (Colombia)
Eagle Carina – Maracaibo (Venezuela) to Brindisi (Italy)
Eagle Centaurus – Rotterdam to Hound Point (Firth of Forth)
Eagle Charlotte – Scapa Flow to Cadiz
Eagle Columbus  – Milford Haven to Liverpool
Eagle Corona – Lisbon to Setubal (Portugal)
Eagle Lyra – Cayo Arcas Terminal (Mexico) to Houston
Eagle Memphis – LOOP Offshore Oil Port to New Orleans
Eagle Milwaukee – Dos Bocas Tabasco refinery to Texas City
Eagle Otome – Mobile to Puerto la Cruz (Venezuela)
Eagle Sagitta – Fujairah Anchorage to Durban
Eagle Subaru – Texas City to LOOP Offshore Oil Port
Eagle Vela – Singapore to Guam Island
In the next few months of 2001, American Eagle Tankers (AET) tankers continued to load North Sea crude oil at British ports, with Eagle Austin loading several cargoes at the Phillips refinery at Teesport. The first VLCC crude oil tankers, Eagle Virginia and Eagle Vermont, joined the fleet at this time, with the tenth VLCC added around 2007/08 to encompass operations in the U.S. Gulf, U.S. Eastern Seaboard, Europe and Asia.

A long term contract was won at this time to deliver offshore shuttle tanker operations for Petrobras in the Brazilian Offshore Basin.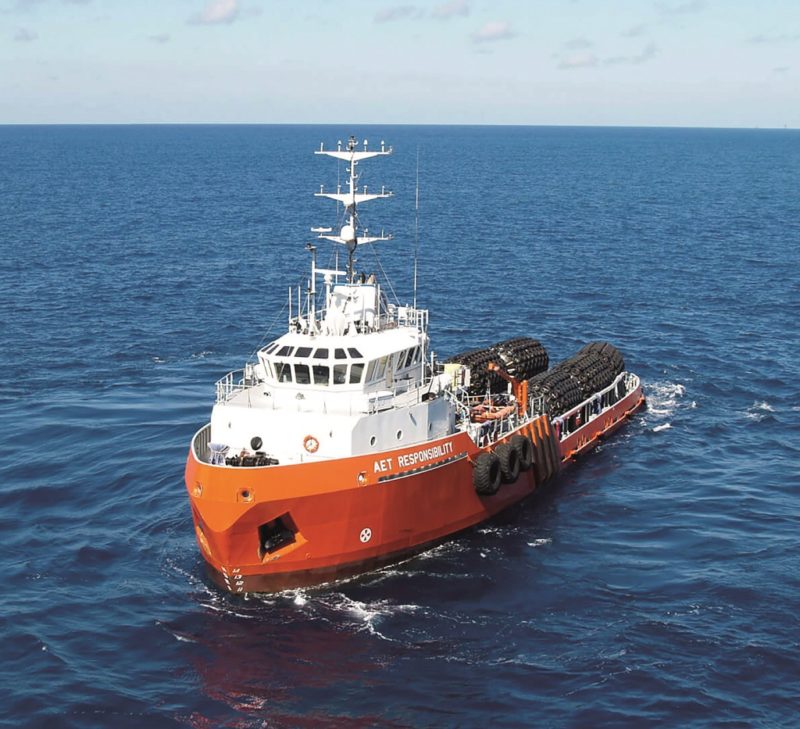 AET Tankers (Suezmax) Pte Ltd. was formed in Singapore in 2011, and expansion from 2011 was made into the Norwegian owned oil sector in the North Sea, as well as in the Barents Sea. Two Aframax tankers were delivered that combined normal tanker voyages with a capability in the U.S. Gulf to operate as a Modular Capture Vessel (MCV). The MCV forms part of the lightering system to respond to a subsea well control incident or oil spill. The first LNG ship-to-ship transfers were made in 2018 in Malaysian waters, with further LNG transfers in Subic Bay in the Philippines.
Specialised dynamically positioned shuttle tankers in the AET fleet have increased from four in 2016 to 14 in 2022 with 3 more on order for delivery in 2023.
Today, American Eagle Tankers leads the oil industry in having provided over 14,000 Ship-to-Ship oil transfers in the U.S. Gulf lightering trade to date. Crude oil is transferred from the LOOP (Louisiana Offshore Oil Port) into smaller tankers that are able because of draft restrictions to enter the ports all along the U.S. coast e.g. Houston (TX), Morgan City (LA), New Orleans (LA), and Gulfport (Miss).
The extensive lightering operations of AET are based at AET Offshore Service HQ in Galveston, with a satellite dock at Port Fourchon (LA), while two LSVs (Didi K and NS Loreto) are based at Santos, and ELS Maite is based at Montevideo. Specialist lightering support vessels (LSV) that have been used by AET since 1994 in the U.S. Gulf and elsewhere have included AET Liberty (1979), AET Nueces (1976), AET Innovator (2012), AET Excellence (2012), AET Partnership (2012), AET Responsibility (2012), Annabelle Miller (2009), Olivia, Didi K, ELS Maite, and NS Loreto. The lightering service has the first seven LSVs in this list based at Galveston, with the quartet built in 2012 at Jennings (LA) by Leevac Industries are of 861 grt.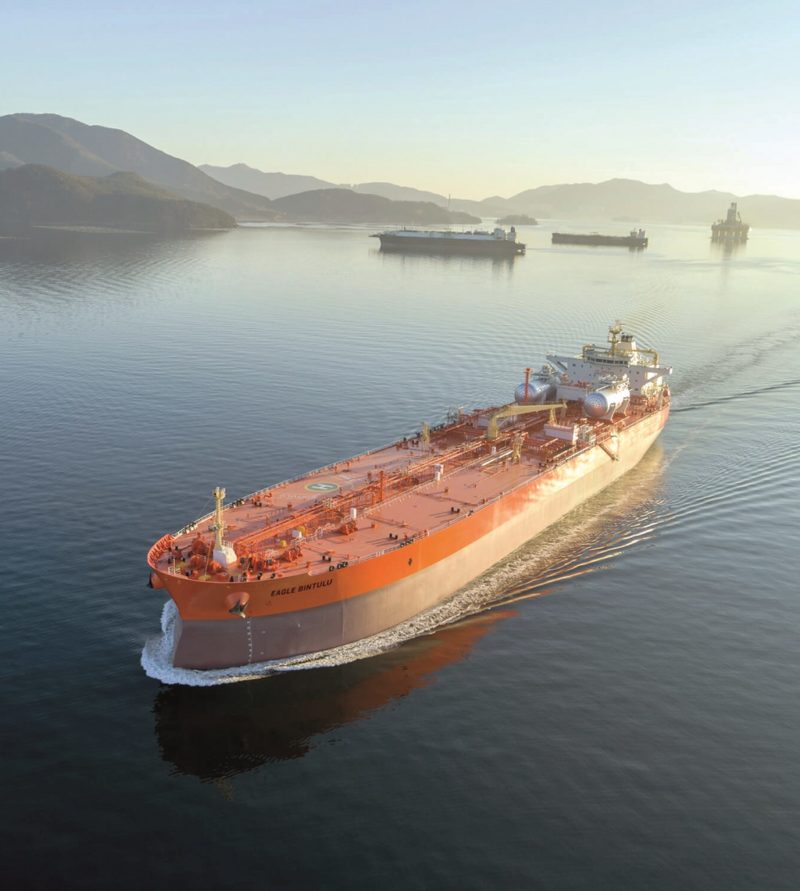 Many shuttle tankers, VLCCs, Aframax and Suezmax tankers have formed this AET fleet in recent years, all with 'Eagle' prefixes to their names. These are:-
VLCCs
Eagle Vancouver, Eagle Varna, Eagle Verona, Eagle Versailles, Eagle Victoria, Eagle Venica, Eagle Valence, Eagle Vallery and Eagle Virginia of 320,300 dwt. VLCCs operate globally moving crude oil from the Persian Gulf, North Sea, Latin America and West Africa to the U.S.A.
Shuttle tankers
Eagle Barents, Eagle Bergen, Eagle Blane, Eagle Balder, Eagle Campos, Eagle Canoas, Eagle Colatina, Eagle Petrolina, Eagle Paulinia, Eagle Paraiso, Eagle Passos, Eagle Pilar, Eagle Paraiba, Eagle Parana of up to 120,000 dwt. DP2 shuttle tankers operate in the Brazilian Offshore Basin, Barents Sea, and the U.K. Continental Shelf.
LR2 Size
Eagle Le Havre and Eagle Lyon of 114,000 dwt.
Suezmaxes
Eagle San Antonio, Eagle San Diego, Eagle San Juan, Eagle San Francisco, Eagle San Jose, and Eagle San Pedro of 158,000 dwt.
Aframaxes
Eagle Anaheim, Eagle Atlanta, Eagle Augusta, Eagle Austin, Eagle Baltimore, Eagle Beaumont, Eagle Birmingham, Eagle Boston, Eagle Barcelona, Eagle Brisbane, Eagle Brasilia, Eagle Bintulu, Eagle Columbus, Eagle Hanover, Eagle Hamilton, Eagle Helsinki, Eagle Hatteras, Eagle Halifax, Eagle Hydra, Eagle Kangar, Eagle Kinabalu, Eagle Kinarut, Eagle Klang, Eagle Kuantan, Eagle Kuching, Eagle Louisiana, Eagle Phoenix, Eagle Seville, Eagle Stavanger, Eagle Stealth, Eagle Sydney, Eagle Tacoma, Eagle Tampa, Eagle Texas, Eagle Toledo, Eagle Torrance, Eagle Trenton, Eagle Tucson and Eagle Turin of up to 110,000 dwt. Product tankers also operate globally with special emphasis on the Asian and East of Suez areas.
There are a further three Shuttle tankers and four VLCCs on the order book for delivery in 2023.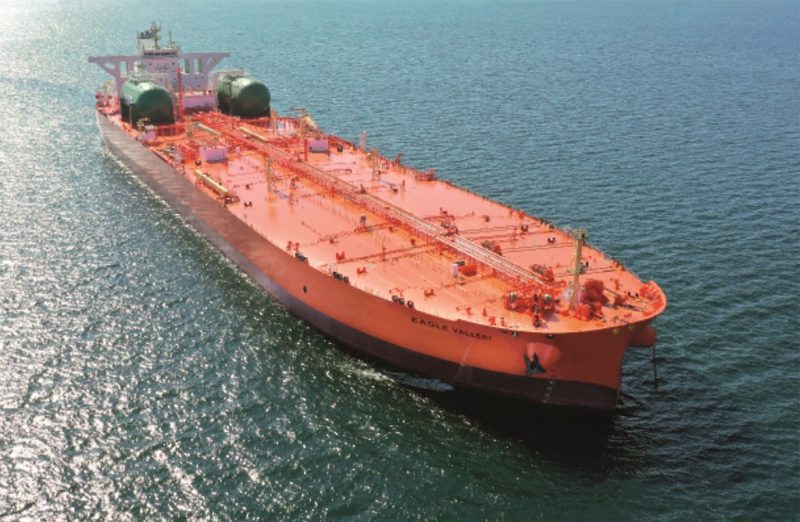 SUMMARY
American Eagle Tankers (AET) was founded in Houston in an area with a long history in the oil industry, and today is a market leader in the U.S. Gulf trades with its Ship to Shore (STS) lightering operations, shuttle tankers and specialised tankers. It had a revenue of $920 million in 2020. The total of STS fully serviced lightering operations in the U.S. Gulf has passed the 14,000 mark to date.
AET has moved over ten billion barrels of oil in the last ten years for the oil majors Shell, Chevron, Texaco, Gulf Oil, Equinor, Total Energy and Petrobras of Brazil, and has offices in the U.S., Singapore, Malaysia, U.K., Brazil, Norway and Uruguay. The 2019 built sister tankers Eagle Brasilia and Eagle Bintulu of 113,416 dwt were dual fuel LNG powered tankers completed in the 25th Anniversary Year of the company in 2019.             The new specialised DP2 shuttle tanker Eagle Colatina was completed in March 2022 at the Samsung Heavy Industries yard in Geoje, South Korea, and began a long term charter to Petrobras of Brazil for operations in the Brazilian Offshore Basin, while her sisters Eagle Campos and Eagle Canoas are on charter to Shell. Eagle Vallery was delivered on 29th April 2022 by the Samsung yard in South Korea as the second dual fuel LNG powered VLCC in the fleet.
AET Tankers Inc. has offices in Houston, London, Singapore and Galveston, with crewing offices in many parts of the world. Eaglestar Marine Holdings with a headquarters in Kuala Lumpur works closely with AET Tankers Inc. in many integrated marine services areas.