From: Ken Paul, by e-mail
The December of 2016 issue contained the Shanghai Charade article. I must say that I had a real chuckle over this article. What with the antics of all concerned to finish up with the correct result. It goes to show what a crew will do for a good master to make things work and this does happen in all aspects of life. Thanks for a good story of the old days.
From: Laurence Mortram, by e-mail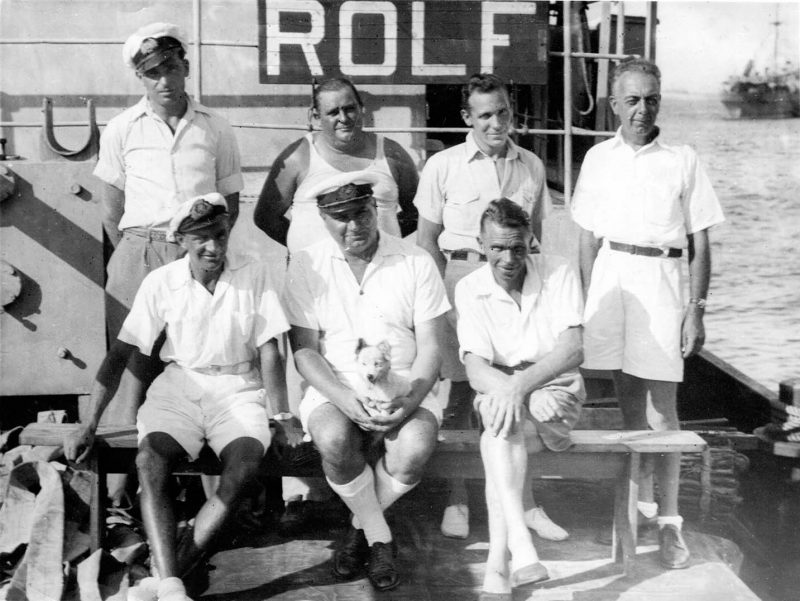 This photo came from my late father in laws WW2 collection. I have contacted Convoy Web to no avail, so perhaps one of your readers might recognize their father's/grandfather's face, and get the ships name. My father-in-law is not in the photo, and there is no writing on the back either.

The 4 known ships that he sailed on were, SS Tetela, ST Rosario, Ttortuguero, and SS Corrales.
From: Capt. Alan Bridger, Ferndown, Dorset
May I, through your editing skills, point out to David Eeles, producer of the otherwise excellent feature "Through the eyes of the artist-part 4" at least one error that could upset a good few of my peers.

In the 2017 February issue, page 46. Mr Eeles refers to the Thames Nautical Training College's H.M.S. Worcester as, "one of those wooden wall warships which have provided core skills for the orphans and destitute of the past world". As a member of a very active Old Cadets Association of the "Worcester" may correct him, as the ship was a fee paying Public School, although possibly a minor one. The cadets, which included myself, received a two year introduction to the role of an officer in the Royal and Merchant Navy. As cadets R.N.R. we wore an officer cadets uniform, following a strict naval training to prepare us for a life as an officer at sea. I am sure the parents of my fellow cadets would be rather alarmed if they knew their little darlings were to be referred to as destitute orphans!

If Mr Eeles cares to do some more research he will find that a good majority of the most senior officers in our Navy, Air Force, and Merchant Service, were Old Worcesters. Previous Admirals, Air Chief Marshals, Chief Examiners of Masters & Mates, hundreds of master mariners, and a whole horde of fighting ships COs, who served this country through many a war, started life as a Worcester cadet. Even Japanese Admiral Tojo, who defeated a superior Russian fleet, is remembered as an Old Worcester. We seldom mention Denis Wheatley, another ex cadet!

So less of the destitute orphan bit if you please. The fees for attending back in my day were equivalent to those of Winchester and many others. Many of my present colleagues would have a good laugh on reading Mr Eeles words. As a final piece of useless information, many of Frank Mason's depiction of the old ship were kept on board. Two were recently bought at an Old Boys reunion for a couple of hundred pounds or so. By an Old Worcester of course.
Editor's note: David did not refer to the Worcester that you attended as "one of those wooden wall warships which have provided core skills for the orphans and destitute of the past world" There were three Worcesters and David refers to the second of these prior to the Second World War. It is well documented that these earlier vessels did provide a maritime education for the less fortunate.

From: John Lewis, by e-mail
Regarding the article by Alan Blackwood in the March edition, on the " War Standard" ships, it brought to my memory an incident occurring in July 1953, when I was serving as third mate on the Esso Syracuse.

We where on a voyage (light ship ) from Halifax. Nova Scotia to Palermo. Italy, where the vessel was to undergo a scheduled dry docking and repairs.

During the evening before, the Captain had informed me, that as soon as we had docked, I would be taking the first part of the crew, back to the UK.

The following morning was rather hazy for me, it seems that I was discovered on my cabin floor, in a "bad way" according to later accounts.

The Captain diverted the ship off Punta Delgada, in the Azores, where we had passed a few hours previously. Tjey landed me in care of the local port health authority, whereupon I was treated for a perforated duodenal ulcer.

When I was sufficiently recovered, after about 12 days, a passage as a D B S, distressed British seaman, a place was arranged for me, on a vessel that was in port, undergoing engine repairs.

This was the Sugar Producer, ex Oakmount Park and Makena II, on a voyage from Demerara to London, with a cargo of bulk sugar.

I left the ship after she had berth in Silvertown. London, earlyAugust 1953 and made my way home, to see my new six month old daughter for the first time.

Born while we where in Antofagusta, Chile.
From: Armin Freimark, by e-mail
Following the article about Port State ControI Ship Inspection in the March edition, I can shed some light about the fate of Tovarisch. She was bought up by a German group in 2000 and is now a stationary museum ship in Stralsund in Germany. You can check it out on Wikipedia.

Otherwise that article was very interesting.

Keep up with the good work!