Heavy Lift and Offshore Fleet of the Jumbo Shipping Company
FURTHER JUMBO HEAVY LIFT and OVERSHORE PROJECTS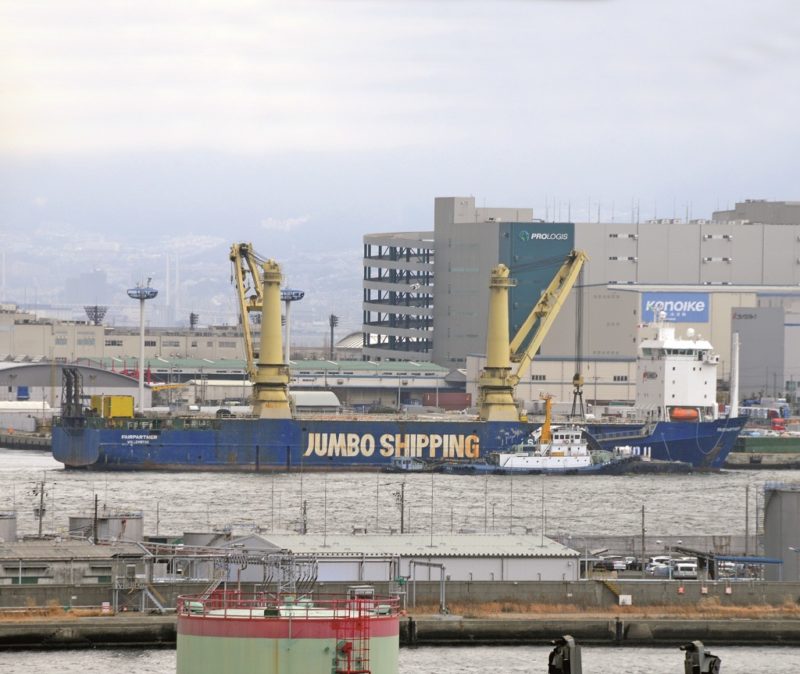 Jumbo Shipping Company used their heavy lift vessels to perform fifteen loaded voyages of 131 Transition Pieces (TP) and install them onto their monopiles at a record breaking rate of one TP per day in May of 2010 for an offshore wind farm in U.K. waters. The use of quick release spreader bars, levelling and grouting using a motion compensated access system and passive lift compensators had achieved this high rate of installation. The offshore wind farm was the Greater Gabbard OWF located in the South East sector of the North Sea for client Fluor Ltd.
During 2013, Jumbo Shipping Company B.V. laid thirty monopiles for the Borkum Riffgat Offshore Wind Farm (OWF) nine miles north west of the German island of Borkum. This wind farm has thirty wind turbines producing 108 megawatts of electricity, with heavy piledriving equipment weighing in at 830 tonnes having to be brought in from manufacturer American Piledriving Equipment (APE) to install the monopiles after being loaded on to the Jumbo vessel.
The Anholt Offshore Wind Farm (OWF) involved the transport and installation of 111 Transition Pieces (TP) by Jumbo Javelin from Aalborg to the site in early 2013. The project management, engineering, and inshore loading and tow out were successfully made to install all of these TPs exactly on to their monopiles. The Anholt OWF is located in the Kattegat near Norddjurs between Djursland and Anholt island, and was opened on 4th September 2013 as a 400 megawatt wind farm in a maximum water depth of between 46 and 56 feet. The vessels Sea Installer and Sea Power completed the erection of the turbine towers, nacelles and blades in record time, with Sea Installer completing one turbine erection in only seven hours. The Danish power companies Dong Energy and Orsted Energy were involved in the completion of the project.

The heavy lift installation of subsea structures in April and May of 2015 to the Wheatstone offshore field of Western Australia involved the project management, engineering, load out and sea fastening of three voyages made from Singapore to Dampier. Sixteen subsea manifolds and associated equipment were transported to the offshore site, and were combined with an on site survey before installation, and final lifting and exact positioning of the subsea structures. The Chevron operated Wheatstone field is located 120 nautical miles north of Onslow in water depths of between 75 and 240 metres. The gas is exported from the platform to the onshore LNG facility by a dedicated pipeline.
The Papa Terra oil and gas field in the Campos Basin of offshore Brazil received a Tension Leg Wellhead Platform (TLWP) installed in 2015 and held by eight anchor piles and 128 tendon strings and eight buoyancy modules. The load outs were performed at Morgan City near the Mississippi river in Louisiana, with careful supporting of the platform during the delicate heavy lifts at the oilfield site. The Campos Basin oilfield operates at a water depth of 1,200 metres and began producing oil in 2013.
Fairplayer performed the transport and installation of a subsea crossing suspension system for the Turkish to Northern Cyprus Water Supply Project. The project is designed to supply drinking and irrigation water from a large Turkish dam reservoir to water poverty areas of Turkish Northern Cyprus. The project management, load out and sea fastening from the Port of Mersin in Turkey to the installation site near Cyprus involved an on site survey, pre-tensioning of 126 gravity anchors, tethers and buoy assemblies of this water pipeline project. The long water pipeline was completed in September 2014.
During October 2016, Fairpartner transported an oilfield riser tower of 1,525 tonnes in weight from the United Arab Emirates (UAE) to the Enfield oilfield at Exmouth Gulf in Western Australia. The riser tower was 100 metres in height and was laid horizontal on the deck of Fairpartner for delivery to clients Woodside Petroleum and Single Buoy Moorings (SBM), and was then deployed to its subsea position.

Subscribe today to read the full article!
Simply click below to subscribe and not only read the full article instantly, but gain unparalleled access to the specialist magazine for shipping enthusiasts.