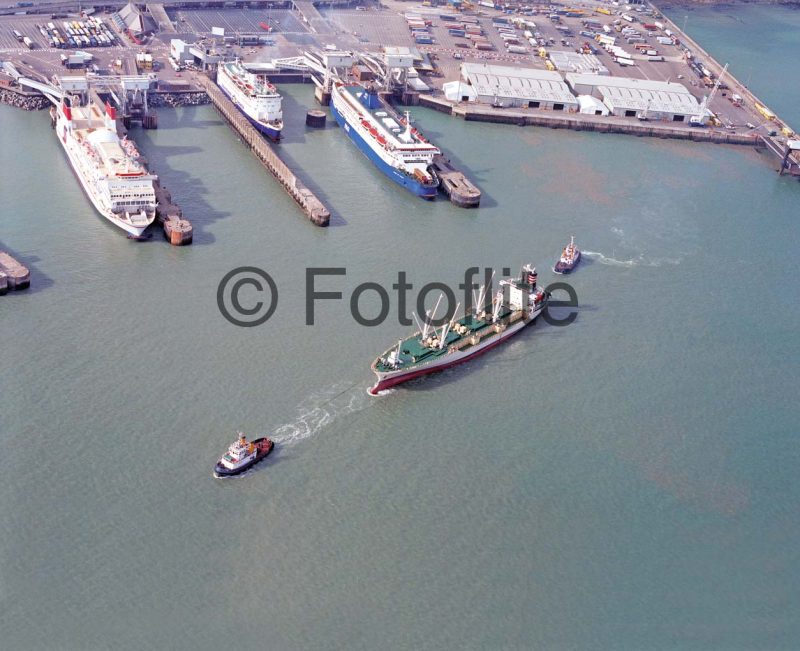 The Port of Dover on 22nd April 1993. The ship leaving the port is the 7,313gt reefer Dover Phoenix of Kyoku Ship Management SA which came ino service just 2 months before this photograph was taken. She was built by Shin Kochi Jyuko KK at Kochi. In 1997 she was sold to Win Guide Ltd. of Panama and renamed Clover Moon. In 1999 she was sold to Fast Shipping Ltd. (Zodiac Maritime Agencies Ltd., London as managers) and renamed River Phoenix. Since 2008 she has been operated by Triton Schiffahrts and in 2012 she was renamed Lagoon Phoenix.

The ferry berthed on the left is the 25,122gt Stena Fantasia which was built in 1980 by Kockums MV at Malmo as the Scandinavia for Rederi AB Nordö. In 1981 she was sold to SOMAT of Bulgaria and renamed Tzarevetz. In 1988 she was sold to Sealink and renamed Fiesta and in March 1990 they renamed her Fantasia. Later that year she was renamed Stena Fantasia. In 1998 she was transferred to P&O Stena Line and renamed P&OSL Canterbury, her name changing to PO Canterbury in 2002. In 2004 she was sold to GA Ferries as Alkmini A and later that year she joined Polferries as Wawel. She still operates for them today.
On her right is the 6,112gt Prins Albert which was built in 1978 by Cockerill Yards at Hoboken for RMT, Oostende Ferries. In 1998 she was sold to Hawthorn Shipping and renamed Eurovoyager. After operating for Sally Line she joined Transeuropa Ferries for their Ramsgate to Ostend service. On 30th April 2012 she arrived at Aliaga to be broken up by Ege Celik GS under the name of Voyager.
On the right is the 26,433gt Pride of Calais which was built in 1987 by Schichau-Unterweser at Vegesack. In 1999 she was renamed P&OSL Calais and in 2002 she became PO Calais before reverting to Pride of Calais in 2003. In 2012 she became Ostend Spirit on charter to Transeuropa Ferries. On 11th November 2013 she arrived at Aliaga to be broken up by Ege Celik GS.

Photo: Fotoflite