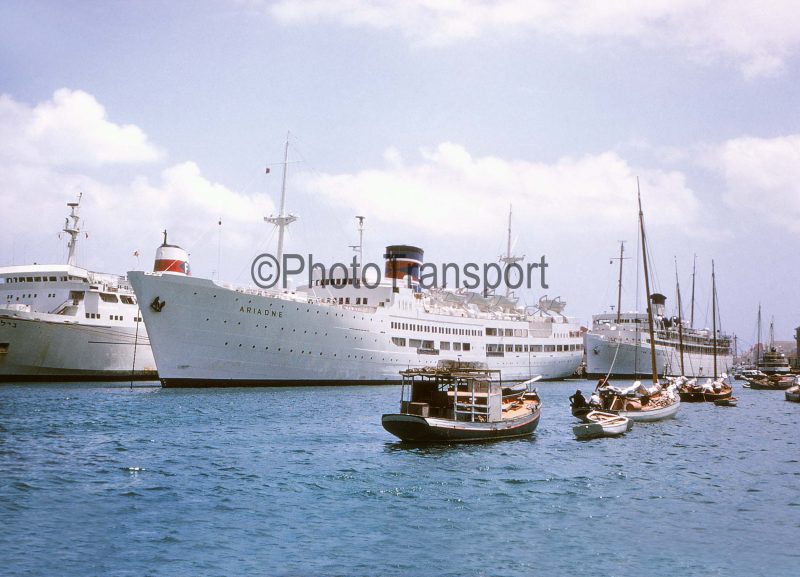 The scene in the Bahamian port of Nassau on 23rd April 1966 with three interesting passenger vessels berthed.
On the left is the 7,851grt ferry Nili of Nili-Somerfin Car Ferries. She was built in 1965 by Fairfields at Govan. From 1967 to 1969 she operated as Jamaica Queen for Ted Arison's Weston Shipping before reverting to Nili. In 1975 she moved to Maritime Co. of Lesvos SA and was renamed Arion. On 20th December 1981 she was fire bombed by the PLO in Haifa, Israel and gutted by fire. She was then laid up and on 21st June 1984 she arrived at Villanueva y Geltru in Catalonia to be broken up.

In the centre is the 7,764grt Ariadne of Lovett's Eastern Steamship Co. She was built in 1951 by Swan, Hunter & Wigham Richardson at Low Walker as the Patricia for Swedish Lloyd's Gothenburg to Tilbury service. In 1957 she joined Hamburg-Amerika Linie as Ariadne and was used for cruising. She moved to Lovett in 1961 and in 1969 joined Ares Shipping keeping her name. She remained Ariadne after a further sale to Minos Navigation in 1972, but the following year she was sold to Bon Vivant Cruises Inc. and was renamed Bon Vivant. In 1978 she became Ariane of Gilda Maritime and in 1989 she was acquired by Nios Maritime as Empress Katerina. In 1997 she was renamed Empress for her final voyage to the breakers in Alang where she arrived on 18th December.
On the right is the 4,945grt Florida of the Peninsular and Occidental Steamship Co. She was built in 1931 by Newport News Shipbuilding. She ran cruises from Miami initially to Cuba, but after the revolution she concentrated on short cruises to the Bahamas. In 1967 she was used as a floating hotel at Expo 67 in Montreal under the name of Le Palais Flottant. On 16th August 1968 she arrived at Santander to be broken up.