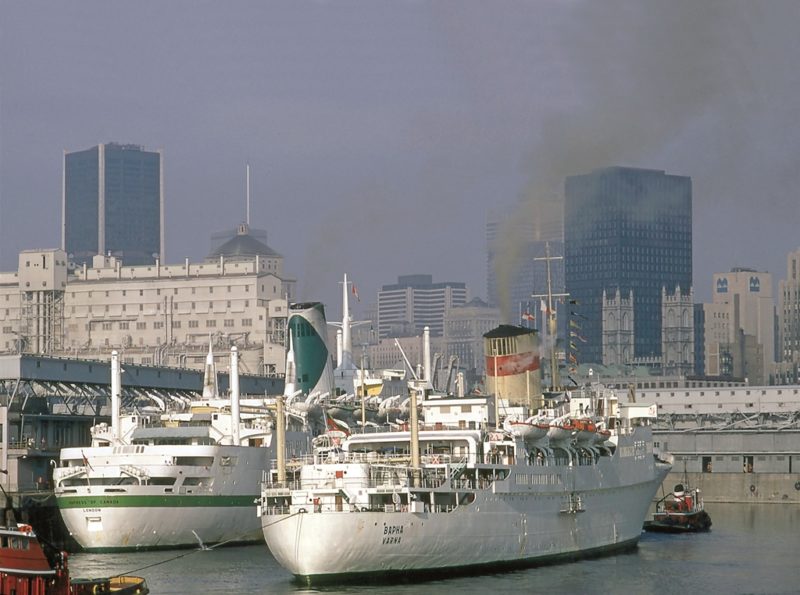 Montréal in July 1970. The cruise ship Varna of Navigation Maritime Bulgare arriving at Montréal with the tug Felicia at her bow. Berthed on the left is Canadian Pacific's Empress of Canada.
The 13,824grt Varna was built in 1951 by Vickers-Armstrongs at High Walker as the Ocean Monarch for Furness, Withy & Co. Ltd. She was sold to Bulgaria in 1967 and renamed Varna. In 1977 they renamed her Venus and the following year she was sold to Dolphin (Hellas) Shipping SA of Piraeus and renamed Riviera. In 1981 she was chartered by SUR-Seereisen, Germany, who announced a series of Mediterranean cruises to take place in summer 1981. Her name was to be changed to Reina del Mar. Before these cruises took place she was to be renovated. On 28th May 1981, a fire broke out which completely gutted the passenger accommodation. She was towed out of Ambelakia, where the renovation was being carried out. The tow parted and she ran aground on Salamina Island. On 1st June 1981, a new fire broke out and she was then scuttled off Kynosoura.

The 196grt tug Felicia was built in 1923 by Sorel Mechanical Shops Ltd., Sorel, Quebec for Sin-Mac Lines. She was later acquired by Sincennes-MacNaughton Ltd. of Montréal, retaining her name. In 1959, she was purchased by McAllister Towing Ltd. of Montréal, a subsidiary of the Mcallister Brothers Towing of New York. In 1965, the tug was acquired by Bury Court Shipping Co. Ltd. of Halifax, again retaining her name. She was retired from service in 1994 and on 4th April 1996, she was towed to St-Joseph-de-la-Rive, Quebec by Cathy McAllister for preservation by Exposition Maritime de St-Joseph-de-la-Rive.
Photo: René Beauchamp