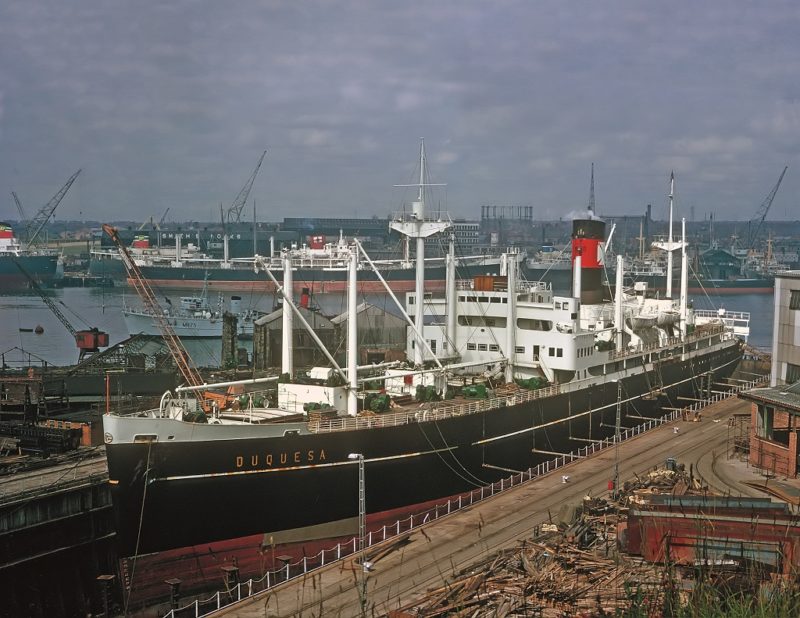 The 11,007grt Duquesa of Houlder Bros. in the dry dock at the ship repair yard of Brigham & Cowan at South Shields in August 1965. In the backgound is the 360grt minesweeper HMS Northumbria and at Smith's Dock, North Shields are from left to right two BP tankers, the 11,281grt Federal SN Co. freighter Huntingdon, the16,730dwt tanker Evgenia of Prometheus Navigation and 2,750grt collier Queensland of Shipping & Coal.
The Duquesa was built in 1949 by Hawthorn Leslie at Hebburn. On 14th August 1969 she arrived at La Spezia to be broken up by Terrestre Marittima SpA.
HMS Northumbria was built in 1959 by Richards at Lowestoft as HMS Quainton. She was renamed Northumbria between 1960 and 1972 when she reverted to Quainton. She was broken up by H.K. Vickers at Blyth in August 1979.
The Huntingdon was built in 1948 by Alexander Stephen at Linthouse. On 8th August 1975 she arrived at Hualien to be broken up by Chou's Iron & Steel Co. Ltd.


The Evgenis was built in 1954 by Wm. Doxford & Sons at Pallion as the Dona Evgenia for Cia Panamena Europea Nav Ltda. She joined Prometheus Navigation in 1960. In 1979 they renamed her Evgenia I then on 19th February 1983 she arrived at Gadani Beach to be broken up by Zulfiqar Metal.
The Queensland was built in 1958 by Austin & Pickersgill at Wear Dock as the Greathope for Newbigin SS Co. She joined Shipping & Coal in 1964. In 1976 she was sold to Bahia Shipping of Greece and renamed Pambola and in 1981 she joined Astarte Shipping of Greece as Astarte. In 1983 she moved to Maleth Shipping of Malta and was renamed Maya and in 1985 she was renamed Gulf Carrier of Prosperity Shipping. A further sale in 1988 to Asian Lines Overseas Inc. saw her renamed Kalam and in 1989 she became Sea Trans I of United Arab Emirates. On 4th June 1989 she was wrecked off Gees Gwardafuy, Somalia.
Photo: Malcolm Donnelly