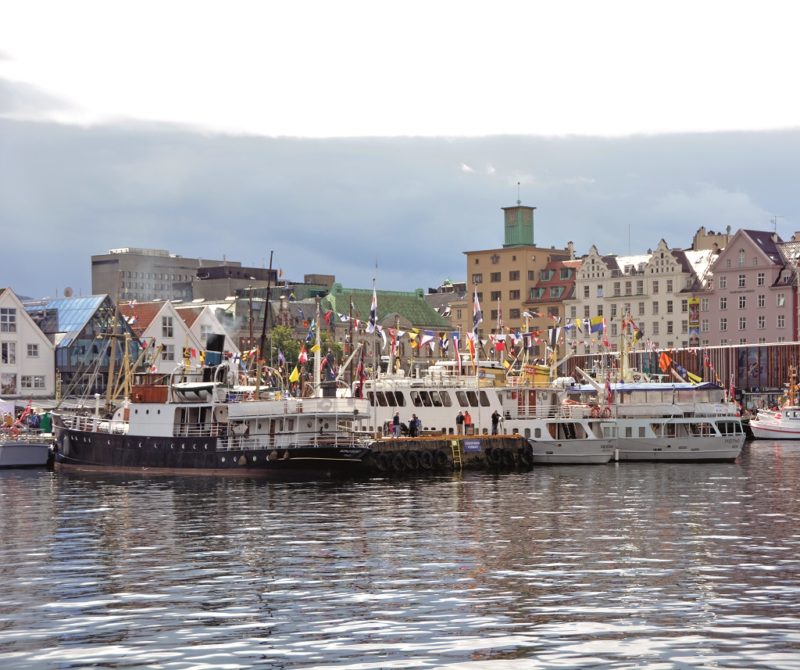 Some of the historic vessels at Bergen's Fjordsteam festival in August 2022. Fjordsteam is the largest festival of historic ships, vehicles, planes, trains and trams in Europe.
From left to right are the preserved former Norwegian ferries Boroysund, Vestgar and Midthordland.

The 179grt Boroysund of Norsk Veteranskibsklub was built in 1908 by Trondhjems MV at Trondheim as the tug Odin. In 1923 she became Skjergar before being renamed Boroysund in 1925. From 1961 to 1994 she was named Hyma and converted into a ferry, before becoming Boroysund again in 1994.
The 220grt Vestgar of Oygardsbatane AS was built in 1957 by Hoivolds at Kristiansand. In 1979 she became Vestgar Senior before being renamed Fredsbudet in 1980. She reverted to her original name when she became a preserved vessel in 2007.
The 197grt Midthorland of Midthordlankse was built in 1947 by Stord Verft at Leirvik.

Photo by Nigel Lawrence