Paid off 'Under Protest'
By John Marking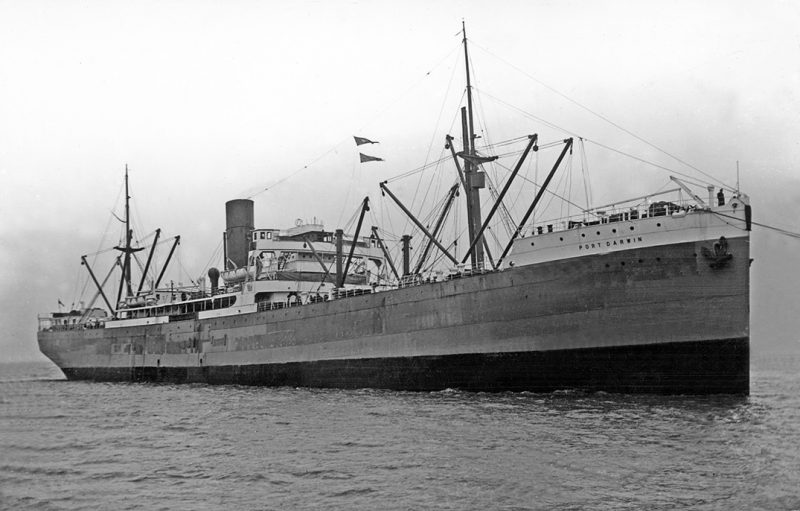 In early April 1948 myself and shipmate Tony Ball, from West Wickham, completed our leave from the old coal burner Port Darwin and on 3rd April reported to the Merchant Navy Pool at Connaught Road, London Docks for our next jobs.
We were assigned to join the Rhodesia Star which was in the process of being converted in Mobile, Alabama, from an ex-WWII R.N. escort aircraft carrier to a merchant vessel, for the Blue Star Line of London.
We signed articles as E.D.Hs. (Efficient Deck Hands) on 5th April and two days later travelled with other joining crew members by boat train to Southampton docks and boarded R.M.S. Queen Elizabeth. It was at this stage we met Mr Crompton, the Rhodesia Star's 2nd Officer, whose job it seemed was to shepherd us to our eventual destination.
At this time the Queen Elizabeth carried three classes of passengers, First Class, Cabin Class and Tourist Class, so imagine our surprise when Tony Ball and I ended up in a twin berth Cabin Class cabin. The ship sailed in the afternoon of 7th April for Cherbourg to pick up passengers joining from France. It was, I believe, her first call at that port in her post-war voyages to the U.S.A.
The trip across to New York was rather uneventful and although all the service and food on the ship was excellent, we had no spending money at all. Dollars were in short supply in Britain in those days if I recall correctly. Sir Stafford Cripps, the British Chancellor of the Exchequer, had seen to that. However I did meet Joe Louis, the champion American boxer, and his wife Marcia, who gave me their autographed photograph.
We arrived in New York on the evening of 12th April and after disembarkation formalities we were transported to (if my memory is accurate) the Pennsylvania station for an overnight rail trip to Mobile. By the time we boarded the train everyone was a bit whacked out so sleep came easily.

At daylight the next morning we were mustered by Mr. Crompton and told the maximum amount of dollars we could spend for a breakfast and the following lunch meals. It was not a great deal, but sufficient, although it was said later that the engine room crew ignored this advice.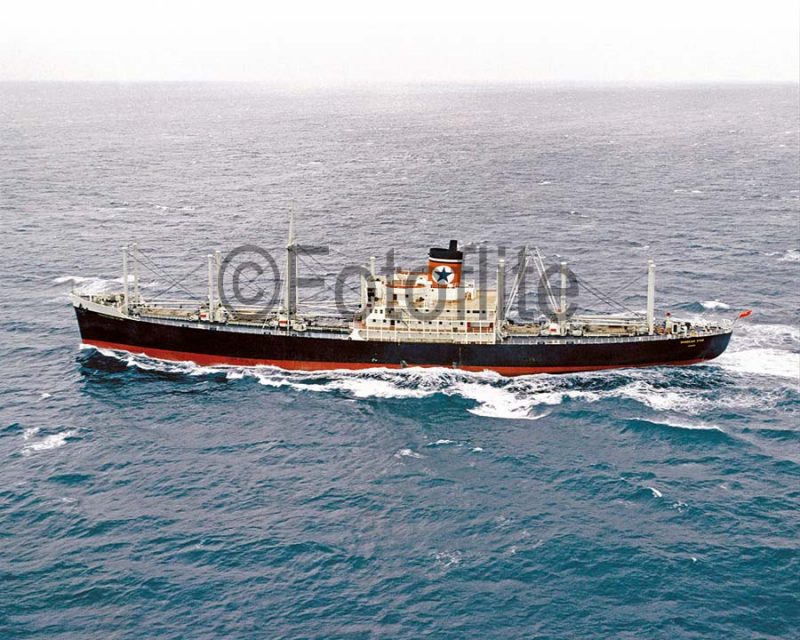 Our arrival in Mobile was in the late afternoon and we were transported to the Bienville Hotel which seemed to be centrally located. The hotel had been quite up market in the 1920s when it had a big roof garden. However, by the time we arrived it had certainly seen better days and the garden on its roof had long disappeared. Nevertheless, the meals supplied by the Bienville were quite good. Once again, spending money was in short supply so we just passed the time seeing the sights of Mobile.
We had a few days to wait until work on the Rhodesia Star was completed and she then had run her trials off the Florida coast.
On joining the vessel in the shipyard we met Mr. Eric Hunsley-Smith the Chief Officer, who we later learned had been in the R.N. during the war and he seemed to find our merchant navy ways a little different. We also met Captain Charles H. Watson, the Master.
When boarding, one of my first impressions was noticing the all-metal fittings in the accommodation. This was apparently to comply with U.S. Coast Guard ship fire regulations, and the only major pieces of woodwork I can recall were the wheelhouse doors.
I cannot remember many other names of the ship's complement apart from Mr. Danny Pethers, a Canadian A.B., and a big fellow who was the Chief Cook, an ex-WWII paratrooper with wound scars to prove it. Later, when we were at sea, the Chief Cook and Chief Steward did not seem to hit it off at all. We eventually left Mobile for Jucaro, in Cuba, to load sugar.

Sign-up today to read the full article!
Simply click below to sign-up and read the full article, as well as many others, instantly!