M.V. Ernebank
In 1953, I joined the old timer, M.V. Ernebank in Bromborough Dock, Birkenhead.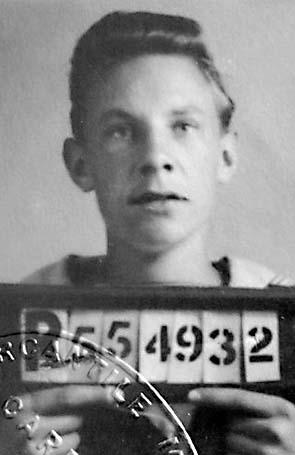 So commenced a memorable voyage around the world which lasted eight months and took in both the Panama and Suez canals, and in the process, considerably advanced my education. She was a stately looking vessel to my eyes, with a long wood sheathed foredeck, of Oregon pine, and open rails. It was a voyage with quite a few 'firsts' for me, an eighteen year old apprentice, still not quite dry behind the ears! There were three of us, a tough looking Aberdonian, who was actually a gentle character, and who was to become a good friend, and a first tripper from Bearsden, near Glasgow. Our stay in Birkenhead was extended as we drydocked after discharge, probably for a 15 year survey. The trip was a riot from the start as we guzzled up to 12 pints a night in the pubs of Birkenhead, something I had never done before. I also discovered New Brighton pier and dancehall, which burned down in later years, and where huge crowds jived to loud music and where the darkened balcony was a convenient place for dozens of snogging couples. It was a foretaste of the 'swinging sixties', still to come. My new friend from Aberdeen led the way, and to finish off we usually found some local girls to walk home. This lifestyle was a revelation to me, and it was only a small taste of promising things to come.
The Ernebank was a typical pre-war Bank Line ship with 5 hatches, and rather pleasing but unpretentious lines, built by Harland and Wolff in Belfast, 431ft long, with a four cylinder Burmeister & Wain diesel engine giving her a decent 13 knots. Built as a shelter deck vessel, with the normal small tonnage hatch aft, she enjoyed the advantage of reduced dues on account of her low measured tonnage of 5,388 net.
We were discharging Copra and valuable coconut oil, and it was a regular feature of the Bank Line trading pattern which brought their ships back to the UK and the end to what were often very long voyages. A few ships enjoyed 'short' 6 to 8 months voyages on a more or less regular basis, and these were christened 'Copra ships'.'They were much sought after by some, but by no means all of us!

The first sight of the ship, rounding the quayside shed in a taxi, always gave me a thrill. It was a mixture of apprehension and pride. Never mind that the hull might be a bit rust streaked or that the gangway looked rickety, it was home for possibly 2 years, the length of the articles. The familiar sound of steam winches, hissing and clanking as they worked was music to my ears. The deck was cluttered with hatch boards, steel beams, and a variety of repair pipes and hoses, and even this sight felt comforting in a strange sort of way. There would also be a rich pungent smell of coconut oil, which was being pumped ashore with temperature raised to keep it liquid and flowing. On board, the first task was to locate my cabin and meet new shipmates. What would they be like, and who is the all important Captain who would play God for the foreseeable future?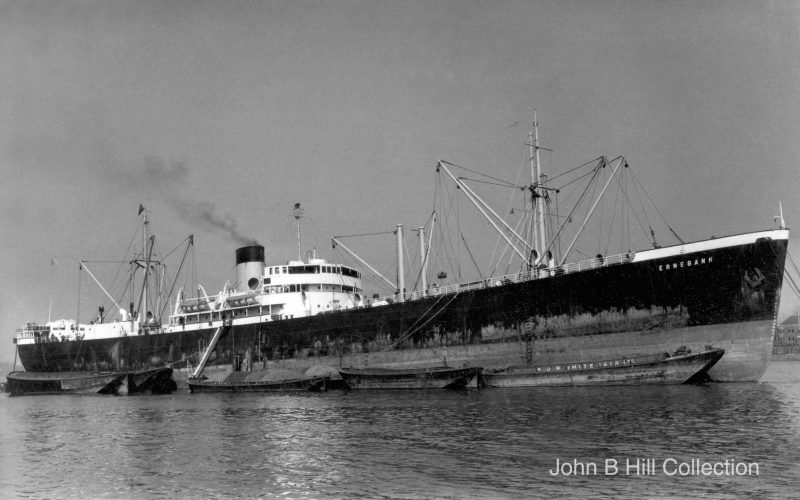 Conditions on board were basic, if not primitive. Air conditioning was yet to be fitted on ships, so we relied on simple fans, with oscillating ones being much prized. Metal scoops were jammed in the port openings to catch any air, and in port it could be stifling, especially at night. Fresh water had to be pumped by hand, and was strictly rationed. The apprentices were charged with topping up the washing water for the officers as well as for their own use. It happened occasionally that water needed to be pumped from the forepeak, rather than the small domestic tanks amidships, and this was no mean feat at sea when there was a seaway running. I can still remember struggling forward, buckets in hand, the deck often glistening in the wet, and descending down the forepeak hatch to swing on a semi-rotary pump. The other apprentice stood by the buckets on deck and was supposed to call down when the job was done. There were occasions when relations were not good and he simply walked away leaving me pumping!
Subscribe today to read the full article!
Simply click below to subscribe and not only read the full article instantly, but gain unparalleled access to the specialist magazine for shipping enthusiasts.