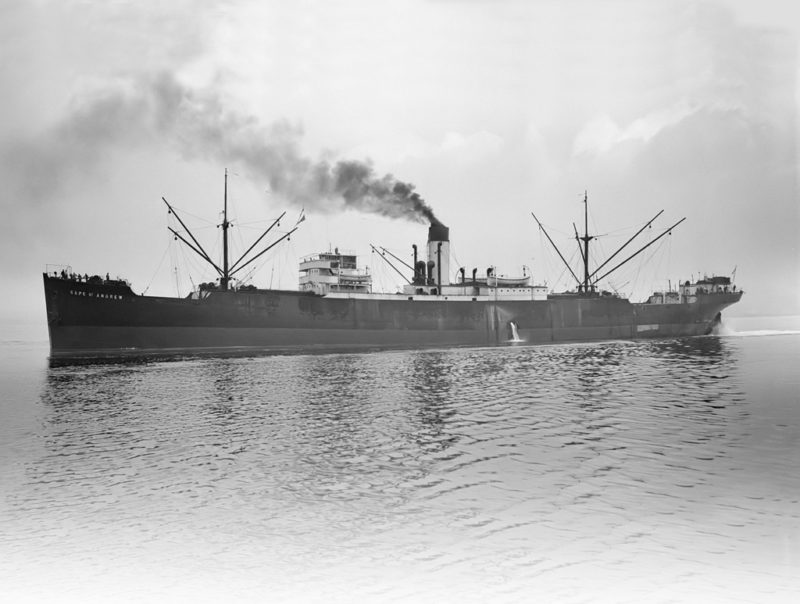 Robert Rankin was trading wooden sailing ships from Liverpool to North America in the 1850s and the extent of his involvement in shipping is shown by his appointment as Chairman of the Mersey Docks and Harbour Board in 1862/63.
He then took a partner named Gilmour under the style of Rankin, Gilmour & Company, and by 1880 they were trading six iron sailing ships with Saint names from their office in South John Street, Liverpool along with the composite half-wooden half-iron Duke of Edinburgh to North America. The Liverpool shipyard of Royden & Sons completed their first steam tramps in 1880, Saint Albans and Saint Bernard and Saint Columba, while Andrew Leslie completed Saint Dunstan on the Tyne and Earle & Company completed the twin-funnelled Saint Ronans at Hull in 1881. The latter pair passed to the liner services of Prince Line Ltd. and Furness, Withy & Co. Ltd. in 1893/94.
Their first triple-expansion powered tramp was delivered in January, 1886 as Saint Oswald from the famous Tyneside yard of Armstrong, Mitchell & Co. Ltd., which six months later completed the world's first bulk-oil tanker for German owners, Gluckauf. Saint Oswald was the first of thirty such steam tramps completed over the next twenty years for the Liverpool owners by shipbuilders all over Britain. They were registered under single-ship limited liability companies until 1890 when the British & Foreign Steamship Co. Ltd. was formed, later renamed Saint Line Ltd.

The Saint Line ships were shelter-deckers and were well used on charter to the liner trades.
Saint Pancras was wrecked in June 1895 on Samarang Bank near Labuan while on a voyage from Manila to Marseilles and Liverpool with sugar, copra and hemp.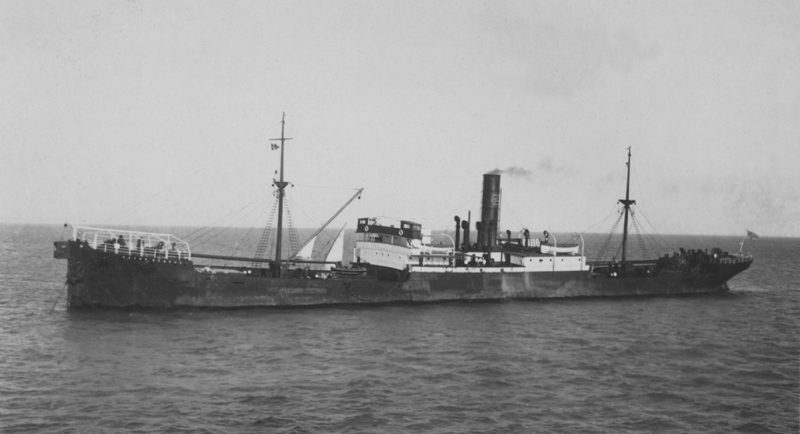 Saint Andrew was completed in 1899 by C.S. Swan & Hunter as a larger four-masted twin-screw cargo-liner for Transatlantic services, and was used as a transport in the Boer War. After her sale in 1911 to Hamburg America Line as Bermuda she continued sailing on the North Atlantic and was ceded to Britain on 20th March 1919 under the management of Lawther, Latta, becoming Englestan in 1923 before passing to the Italian register and being broken up at Genoa in October 1932. Saint Cuthbert of 1895 stayed with Merseyside owners T. & J. Harrison after her sale in 1902 as Chancellor, with Saint Regulus and Saint Mary also sold to Liverpool owners around this time. Marine casualties included Saint Kilda sunk by Russian warships near Hong Kong in June 1905 while on a voyage from Hong Kong to Yokohama with jute, rice and cotton. The Russians alleged she was carrying contraband of war to their enemies in Japan. Saint Cuthbert was destroyed by fire off Cape Sable in February 1908 while on a voyage from Antwerp to New York with general. The White Star liner Cymric of 1908 took off 35 crew but 15 men who had put out in a boat were drowned when it capsized in heavy seas.

Subscribe today to read the full article!
Simply click below to subscribe and not only read the full article instantly, but gain unparalleled access to the specialist magazine for shipping enthusiasts.