The Greek shipowner Antonis (or Anthony) D. Manthos had in 1949 established a business in New York called Admanthos Ship Operating Co. Inc. to operate two newly acquired EC-2 type "Liberty" ships named Tainaron and Aktion. Manthos, whose operations were described by a former seafarer as "small but very good and honest", had married Thetis Hadjilias, a daughter of the well established shipowner Elias Emmanuel Hadjilias whose other daughter Calliope had married the illustrious Manolis Kulukundis.
Two years earlier, in 1947, the Liberty Ship E.A. Peden had been jointly purchased with Emmanuel P. and Georgios P. Hadjilias. Given the name Sounion, she was sold in 1949 and replaced by the former Frontenac Park, given the name Akron, which was managed from London by Hadjilias and, later, by Mavroleon until sold to Japanese breakers in 1963. The former Fort Perrot, given the name Dorion, was similarly purchased in 1952. She was renamed Apollonia in 1959 but was soon sold to clients of Goulandris before also being scrapped in 1963 as Antonios S.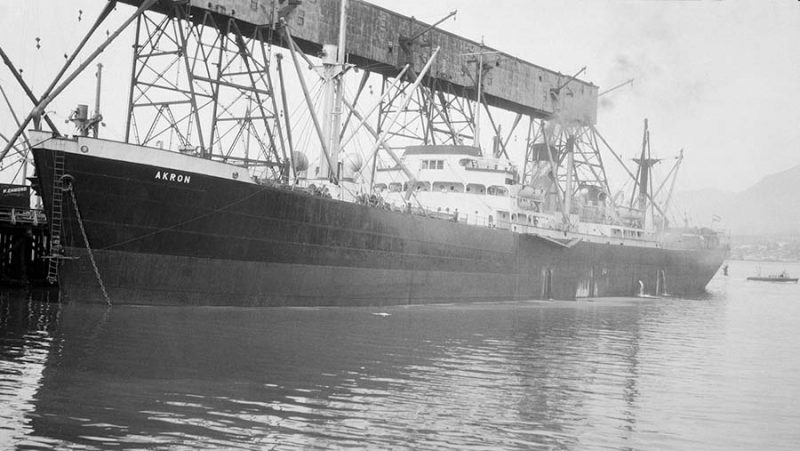 AKRON at Vancouver on 14th May 1954. (Walter E. Frost – City of Vancouver Archives)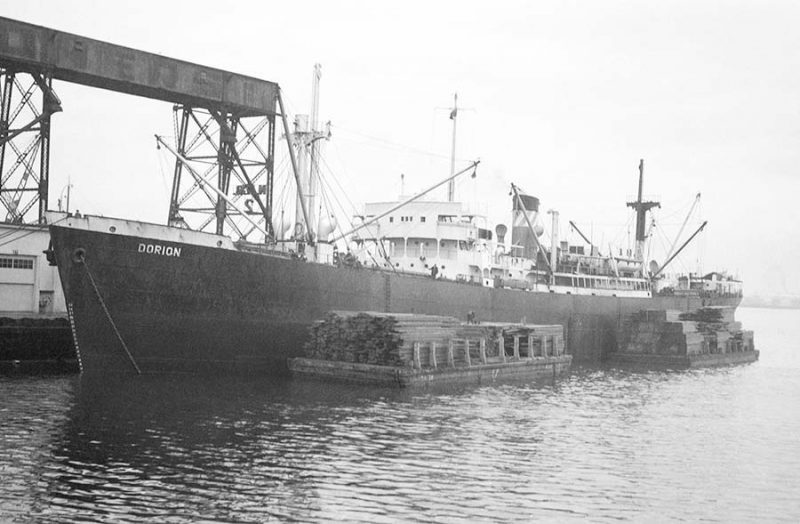 DORION at Vancouver on 7th January 1954. (Walter E. Frost – City of Vancouver Archives)
The Manthos family then proceeded to purchase on their own account additional World War II built ships, of which several were modified to increase their cargo capacity at minimum cost. Funnel colours were normally yellow with diagonal blue stripes on a white band although on some later ships the stripes were painted horizontally.
A full list of the modified ships can be seen in the following table:
Ship name
Year Built
Former names
Ship type/modification/year modified
(Year sold)
Liberty ships operated by Admanthos, New York:
EPIROS
1943
Sunion,Thomas Cresap –
lengthened in 1959
(1966)
OLYMPOS
1943
Tainaron, Howard A. Kelly
lengthened in 1962
(1968)
Ships built as tankers operated by Admanthos, New York:
RION (DREPANON)
1945
Grants Pass/Esso Ponce
T2 converted to dry cargo in 1959
(1969)
RION
1958
Alcides/Skaumor
converted to dry cargo in 1964
(1969)
Ships built as T2 tankers operated by North Atlantic, London:
MARATHONIAN
1943
Egg Harbor/Marathon
converted to dry cargo in 1962
(1974)
SOULI
1945
Belridge Hills/Mosbay/Sunbeam
converted to dry cargo in 1960 as Sunbeam when owned by G.A.Embiricos (represented in New York by Western Shipping Corp.) and purchased by Manthos in 1964, then renamed Souli
(1970)
Subscribe today to read the full article!
Simply click below to subscribe and not only read the full article instantly, but gain unparalleled access to the specialist magazine for shipping enthusiasts.