A German Family Enterprise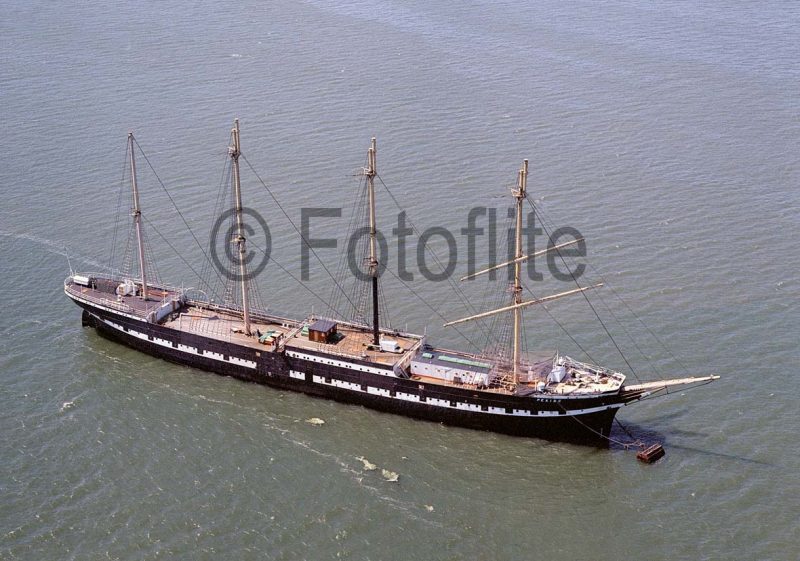 Laeisz (pronounded 'Lyze') is a very famous name in German shipping, and is particularly renowned for their fleet of 86 big sailing ships, 66 of which had names beginning with the letter 'P'. They are still very much in business today as a leading German shipowner and ship manager, after almost two hundred years of trading, with a big current fleet of over sixty container ships, Capesize ore carriers and Panamax bulk carriers, car carriers, liquid petroleum gas carriers, and many other types of ship including the Polar research ship Polarstern, managed for the Alfred Wegener Institute in Bremerhaven.
History Of The Laeisz Family
Ferdinand Laeisz was born on 2nd January 1801 as the son of Hamburg merchant Johann Hartwig Laeisz and his wife Catharina Maria Greve. After a short education, he became a bookbinder in Hamburg and also learnt how to make silk top hats in Berlin. He returned to Hamburg in March 1824 and founded a small trading company to manufacture these hats, and later married Johanna Ulrike Catharina Creutzburg, the daughter of a hat maker. While most of the hats were purchased by German citizens, many were also exported to South American countries, with payment made back to Hamburg in the form of goods e.g. cotton, cocoa, coffee, rubber, tobacco and sugar. Thus, Ferdinand Laeisz became the owner of an import and export trading company by 1832 as well as a hat manufacturer.
The three masted wooden brig Carl of 400 grt, named after the son of Ferdinand Laeisz, was completed in 1839 at Lubeck but she was sold eight years later. Carl entered the business in 1852 and four years later he purchased a wooden schooner and a wooden brig, followed by the new barque Pudel (Poodle in English) in 1857. The latter was the nickname of the wife of Carl Laeisz, as she had a frizzy and curly hairstyle. Pudel was the first Laeisz vessel to have a 'P' name, and she sank in 1870 at the end of a decade which saw several other wooden 'P' named barques built for Laeisz including Peru of 1862, Persia of 1862, Patria of 1863, Princess of 1863, Perle of 1864, Papa of 1865, Pyrmont of 1866, Panama of 1869, as well as Professor of 537 grt and purchased on 7th October 1869 as the iron barque Flottbeck and renamed Professor. The latter ship had been built by the Reihersteig yard in Hamburg in 1865 on dimensions of length 145.9 feet, moulded beam of 29.0 feet, and depth of 17.3 feet, and made many voyages to the Chilean ports of Valparaiso, Iquique, Pisagua, Taltal and Tocopilla after the first such Laeisz voyage was made to Chile to carry nitrates homeward in 1862. This trade was to be the mainstay of the Laeisz sailing ship business at freight rates of around £2 per tonne in 1890 until steamers had completely taken over by 1936.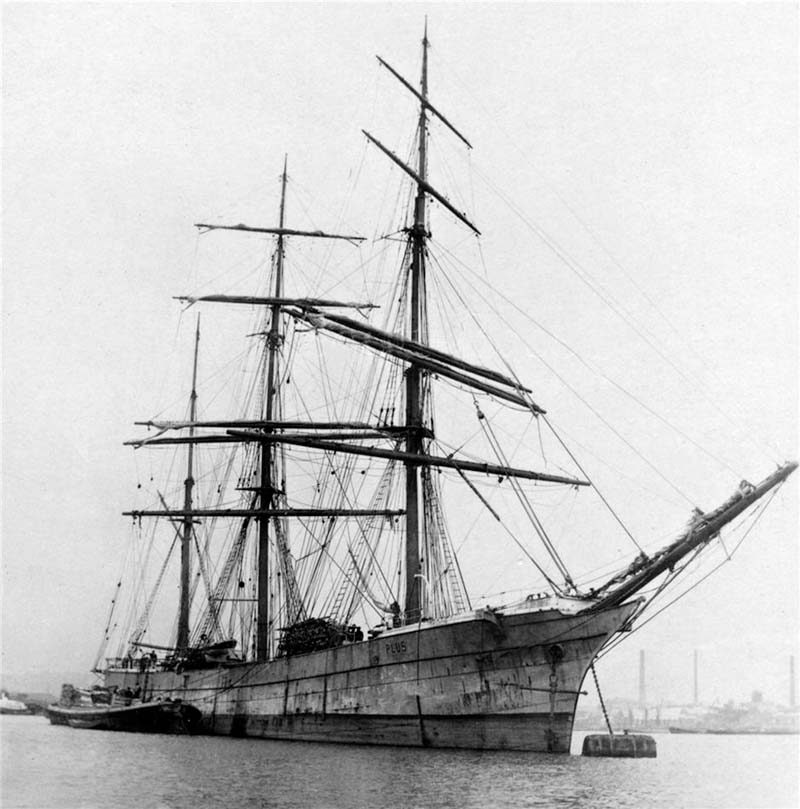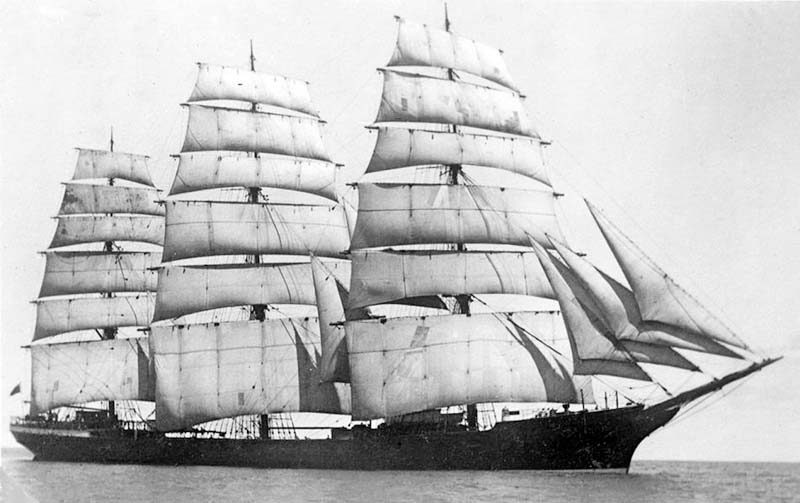 Rapid Expansion Of The Fleet
Father and son, Ferdinand and Carl Laeisz, rapidly expanded the fleet in 1867 when six German built wooden barques with Spanish names were purchased at Valparaiso. Three masted barques of 985 grt were ordered from Dutch shipbuilders, with many ships purchased that had been built in British yards, and also some in French yards. Carl Laeisz wanted his fleet to be sailed fast at their maximum possible speed, with royal and topgallant sails hoisted, and they became renowned and famous as the 'Laeisz Flying Ps'. Grandson Carl Ferdinand was made a partner in the company in 1879, and the three generations of the Laeisz family ran the company together until the founder, Ferdinand Laeisz, passed away on 7th February 1887. He was buried in the family vault in the Ohlsdorf cemetery in Hamburg.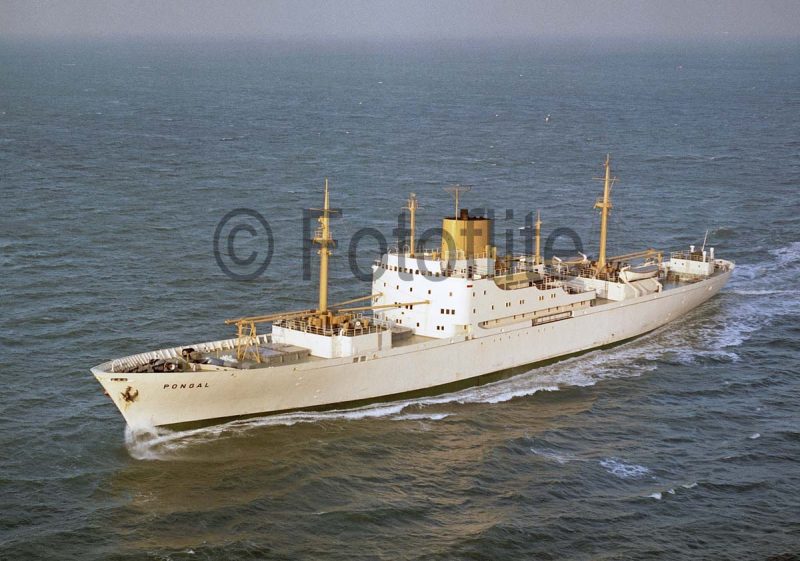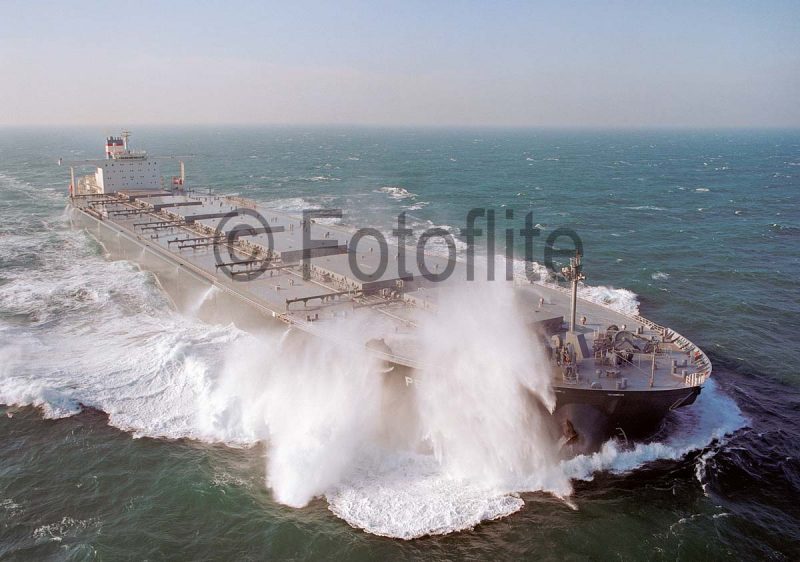 The iron full rigged ship Polynesia of 1,074 grt was completed by the Reihersteig yard in Hamburg in 1874 on dimensions of length 195.0 feet, beam of 33.0 feet, and depth of 20.4 feet with a fo'c'stle of length 25 feet and poop of 45 feet, and made many nitrate voyages homeward for Laeisz from Chile as well as voyages to Rangoon, San Francisco, Singapore, Anjer and Hong Kong. She grounded on Beachy Head in April 1890 on the homeward leg of a nitrate voyage from Iquique, and after refloating was sold for scrap. A fleet of sixteen sailing ships was being traded in 1875, eleven of which had 'P' names. More iron barques followed including Paladin in 1877, Pandar in 1877, Paradox in 1878, Parnass in 1878 built by Schau and Oltmann at Geestemunde, as well as Poncho of 830 grt and purchased on 20th May 1880 as Weymouth. The latter ship had been built by John Reid and Company at Port Glasgow in 1858 on dimensions of length 187.0 feet, beam of 32.2 feet and depth of 21.0 feet, and after eleven years service for Laeisz was sold on 28th August 1891 to a Hamburg owner. She sank on 2nd February 1898 at Borkum after a collision with the steamer Karnak.
The iron full rigged ship Pluto of 1,132 grt was purchased from Liverpool owners as Aminta on 28th January 1881 and gave ten years of service before her sale to a Rostock owner. She sailed from Blyth with coal for Iquique on 16th July 1892 and disappeared without trace after being sighted by another sailing ship in the South Atlantic. The iron barque Paquita of 452 grt was purchased on 29th July 1881 from Emil L. Hagen of Hamburg, but had been built on the Tyne in September 1862 as Maggie Leslie by Andrew Leslie at Hebburn for his own account before her sale to William Lindsay of Leith. She was sold on to A. Burchard of Rostock and was later abandoned at sea in 1903. The iron barque Pavian of 1,175 grt was purchased on 9th May 1882 and made her first voyage for Laeisz from Hamburg to Anjer to load sugar for Montreal. She had been built at Millwall in February 1864 as Tiverton for Coupland Brothers of Liverpool, but gave less than a year of service to Laeisz as she disappeared after passing Banjowangie in south east Java with the loss of all of her crew in February 1883. The Far East trades of tea, sugar, hemp, silk, wool, tapioca, rice, timber and general cargo were participated in as well in competition with faster clippers of several nationalities that received higher freight rates.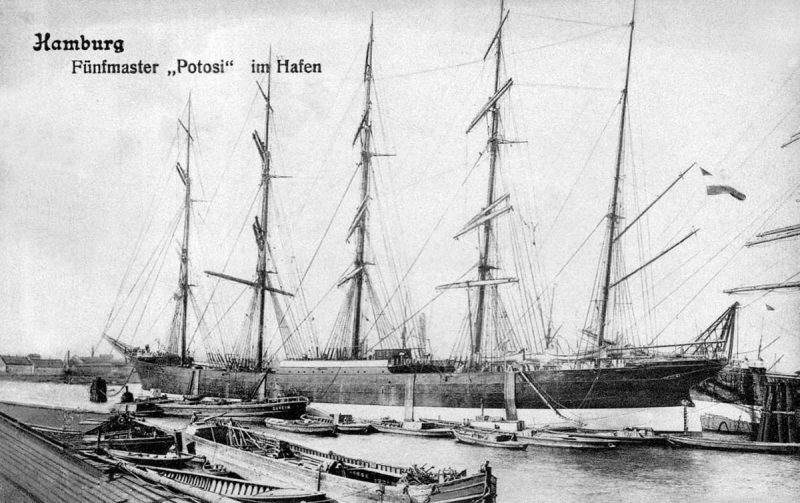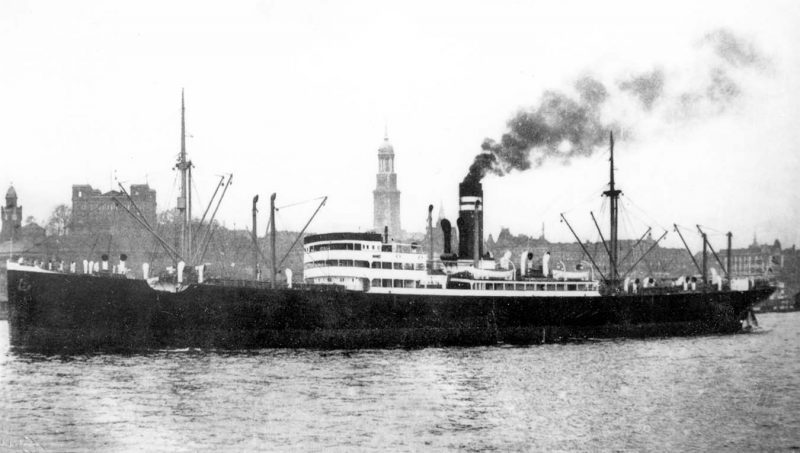 Steel Hulled Three Masted Barques
A fleet of sixteen sailing ships was being traded by Laeisz in 1885, with all but one having names beginning with 'P'. The exception was the wooden barque Henriette Behn of 647 grt built in 1872 at Ovulgunne on dimensions of length 174.4 feet, moulded beam of 33.6 feet and depth of 20.2 feet, and was purchased three years later, but she stranded on the Mexican coast later in 1885. The first steel hulled barque was completed for Laeisz in 1887 as Prompt, and she was one of fifteen iron or steel hulled barques or full rigged ships built between 1882 and 1891 in Germany. These were:-
Parsifal of 1,080 grt and launched by Blohm & Voss on 19th June 1882. She sailed from North Shields with coal for Iquique in April 1886 and foundered on 4th May off Cape Horn after her cargo had shifted, her crew were picked up by the British barque Saraca.
Pirat of 1,053 grt and launched by Blohm & Voss on 29th September 1883. She was sold to Bramslow of Hamburg in 1902 and foundered at sea in 1911 under the name of Manora.
Pestalozzi of 1,068 grt and launched by Blohm & Voss on 20th September 1884. She was sold to a Lillesand owner in Norway in September 1904, and thirty years later in 1934 she was acquired by the famous Aland Islands sailing ship owner Gustaf Erikson.
Plus of 1,256 grt and launched by Blohm & Voss on 30th October 1885. She was sold to a Lillesand owner in Norway in 1908, and later to Hugo Lundquist of Mariehamn but was wrecked on Kobba Klintar on 13th December 1933 with the loss of thirteen of her crew.
Potrimpos of 1,273 grt and launched by Blohm &Voss in 1887. She stranded on Long Beach at the entrance to the Columbia River on 19th December 1896 and became a total loss with the wreck broken up at Astoria in 1897.
Prompt of 1,445 grt and launched by Blohm & Voss on 23rd April 1887. She was sold to Mathias Lundquist of Mariehamn in May 1908 and sailed on until broken up at Copenhagen in March 1936.
Pamelia of 1,442 grt and launched by Blohm & Voss on 13th December 1888. She was sold on to an Oslo owner in 1910 and broken up in 1927.
Pergamon of 1,447 grt and launched by Blohm & Voss on 3rd November 1888. She sailed from North Shields with coal for Iquique on 24th April 1891 but was lost en-route with floating wreckage found from her, but no trace of her nineteen crew members unfortunately.
Potsdam of 1,461 grt and launched by Blohm & Voss on 17th December 1888. She arrived at Valparaiso on 3rd January 1891 but was caught in the crossfire between troops on land and the cruiser Blanco Encalada. An attempt was made to tow her out of the line of fire but the tug cast off too early and she stranded on the Roca Baja. The crew were picked up by boats from the barque Poncho, moored out of the way, and the full rigged ship Klio. The cargo was sold for $5,500 and the hull for $2,000 in Chile.
Paposo of 1,062 grt and launched by Blohm & Voss on 6th August 1885 for a Hamburg owner and purchased by Laeisz on 9th September 1889. She was sold on to a Kristiansand owner in 1904 and lost at sea in February 1908.
Palmyra of 1,797 grt and launched by Blohm & Voss on 12th August 1889. She sailed from Vlissingen on 27th April 1908 for Valparaiso but stranded on one of the Wellington Islands in southern Chile on 2nd July. The Master and Mate were able to reach the Evangelistas Lighthouse in the Magellan Straits in a small boat on 20th July, but the crew of 21 in another lifeboat disappeared without trace.
Parchim of 1,808 grt and launched by J.C. Tecklenborg at Geestemunde on 9th October 1889. She was sold to Mathias Lundquist of the Aland Islands in 1912, and later was sold for breaking up in 1925.
Pera of 1,763 grt and sister of Parchim was launched by J.C. Tecklenborg at Geestemunde on 10th May 1890. She was sold to Mathias Lundquist of the Aland Islands in 1910, but was torpedoed and sunk by U70 off the coast of Ireland on 12th March 1917 while on a voyage from Rosario to Swansea with maize.
Pampa of 1,777 grt and launched by A.G. Neptun of Rostock in 1891. She was sold in May 1913 to J. Tengstrom of Abo in Finland, but was dismasted off the Scilly Islands on 14th April 1922 while on a voyage from London to Seattle. She was subsequently towed into Plymouth and sold for breaking up at Sunderland.
Preussen of 1,773 grt and launched by Blohm & Voss on 23rd May 1891. She made some very fast passages to Valparaiso and Iquique in as little as 63 days from the English Channel. This steel hulled full rigger was renamed on 4th September 1902 as Posen to make her name available for a big five masted sailing ship building at the Tecklenborg yard in Geestemunde. She sailed from Hamburg on 5th September 1909 for Valparaiso with a full general cargo including two thousand tonnes of cement and five hundred cases of dynamite, but was destroyed by fire in the South Atlantic on 14th October, with her crew taking to the boats and being rescued by the Glasgow steamer Earl of Carrick.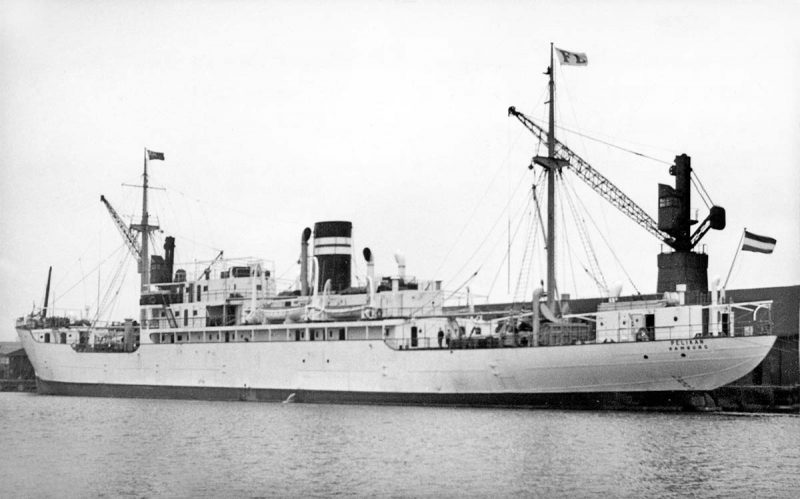 Racing Outward Bound For Nitrates
A big fleet of seventeen black hulled three masted, four masted and five masted sailing ships was being traded in 1895, including the five masted barque Potosi of 4,027 grt completed in 1895, and making her best loaded speed of an average of 13.1 knots on one voyage. The same size fleet was being traded at the Millennium, with Kaiser Wilhelm II having visited the Laeisz Head Office in Hamburg on 18th June 1899. The Kaiser was shown around the big five masted barque Potosi by her legendary Master, Capt. Robert Hilgendorf, and at the end of the tour he turned to Carl Laeisz and said 'When will you get more five masters?' as he was also engaged in a big merchant and naval build up race at the time with Great Britain.
There were also four big four masted steel hulled barques in the fleet at the Millennium in Placilla and her sister Pisagua of 2,950 grt completed in 1891/92, Pitlochry of 3,111 grt completed in 1894, and Persimmon of 3,182 grt completed in 1891 and purchased in 1899. The four masted barque sisters Pangani and Petschili of 3,080 grt followed in 1903, with another named Pamir of 3,020 grt in 1905 as the fifth of ten near sisters.
They were also joined by the biggest Laeisz five masted sailing ship of them all, the mighty Preussen (2) of 5,081 grt in 1902 and capable of carrying 8,000 tonnes of nitrate at loaded speeds of up to fourteen knots, with 353 nautical miles covered in one spell of gale force conditions in twenty four hours at an average speed of 14.7 knots. She spread 60,000 square feet of canvas on her five metal masts and many metal spars and shrouds of wire. She had dimensions of length 407.8 feet, moulded beam of 53.6 feet, depth of 27.1 feet, with her 'midships bridge deck being 93 feet in length.
On 11th September 1904, Preussen (2) passed the Lizard outward bound for Chile within hours of the four masted barque Pangani and the four masted famous barque Herzogin Cecilie owned by Norddeutscher Lloyd. All three mighty sailing ships picked up the north east trade winds to the west of the Canary Islands, with Preussen (2) just in the lead. All three ships crossed the equator on 7th October, with Preussen (2) in the lead but in sight of Herzogin Cecilie. The bigger ship then found the south east trade winds more to her liking and eased ahead, and passed the treacherous Horn two days ahead of the other two ships. Preussen (2) arrived at Iquique on 12th November, with Herzogin Cecilie three days later at Taltal, and Pangani one day later at Valparaiso.
The mighty Preussen (2) made twelve round voyages for nitrates from Chile and one on charter with case oil to Japan. She sailed from Hamburg for Valparaiso on 31st October 1910, but was run down by the Cross Channel steamer Brighton on 6th November shortly before midnight. The steamer had misjudged the speed of the big sailing ship and tried to cross her bows but struck her abreast the foremast and bowsprit, with her rigging badly damaged. She anchored off Dungeness but both anchor chains parted in the rising wind, with two tugs summoned to try to get her into Dover but they were unable to hold her against the force of the wind. The mighty Preussen (2) drifted ashore near Dover and became a total loss. The big five masted barques, Potosi and Preussen (2), were found to be difficult to handle by their crews, and only four masted barques or full riggers were built for Laeisz after the loss of Preussen (2).
There were big differences in the sailing rigs between the five masted, four masted and three masted barques owned by Laeisz. Potosi with five masts in 1895 had no fewer than 43 working sails and a huge mainmast that extended 212 feet from keel to truck, and her spanker on the mizzenmast was divided into two sails. The four masted barque Pommern of 1903 was built with her square rigged masts of equal height and all of her yards and sails interchangeable for ease of repair or replacement if damaged or dismasted. The three masted barque Penang of 1905 had double topsails and double topgallants, and had been built as Albert Rickmers for Rickmers of Hamburg with a large water ballast tank 'midships which when pumped out was used for the stowage of extra cargo. She gained a large chartroom on her poop in 1933 from the sailing ship Hougomont, which was sunk as a breakwater in Australia.
The Laeisz sailing ship fleet continued to grow with the full rigger Peiho (ex Brynimor purchased in 1906), four masted barque Pommern (ex Mneme built on the Clyde and purchased in 1906 from B. Wenche of Hamburg), full rigger Pirna (ex Beethoven purchased in 1907), full rigger Pinnas (ex Fitzjames purchased in 1909), four masted barque Ponape (built in Italy in 1903 as Regina Elena and purchased in 1911), three masted barque Penang (ex Albert Rickmers purchased in 1911), four masted barques Peking and Passat of 1911, barque Perim (ex Radiant purchased in 1912), full rigger Pelikan (ex Dione purchased in 1912), four masted barque Parma (ex Arrow purchased in 1912), Pinguin (ex Erasmo purchased in 1913), and Perceo, the former Brilliant of the Anglo-American Oil Co. Ltd. and purchased in 1914. The big sisters Brilliant and Daylight of 3,765 grt on dimensions of length 352.5 feet, breadth of 49.1 feet, and depth of 28.2 feet, were built for worldwide transport of cased oil in tins.
All of the big Laeisz fleet of sailing ships made an average of three round voyages in two years to Chile for nitrates, with the efficient company organisation helping in loading ships quickly with nitrates in as little as a day or two. A consistency of fast passages was demanded by the Laeisz managers, with the tough but capable Masters, Mates and crews enabling the company to be by far the fastest nitrate ships in the Chilean trade. Two more sailing ships of this fleet were lost in the English Channel in 1913, with Pangani in collision on 18th January 1913 with the steamer Phryne off Cap de la Hague while on a voyage from Antwerp to Chile, and only four survivors from her crew. Pitlochry was run down in the Western Approaches on 28th November 1913 by the Elder Line steamer Boulama, with all of the crew saved by the steamer and taken to Liverpool.
World War I
On the outbreak of war in August 1914, the Laeisz fleet consisted of sixteen sailing ships and two new steamers Pungo and Pioneer of 4,700 grt built in 1914 by J. C. Tecklenborg at Geestemunde for the Cameroons banana and fruit trades of the Afrikanische Frucht Compagnie A.G., a majority share interest having been taken in 1907. This pair of ships was unable to enter their designed trades due to the war, and Pungo was commissioned as the ocean raider Moewe with four 5.9 inch, one 4.1 inch, and two smaller guns and also two torpedo tubes. Moewe was very successful in this role, sinking a total of 37 Allied vessels including the liner Georgic of White Star Line and Appam of Elder, Dempster. Pionier became a naval accommodation ship at Eckernforde Bay for U boat trainees, with both vessels ceded to Great Britain as war reparations in 1919/20 and then sold to Elders, Fyffes and renamed as Greenbrier and Miami. The British banana company transferred both of them to their German subsidiary in 1933, renaming them Oldenburg and Nordenham, with the commander of Moewe, Count zu Dohna Schlodien, present at the handing over ceremony. These famous ships had become war casualties by the end of World War II.
Pungo and Pionier were not the first Laeisz steamers, as several Tyne built steamers were purchased between 1892 and 1904 for charter to and management by the German Levant Line, founded in 1889 for services to North Africa, the Eastern Mediterranean and the Black Sea. They were purchased from Hamburg Sud, Kosmos Line, and Hansa Line, German shipping companies in which Laeisz held shares. They were of up to 3,500 dwt in size and given names of Greek and Mediterranean islands e.g. Naxos, Andros, Euripos, Tinos, Imbros, Lemnos and Kypros with many names repeated.
Ferdinand Laeisz and August Bolten had been the leading merchants of a group of Hamburg merchants that had founded Hapag on 27th May 1847 for Transatlantic trading. Ferdinand and Carl Laeisz also held shares for many years in many other German shipping companies, including Kosmos Line, Hamburg Sud, Hansa Line, Adler Line, Hamburg Calcutta Line, Bugsier Line, Woermann Line, Schiller Brothers Steamship Line, Hamburg-Brazil Steamship Line, Deutsche Australische Line, Deutsche Levant Line and Deutsche East Afrika Line. Laeisz also purchased a majority of shares in the Brazilian Brahma Company in 1904, which later became the Ambev brewery, but the shares were confiscated by the Brazilian Government in 1942 as security for war damages. Carl Laeisz died in March 1901 at the age of 73 years, having recently donated the construction cost of a new music hall, the Laeiszhalle, to the Philharmonic Society of Hamburg. His son, another Carl, and grandson of the founder, had died after a severe illness in 1900 at the age of 47 years, and it was his two sons Herbert Ferdinand Laeisz (1886-1918) and Erich Ferdinand Laeisz (1888-1958) that carried on the company.
The Laeisz sailing ship fleet of big barques and full riggers on the outbreak of war was Potosi, Petschili, Pamir, Peiho, Pommern, Pirna, Pinnas, Ponape, Penang, Peking, Passat, Perim, Pelikan, Parma, Pinguin and Perceo. Ponape was captured on 20th September 1914 by the British battleship Majestic and taken to Falmouth to be confiscated and renamed Bellhouse, and sold on to a Tonsberg owner in May 1915. Perceo was captured by a British cruiser on 6th August 1914 while on a voyage from New York to Hamburg and confiscated and renamed Bell. She was sold to Alf Monsen of Tonsberg in April 1915, but was sunk by U44 on 30th March 1916 when seventy nautical miles southwest of the Scilly Isles while on a voyage from Portland (Oregon) to the U.K. with wheat, her crew being picked up and taken to Liverpool.

Many of these big sailing ships were laid up in Chilean ports for the duration of the war, the total of German sailing ships and steamers being 89 vessels. Their crews were still onboard, and Masters had to prevent boredom in their crews, with projects undertaken for the Chilean authorities e.g. work gangs for harbour reclamation and shore improvement projects. Pamir was laid up for the duration in a quiet bay at Santa Cruz de La Palma in the Canary Islands, and was handed over as war reparations in 1920 to Italy and launguished in the Bay of Naples until repurchased by Laeisz in 1924 for £7,000. Persimmon was interned at Santa Rosalia on the Pacific coast of Baja California in Mexico, and was sold after the war to Dollar Line of San Francisco and renamed Allen Dollar. She was hulked at Vancouver in 1925 and sank under tow in Takush Bay in Smith Sound in 1927. Petschili remained interned at Valparaiso until she stranded in a bad northerly gale on 12th July 1919 in the port. Pinguin was trapped in a German port and was sold in 1917 to C. J. Klingenberg of Bremen and renamed Weser.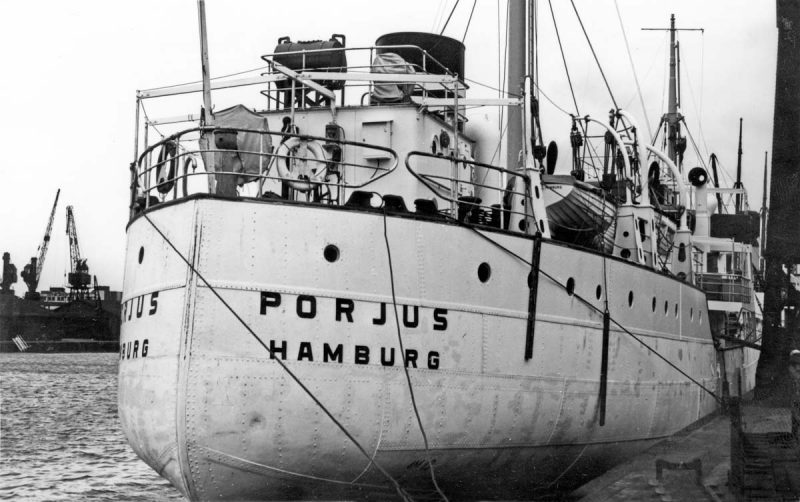 Inter-War Years
Many other Laeisz sailing ships had to be handed over as war reparations, but had been fully loaded with valuable nitrate cargoes during their long lay ups. They were sailed back to Germany after the war by their crews, and their cargoes were sold with the receipts of their valuable nitrates enabling Laeisz to buy back six of their pre-war fleet for cash and put them back into the Chilean nitrate trade. Pommern arrived back at Delfzijl on 1st March 1920 under Capt. Ravn and after her nitrate cargo was sold off she was handed over to the Greek Government as war compensation but remained laid up at Delfzijl until sold on 23rd March 1923 to Gustaf Erikson for the Australia to Europe wheat trade.
Peking sailed from Caleta Coloso in Chile on 6th October 1920 under Capt. Oellrich to the Thames, and was handed over to Italy as war reparations but repurchased by Laeisz on 11th January 1923 for £8,500. Passat arrived back in Germany from Iquique in 1920 and was transferred to the French Government as compensation for war damages, but was repurchased by Laeisz for £13,000 in December 1921. Parma also arrived back in Germany in 1920 from Iquique and was handed over that year to Great Britain as war reparations, but was repurchased by Laeisz for £10,000 on 8th November 1921. The Clyde built Peiho, dating from 1902 and purchased in 1906, arrived back from Caleta Buena in Chile at Delfzijl in 1920 after a 127 day passage under Capt. Gustav Burmeister and was handed over to the Allies as war reparations. She was repurchased by Laeisz for £6,100 on 13th July 1921, but was wrecked in fog on 16th March 1923 in the Straits of Le Maire, the sea passage between Isla de los Estados and the eastern extremity of Tierra del Fuego. The crew were rescued and taken on an Argentinian Government steamer to Buenos Aires.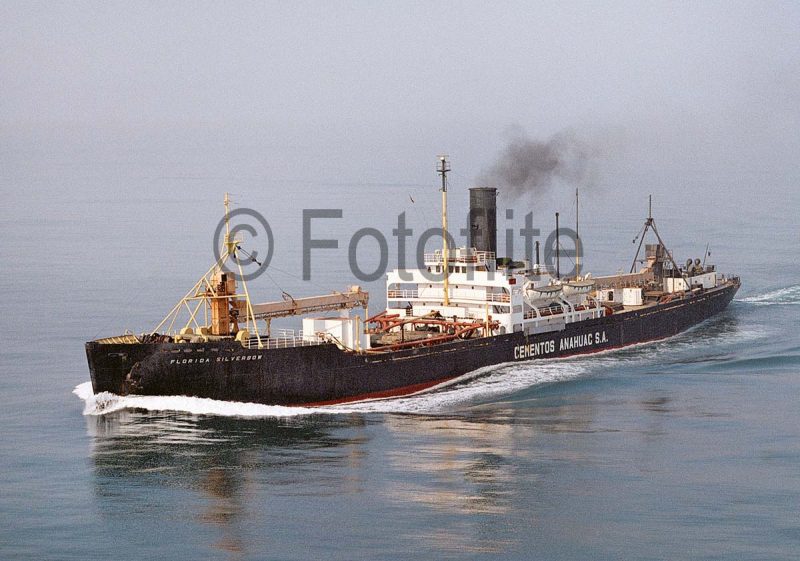 Two new sister four masted barques, Pola and Priwall of 3,105 grt, launched by the Blohm & Voss yard in 1916/17, suffered different fates. Pola was taken over by the Allies in November 1919 and sailed from Hamburg to Dunkirk as war reparations to the French Government. The completion of Priwall had been delayed by the war, but she was delivered on 6th March 1920 to Laeisz for the nitrtate trade to Chile. She made fast passages of 76 days throughout the inter-war years to Chile, and during 1932/33 she sailed outward from Cuxhaven to Port Lincoln in 138 days, and returned with wheat in 106 days from Port Victoria to Barry. She was interned at Valparaiso in 1939 on the outbreak of war, and was taken over by the Chilean Government as a cargo carrying sail training ship named Lautaro in the local nitrate trade. She was destroyed by fire on 18th February 1945 at Valparaiso while loading nitrates in sacks. A three masted, steel hulled, full rigger dating from 1902, when completed by the Penhoet yard at St. Nazaire as Marechal Suchet for French owners, was purchased by Laeisz in July 1924 for £3,100 and renamed Pellworm. She was sold in 1925 for use in Hamburg harbour as accommodation for strike breakers and later as a floating youth hostel.
A new Laeisz Liner Service to the west coast of South America via the Panama Canal began in late 1922 with the completion of two turbine steamers of 9,500 dwt by the J. C. Tecklenborg yard at Geestemunde, named Poseidon and Planet. The service was stepped up from monthly by the purchase in 1927 of a former German prize handed over to Sir William Reardon Smith and Sons Ltd. of Cardiff in 1921 and renamed Truro City. She was renamed Pilot of 8,000 dwt by Laeisz and served for six years on the liner service until broken up in 1933.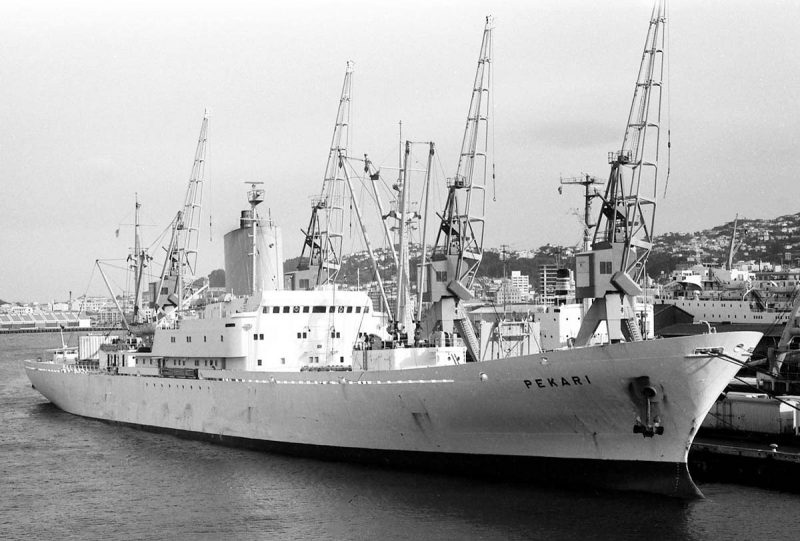 The last of 86 sailing ships owned by Laeisz was delivered in August 1926 by the J. C. Tecklenborg yard at Geestemunde as the four masted steel hulled barque Padua of 3,064 grt. She had dimensions of length 320.5 feet, moulded beam of 46.1 feet, depth of 25.4 feet, with a 31 feet long fo'c'stle, bridge deck of 65 feet, and poop deck of length 53 feet. A cellular double bottom for the carriage of water ballast extended for 231 feet of her hull. Padua performed well for Laeisz in the nitrate and other trades, but the invention of artificial nitrate, the opening of the Panama Canal, and the overwhelming number of steamers in the trade, spelt the end of the nitrate sailing ships. They moved to the Australian grain trades, except in 1936 when Padua and Priwall again gained nitrate charters from Chile. Padua was handed over in Flensburg at the end of the war on 9th January 1946 as war reparations to the Russian Government and renamed Kruzenstern. This black hulled barque has been seen in post-war years in many sail training races and is still afloat today.
The Laeisz fleet in 1932 comprised eight ships, with Padua, Peking and Priwall engaged in the nitrate and other sailing ship trades, turbine steamers Poseidon and Plate and triple expansion steam powered Pilot on the Laeisz Liner Service to the west coast of South America, and the fruit ships Puma and Panther of 1,998 grt and 3,000 dwt of the Afrikanische Frucht Compagnie A.G. built at Bremerhaven and managed by Laeisz. This fruit trade was worked in conjunction with the Jamaica Banana Company Steamship Lines of London, with the funnel colours similar to each other. White or grey hulled motorships of 3,300 grt followed during the 1930s decade in Pionier in 1933, Pelikan in 1934, Pontos in 1936, Python of 1936, Palime of 1937, Pomona of 1938 and Panther of 1939. The engines aft bridge 'midships coaster Porjus of 800 grt formed a feeder link in the distribution chain from Hamburg to Scandinavian and Baltic countries.
World War II
The entire fleet of a dozen ships that was trading in September 1939 was lost as a result of war action, or was handed over at the end of the war as reparations and compensation. Seven fruit ships trading to Africa plus a feeder ship from Hamburg to the Baltic, two turbine powered general cargo ships on the Laeisz Liner Service to the west coast of South America, and two barques, Padua and Priwall, comprised the fleet. The losses, apart from the two barques that have already been mentioned, were as follows:-
Pomona was seized at London on 3rd September 1939 and renamed Empire Merchant, but torpedoed and sunk by U100 in the North Atlantic on 16th August 1940, seven crew lost.
Poseidon was scuttled on 22nd October 1939 to west of Ireland to avoid capture by a Northern Patrol warship.
Palime was torpedoed by British submarine Trident on 25th April 1940 and badly damaged, six weeks later on 5th June she struck a mine laid by the British submarine Narwal and was damaged beyond repair.
Panther became the naval U boat target ship Salzburg, and was captured in May 1945 in the Kiel Canal and renamed Empire Mole, becoming Reventazon of Fyffes in 1947.
Pelikan was requisitioned for naval duty, and was captured at Brunsbuttel in May 1945 and renamed Empire Alde, becoming Pacuare of Fyffes in 1947.
Pionier was torpedoed and sunk by the British submarine Sturgeon on 2nd September 1940 off the southern entrance to Oslofjord.
Planet became a naval accommodation ship and was sunk on 14th April 1940 by British warships at Narvik. She was raised and repaired but later struck a mine near Swinemunde on 2nd February 1945 and sank.
Pontos was captured at Flensburg in May 1945 and was renamed Empire Mowddach, becoming Nicoya for Fyffes in 1947.
Python became a naval U boat supply ship but was intercepted by the British cruiser Dorsetshire on 1st December 1941 while she was refuelling two U boats. Python blew up after a direct hit by a salvo from the British cruiser, but the two U boats escaped into the South Atlantic.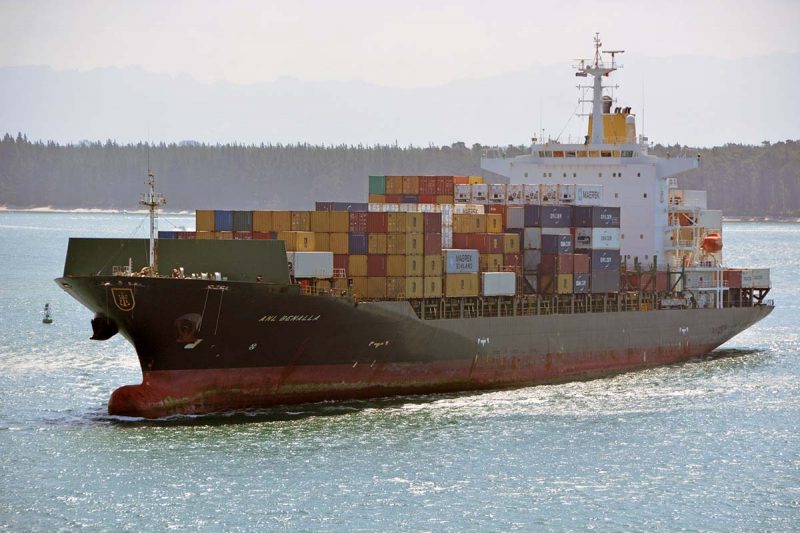 Post-War Years
German shipowners were prevented by the victorious Allies from trading or owning deep sea ships until 1950, only coastal vessels under special circumstances were allowed. Laeisz ordered three replacement fruit ships in 1950 from the Deutsche Werft yard in Hamburg and the Howaldtswerke yard in Kiel for delivery in 1951 as Pegasus, Perseus and Proteus of 4,500 dwt. The trio was followed by another eight similar ships by 1960 named Parnass, Pelion, Perikles, Portunus, Parthenon, Piraeus, Priamos and Pentelikon with accommodation for up to a dozen passengers. Their refrigerated machinery comprised three ammonia plants with twelve compressors working in each of the three holds and manufactured by Bergedorfer Eisenwerk. A fast service speed of twenty two knots was provided by six cylinder 2SCDA oil engines by M.A.N. manufactured at Augsburg.
A further eleven larger reefers followed in the 1960s decade as Puna, Pisang, Pongal, Pomona, Pontos, Padua, Parma, Pekari, Persimmon, Pica and Pirol. These were smart engines 'midships motor vessels built in Germany, except for Padua and Parma in 1967 from Scotts of Greenock, with yellow funnels and flying the white Laeisz houseflag with 'FL' in red. Four Panamax bulk carriers of 78,750 dwt with nine holds were owned from 1972 as Prosperpina and sister Propontis, and with the third purchased from Schulte of Hamburg in 1978 as Ursula Schulte renamed as Protektor, and the fourth being an ore/bulk/oil carrier built in 1983 by Bremer Vulkan as Pharos of 75,466 dwt.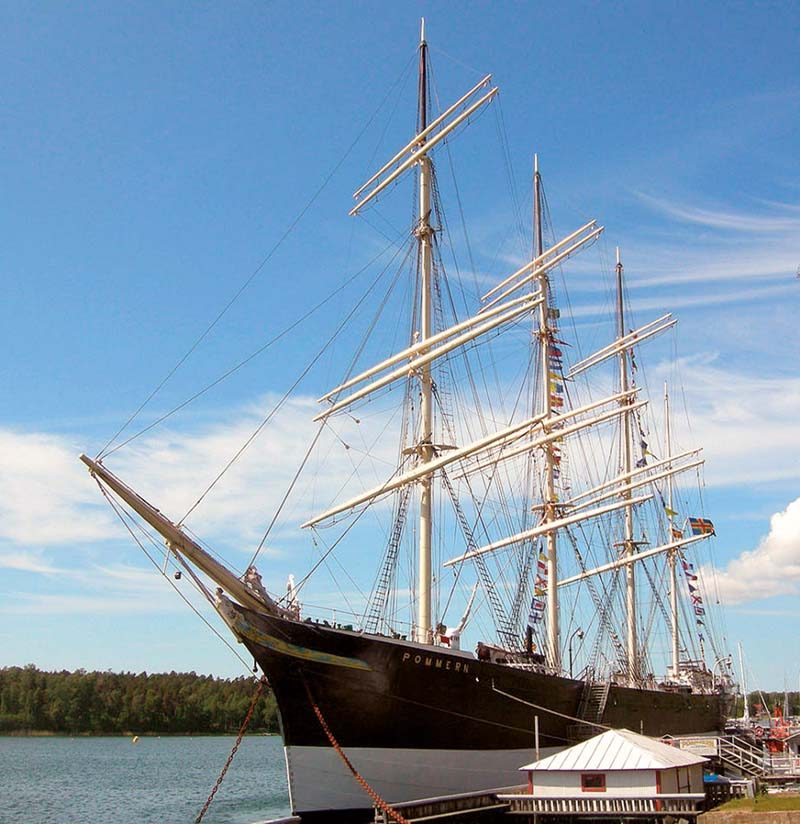 Two smaller five hold geared bulkers of 32,500 dwt of the 'Fortune 32' type were completed by the Nippon Kokan yard near Yokohama as Primavera and Primula.
The German 'Liberty' replacement ship Josefa of 16,350 dwt was managed from new in 1972 until 1978 when her management was transferred to Sir William Reardon Smith and Sons Ltd. of Cardiff.
Container ships Pluvius and Plutos of 13,400 dwt of 750 TEU capacity were completed in Holland in 1972 and later taken on charter as Seatrain Princeton and Seatrain Lexington. The trio of container ships of 700 TEU capacity completed in 1980 by N.V. Boelwerf as Pamina, Paloma and Papagena had short careers with the company, Pamina being chartered to Canadian Pacific as CP Hunter. This trio, and a trio of reefers also completed in 1980 by N.V. Boelwerf as Pocahontas, Pocantico and Potomac were jointly owned by the shipyard, Laeisz and Ahlers N.V. of Belgium. The feeder container ships Planeta and Plata completed in 1978 was also chartered out to other shipping companies.
Perhaps the most unusual of the ships managed by Laeisz was the old cement carrier Florida Silverbow, built in 1944 as a standard 'Victory' ship named Silverbow Victory and converted into a cement carrier in 1972. She was managed for Cementos Anahuac del Golfo S.A. of Mexico by the Bermuda office of Laeisz until she was broken up at Brownsville in Texas in 1985.
In 1983, the white hulled refrigerated banana container ship Puritan entered service equipped with two large yellow gantry cranes, and after twenty years of service she was sold to Chiquita Brands in return for the remaining shares of the Afrikanische Frucht Compagnie A.G.
A fleet of eight ships was owned in 1985, including a multi-purpose vessel chartered to Norasia Lines as Norasia Dagmar of 23,325 dwt and 1025 TEU capacity built in 1982 by the VEB Mathias Thesen Werft at Wismar with a service speed of sixteen knots from an eight cylinder diesel engine of 11,200 bhp.
In 1993, the East German State owned shipping company Deutsche Seereederei Rostock (DSR) was privatised, and a business opportunity was seized by purchasing the shipping, tourism and real estate activities of DSR jointly with a partner from Treuhandanstalt of Germany. The fleets of both DSR and F. Laeisz Schiffahrts were merged into Reederei F. Laeisz, which brought the Laeisz shipping interests into a major worldwide role. The owned and managed fleet at the Hamburg and Rostock offices of Laeisz at the Millennium was thirty six ships of all types, including fourteen container ships of up to 4,800 TEU capacity in Pohang, Portugal, Pudong, Pugwash, Punjab, Pusan, Peking, Penang, Portland, Praha, Phoenix, Philadelphia, Pretoria and Priwall. There was also a very large ore carrier Peene Ore, Capesize bulker Patagonia and two Panamax bulkers Premnitz and Piro, liquid gas tankers and the ro-paxes Petersburg, Griefswald and Kahleberg. The latter trio were employed on regular passenger and ro-ro/train services from Riga in Latvia to Ust-Luga in Russia, or on Black Sea services from Odessa in the Ukraine to Russian, Georgian and Turkish ports. Seven of the fleet had traditional 'P' names in Pellworm, Panama, Paris, Pharos, Pilgrim, Pittsburg and Puritan.
Postscript
The odyssey of the big four and five masted nitrate barques stirred the imagination of generations of salt water seafarers with tales of terrifying gales encountered as they passed Tierra del Fuego and the Horn. They faced 330 tortuous miles of rough seas, treacherous and rocky coasts, and bitter gales before they picked up a wind from the south to drive the great ships northwards to their destination of the nitrate loading ports. Erich F. Laeisz of Hamburg and Gustav Erikson of Mariehamn in the Aland Islands were the only two shipowners that persevered with big barques as a profitable means of carrying bulk cargoes around the world. Most other shipowners had given up the sailing ship before the start of World War I, but these two firms continued for at least another thirty years, and credit is due to them for doing so and for proving that it was still possible for the big sailing ship to survive and prosper.
There are still four of the four masted Laeisz 'Flying P' barques in existence today:-
Pommern as a museum ship in Mariehamn.
Passat as a museum ship in the Baltic port and resort of Travemunde.
Padua is still very much active as Kruzenshtern of Russia.
Peking built in 1911 by Blohm & Voss in Hamburg.
Peking was purchased by the German Bundestag on 12th November 2016 while serving as a museum ship in South Street Seaport in New York City since 1975, and was returned to her home port of Hamburg in the Spring of 2017 on a submersible heavy lift ship as she is no longer seaworthy. She will be restored at a cost of €30 million and become part of the Hamburg Port Museum along with the preserved sailing ship Rickmer Rickmers of 1896, and the former Hamburg Sud motorship Cap San Diego built in 1962.
Reederei F. Laeisz Gmbh is still very much in existence today owning and operating a big fleet of over sixty ships of 2.8 million dwt of all types, with twenty of them having traditional 'P' names. The ore carrier Peene Ore of 322,398 dwt was the flagship of the fleet and one of the biggest ships in the world when she was completed by the Daewoo Heavy Industries yard at Okpo in South Korea in 1997. She is still in the Laeisz fleet today, but managed as Paradise N, with a length of 332 metres, beam of 58 metres and loaded draft of 14.5 metres, and seven holds and hatches. Those ships with 'P' names include two Panamax bulk carriers in Pugnani and Paganini, five container ships in Porto, Pona, Posen, Pontresina and Pinara, eight car carriers in Paganella, Paganino, Paglia, Pagua, Parana, Passama, Passero and Patara, and two gas tankers in Pugnani and Paganini. Two new large car carriers were completed in 2016 by the Dalian yard in China, and six more are on order from the Yangfan yard in Zhoushan. Export credit is provided by the Industrial and Commercial Bank of China Ltd. (ICBC). Laeisz manages ships for or charters ships to many owners including Egon Oldendorff, NSB Niederelbe Schiffahrt Gmbh, Hanjin, MSC, CSAV, Dr. Peters KG, Finnlines Group, Grimaldi Lines, Pacific International Lines (Pte) Ltd., BW Gas, and several other German owners. Martini Chartering was formed in 1995 for the chartering activities of Reederei F. Laeisz and Leonhardt and Blumberg.
The last male descendant of the founder of the company, Erich F. Laeisz, passed away in 1958, and the current owners of the Laeisz enterprise are the Schues family of father Nikolaus W. Schues and son Nikolaus H. Schues. Nikolaus W. Schues entered into a partnership with F. Laeisz in 1973, and he and his son purchased the company from the heirs of the family in 2005. They and the shore staff of their total of 1,150 employees are based at their traditional Head Office in the Trostbrucke, built in 1897 to house the staff working in the three divisions of trade, shipping and insurance, and represented by three stars placed at the top of a red anchor in the Laeisz logo. The Hamburg representative of the German Society for Rescuing Shipwrecked Seafarers also has his office in the Trostbrucke, as F. Laeisz founded the rescue organisation in 1861. Nikolaus Schues received an award in Hamburg on 24th February 2017 from the President of the Republic of Liberia for many decades of close co-operation between F. Laeisz and the Liberia Maritime Authority. I wish them well for the future of their very unique and interesting shipowning company.