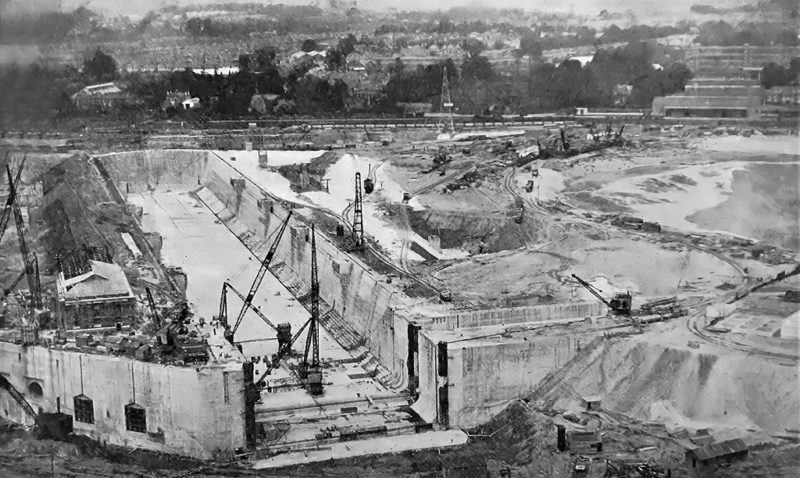 2023 sees the 90th anniversary of the opening of one of the British Empires most ambitious projects but it wasn't a ship it was the then world's largest graving dock, the King George V Dock in Southampton. The dock would break world records in capacity capable of accommodating ships up to 100,000 tons in weight and created new construction techniques during its complicated build process. Later the dock would play a vital role in one of the most audacious and daring Commando raids of the Second World War.
Southampton was 90 years ago, like today, at the forefront of the Transatlantic passenger trade and business was steadily growing. The facilities were under strain due to the pressure of work and there was deemed a need for repair facilities suitable for the size of ships that were currently using Southampton as well as the perceived future growth of ships generally. Liners needed repair facilities and Southampton was the perfect location to provide them.

The design chosen for the new dock had been prepared by F.E Wentworth-Sheilds had dimensions of 1,200 feet long, 135 feet wide at the entrance and between buttresses and 59 and a half feet from the dock floor to the 'cope' – the engineering term for the brim of the vast dock space. Once inside the entrance the dock would open up becoming 165 feet across and when fully flooded contained 260,000 tons or 58 million gallons of water. Pump houses located around the dock site could empty the water in the space of four hours.
The driving force behind the project to construct the King George V Dock at a cost of £2 million was Southern Railway's vast project to transform Southampton Docks. Their plans included 7,000ft of deep water quays fronting more than 400 acres of reclaimed land. John Mowlem and Company and Edmund Nuttall Sons and Company secured the contract to build the world's largest dock. This construction in itself was a magnificent feat of engineering requiring the construction of a long embankment wall. To form a foundation for the quay wall, 146 immense concrete monoliths were sunk into the embankment. At the base of each monolith was fitted a steel cutting shoe so that the monoliths could cut their own way into the embankment. Nine vertical shafts were put into each monolith so that excavating grabs could take away the soil beneath the monoliths to help them sink under their own weight. The new quay wall gave accommodation for eight of the largest liners at any state off the tide. At the western end of the quay wall the graving dock was built.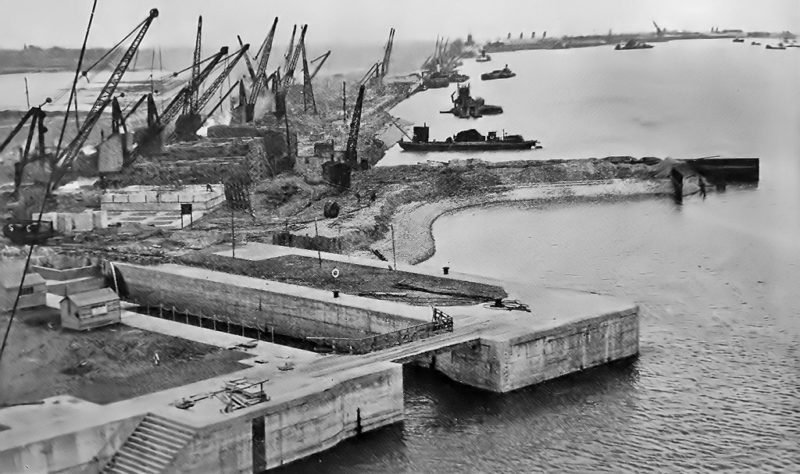 Subscribe today to read the full article!
Simply click below to subscribe and not only read the full article instantly, but gain unparalleled access to the specialist magazine for shipping enthusiasts.