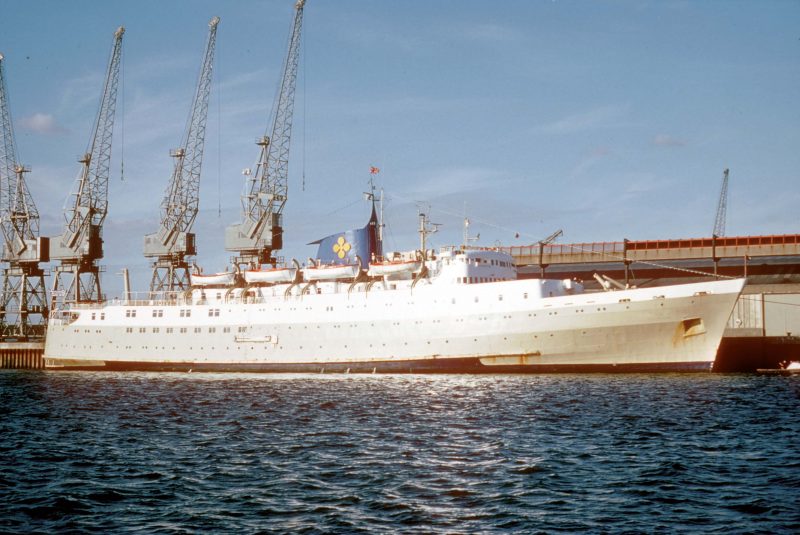 The winner of the July competition was Alistair Deayton of Paisley
A Frost writes:
July's Unknown Ship is Epirotiki SS Nav. Orpheus ex .British and Irish Shipping car ferry Munster, built in 1948 by H&W, Belfast. In 1968 she was renamed Munster 1, then Theseus. In 1969 she was renamed Orpheus and broken up at Alang in 2000.
Peter Sommerville writes:
This month's ship is the ex Coast Line ferry Irish Coast, which carried several names while under Epirotiki ownership but I think the picture shows her as the Apollon II. She was built by Harland and Wolff Belfast in 1953 as the Irish Coast (3,824grt) and was designed to be a relief ferry for Coast Line and Burns and Laird Line vessels that were under maintenance. In 1968 she was sold the Greek Epirotiki Line for conversion to a cruise ship which altered her appearance greatly and carried several names in close succession – Orpheus/ Semirais II/Achilleus/Apollon XI and finally Apollon II, the name which she carried for most of her time under the Greek flag. In 1981 her ownership passed to Panamanian owners when she was renamed Regency and received an all white hull but no other major changes to her appearance. She ended up being laid up in Miami in 1982 but at some point was moved east and laid up at Batangas in the Philippines where she was grounded and partially sunk following a typhoon in October 1989. In 1996 the wreck was moved to Manila to be broken up.
Niels Storinggaard writes:
The ship is Apollo, ex Irish Coast. Irish Coast was built by Harland & Wolf 1952 for Coast Line. She was sold in 1968 to Epirotiki Lines, Greece, and had several names viz. Orpheus, Semiramis I, Achillius (all in 1969) followed by Apollon II, normally just called Apollo. Epirotiki sold the vessel to Panama Flag, later Bermuda, where she was called Regency. After a lay up in Florida, followed by lay up in Batangas, Phillipines, she was hit by typhoon Dan in 1989, and became a total loss.
Mike Goadby writes:
This month's unknown ship is the 3,800 grt twin screw M/V Apollon II. She was built in 1953 by Harland and Wolff at Belfast as Irish Coast for Coast Lines service between Glasgow and Dublin. She was sold in 1968 to Epirotiki Lines of Greece. The vessel received the names Orpheus, Semiramis II, Achilleus and Apollon XI, this was changed to Apollon II in 1980. She was sold in 1981, and was lost in a typhoon in 1989.
Alan Blackwood writes:
This month's unknown is the 3,824 grt twin screw cruise ship Apollon II. She was launched on 8th May 1952 and completed on 17th October of the year by Harland & Wolff, Belfast as the twin screw 3,813 grt Irish Coast for Coast Lines Ltd. of Liverpool. She was the penultimate unit of a total of 13 broadly similar vessels (but a rather more streamlined version of her earlier sisters) to be constructed for a number of Coast Line Group companies operating Irish Sea ferry services. Sporting Coast Line livery throughout with the Company, she spent much of her 14 year ferry career operating Glasgow originating services to Belfast and Dublin, summer only daylight services from Ardrossan to Belfast and otherwise as relief ship for a variety of the Group Companies' Irish Sea services mainly out of Liverpool. Her overall dimensions were 339'08" (loa) x 51'07″(beam) x 14'00" (moulded) on a summer draft of 14'11.5″. Her main propulsion consisted of a pair of 10 cylinder two stroke single acting oil engines of 6,500 bhp constructed by her builders at Belfast and returning a service speed of 17 knots.

During 1968 she was sold to the Epirotiki Steamship Nav. Co. "George Potamianos" Ltd. of Piraeus and during the course of 1969 following her conversion and remodelling for cruising duties when remeasured at 3,824 grt, was initially renamed Semiramis II and later in the same year renamed Achilleus then Apollon II , the last two under the registered ownership of Epirotiki Lines S.A. of Piraeus for operations under the Greek flag. During 1981 she was sold to Corp. Naviera Intercontinental de Panama SA when renamed Regency for operations under the flag of Panama. The following year her registered ownership was transferred without change of name to the Triton Holding Corporation, Panama for operations in the Philippines Archipelago as a floating casino. Whilst laid up at Batangas, she was wrecked on 11th October 1989 during a severe storm and later scrapped at the Novotas Yard, Manila.
John Jordan writes:
This ship started out life in Harland and Wolff's shipyard , Belfast, in 1952, as the MV Irish Coast and was owned by Coast Lines. She was used to cover other ships in that company, during drydockings, but was used occasionally on the Glasgow-Dublin route. I travelled on her to Dublin in 1950's when I paid off my ship.She also served on the Scotland- Belfast route.

In 1968 she was sold to the Greek Company, Epirotiki Lines, and was refurbished and altered as depicted in July's magazine. She was first named Orpheus, then Semiramis 11 and Achilleus within her first year with Epirotiki. They finally settled on the name Apollon XI and subsequently Apollon II, which is the ship as shown. She carried out varied voyages for Epirotiki including trans-Atlantic south of 36 North calling at the Azores. in 1981 Apollon II was sold to Corporation Naviera Intercontinental S.A. and named MS Regency. She then may have done some cruising between Miami and the Caribbean islands. She quite soon became laid up and deteriorated in appearance. In 1982 she was taken over by a Triton Holding Corporation, maybe over financial problems. She remained idle for some time and was sold to Far East interests in early 1989. She was tied up in the Port City of Batangas in SW Luzon Phillipines, and in October that year she was hit by Typhoon Dan which broke her moorings and put her partially aground. The Insurers declared her a total loss and she was sold for scrap. It took a number of years before she was recovered as scrapping did not commence until 1996/7.
Robert Langlois writes:
The mystery ship depicted on page 63 is Epirotiki Lines' Apollon XI, although it is possible that she is shown after her name being rendered as Apollon 11. The photograph could have been taken at any time from 1969 to 1981. This ship started life as Coast Lines' Irish Coast, being completed by Harland & Wolff, Belfast in October 1952. She was designed as a relief vessel for her owners' Irish Sea services. Her original gross tonnage was 3,813 on dimensions 339.7' overall x 51.6', and her twin screws were driven by two 10-cylinder B&W oil engines of 9,250 BHP manufactured by the builder, giving a service speed of 17 knots. She carried 650 First and 550 Second class passengers, as well as 25 crane-loaded cars. She was fully employed on various routes until withdrawn in April 1968, and laid up in Morpeth Dock, Birkenhead.

In August 1968 Irish Coast was sold to Epirotiki and initially renamed Orpheus (first of name in fleet). She was refitted at Piraeus, and in May 1969, renamed Semiramis II, commenced sailings to Crete, Rhodes, Delos and Mykonos. In early 1969 she was renamed Achilleus, and briefly refitted at Perama as a cruise ferry. Then, from September 1969 to June 1970, she was given a major rebuilding (superstructure extended, reduced to one signal mast on funnel), and emerged as a full-time cruise ship with yet another new name Apollon XI. In this guise her gross tonnage had risen to 4,811, and she accommodated 455 passengers in a single class, with speed reduced to 15 knots. She ran 3-4 day cruises from Piraeus to the Greek Islands, but on occasion went further afield to the Caribbean and completed two 42-day Round Africa cruises. In 1973 she was refitted internally, with capacity reduced to 344. From 1975 she was marketed as Apollo (but not registered as such), also when chartered to Costa in 1979. Her name was varied in 1979 and 1980 to Apollo XI and Apollo 11 respectively.

From 1980 information as to Apollo 11's career and movements is rather sketchy. In 1981 she was sold to Corporacion Naviera International SA, Panama and renamed Regency. It appears that she crossed the Atlantic to Miami, and possibly made some cruises to the Caribbean. In 1982 (fact) she was taken over by Triton Holding Corporation (based in Bermuda/Philippines interests), and at some time thereafter found her way to Batangas in Luzon, Philippines (arrival date unknown). She was laid up there inactive, but eventually on 11th October 1989 broke her moorings and ran aground during typhoon 'Dan', and was declared a total loss. In 1990 the hulk was partly dismantled in situ, and the remains refloated and towed to Manila. It was not until 1996 or later that demolition was completed by the Navotas Yard.

A ship which was commercially active for only two owners, but with Epirotiki bore numerous names – rather confusing. One of a hierarchy of Irish Sea ferries which helped to pioneer and develop the Mediterranean cruise business into what it is today. Apparently Apollo(n) was named after the Greek sun god and the Apollo 11 mission which landed the first humans on the moon.
Mike Mahon writes:
The unknown July ship is the MTS Orpheus of Epirotiki Lines of Greece. Originally built as the Munster in 1948 by Harland & Wolff for the British & Irish Steamship Company. Laid down on 25th March 1947, and launched on 17th January 1948. She was sold by B&I Line in 1968 to Epirotiki Lines of Greece, and departed Liverpool on 8th April 1968 under the name Theseus, bound for Piraeus for a refit. After the refit she operated under the name Theseus for a year until Epirotiki Lines changed her name to Orpheus. In 1974 she was chartered by Swan Helenic Line for a period of time. She was finally broken up at Alang in 2001.
Doug Burn writes:
The July mystery ship was originaly built as Irish Coast. She was the 3rd to be named, built at Harland + Wolff Belfast in 1952 for Coast Lines Ltd. Her dimensions were:- length 339.7 feet, breadth 51.6 feet, tonnage 3,813grt.

Propulsion Two 10 cylinder H + W Diesel engines 4,849 Kw power giving a speed of 16 Knots.

1968 sold to (Epirotiki Line) Greece renamed Orpheus
1969 still under same company renamed Semiramis 11
1969 still under same company renamed Achilleus
1969 still under same company renamed Apollon 11
1981 sold to Regency Corporation Naviera INtercontinental S.A. renamed Regency

On 11th October 1989 she was in collision while laid up at Batangas during a typhoon. She was refloated & towed to Manila for scrapping. Your photograph shows her under Epirotiki Line colours.
Alistair Deayton writes:
July's Mystery Ship is Epirotiki Lines' Apollon XI. She was built in 1952 by Harland and Wolff at Belfast, yard no. 1461, as Irish Coast for the Coast Lines group and was used on various Irish Sea routes of their subsidiaries as a relief vessel, and from Glasgow to Dublin in the summer months. In summer 1960 she was used on the daylight Ardrossan to Belfast servic and from 1966 until 1968 was on the Liverpool to Belfast service for the Belfast Steamship Company.

She was sold to Epirotiki in 1968 and initially renamed Orpheus and then in 1969 respectively, Semiramis II, Achilleus and finally Apollon XI in honour of the moon landing mission, although marketed as Apollo. Rebuilt as a cruise ship in the 1968-69 winter, she mainly operated in the summer months on Aegean cruises from Piraeus, serving until 1980. In the winter months she moved further afield, often under charter to travel agents. In 1981 she was sold to Corporacion Naviera Intercontinental de Panama S.A. and renamed Regency for cruises from Miami. She was laid up after a year or two and some time later moved to Batangas in the Philippines, where she was laid up in dry dock, where in October 1988, she was severely damaged by Typhoon Dan and was then moved to Manila and broken up.

She was 3,812 grt as built, and 3,824 after conversion, with a length of 339.7 ft.(103.54 m), a breadth of 51.6 ft (15.73 m) and a draft of 15.78 ft (43.81 m). She carried 1,400 deck passengers as built and 350 after her rebuild as a cruise shop. Two 10-cylinder diesels by her builder gave her a speed of 16 knots.
Johnny Magne Holmen writes:
The ship is the Epirotiki Lines' cruiseship M/S Orpheus. Originally, she was built as a ferry and she was delivered to her owners British & Irish Steam Packet Co.(B&I), in Dublin, from Harland & Wolff Ltd, Belfast, yard no. 1349, 20th

January 1948. She had been given the name Munster. She was put in traffic across the Irish Sea between Fishguard and Cork. Her tonnage was BRT 4,088 and she could take 1500 passengers and she did 15 knots. Crossings of the Irish Sea were during night. The following summer season, she was moved to the Dublin to Liverpool route. She also offered space for some cars, that were lifted on/off by crane. This was customary practice at this time. In 1967 she was moved back to her original route, Fishguard to Cork. She was in traffic for B&I until autumn 1967. On 13th October she was laid up for sale in Birkenhead and renamed Munster 1. Her name had been given to a successor. 24th July 1968 she was sold to Epirotiki Steamship Nav. Co. "George Potamianos" S.A., Pireus, Greece. She was renamed Thesus and 4th August she left Birkenhead for Pireus in order to be rebuilt to a cruiseship in Eleusis. In 1969 she emerged as Orpheus for Epirotiki Lines and was put into the eastern med. cruising business. The winter season 1969/1970 she was chartered to Ensign Cruises, New York. From mid May 1970 through summer season the next year, she was chartered to Westtours and was operated in their markets on Americas west coast (Alaska to Mexico). Westtours is now an integrated part of Holland America Cruises. Thereafter it was back to the Med. under Epritiki's banner.

In 1974 came a turning point in this little cruise ship's fate. She was chartered by the British cruise operator Swan Hellenic. This company had been in business for some 20 years already offering cultural cruises around the Med. on various chartered ships. Epirotiki managed to get this deal with Swan Hellenic and she retained the charter for no less than 22 consequtive years with Swan Hellenic. As a cruise ship she measured BRT 5,078, and she could accommodate 372 passengers in 155 cabins, all with private facilities. The 1980,1981 and 1982 seasons brought her back to British and Nordic waters, and she did a couple of around Britain cruises. The picture in the magazine is likely to from one of these cruise stints in British waters. In the end, Swan's Hellenics charter came to an end at the end of Med. season in 1995 when Swans Hellenic had selected a new ship for the 1996 season and onwards. So in 1996 Epirotiki marketed her on their own under the new banner Royal Olympic Cruises (after the merger with Sun Lines of Greece). Later, The Olympic Committee forged the to rename to Royal Olympia Cruises. In 1999 she was laid up in Pireus. In October the following year she was sold to Indian breakers. Under the name Orpheu she arrived Alang in India on Christmas Eve, 2000, for her breaking up.
Iain Robertson writes:
I believe this ship to be Apollon II, ex Irish Coast, 68 of Epirotiki Lines. Originally renamed Orpheus, Renamed in 1969, Apollon XI, then Apollon 11. Sold 1981 and Renamed MS Regency.
John Chitty writes:
I believe this months ship to be the m.v. Apollon 11 of the Greek Epirotiki lines.

Originally the Coast Line vessel m.v. Irish Coast, built by Harland and Wolff at Belfast in 1952 as yard no.1461. Dimensions, loa 103.4m, beam 15.7m, grt 3,813, powered by twin diesel engines giving speed of 17 knots, delivered in October 1952. She was used by Coast Lines as the relief vessel when other units went to dry docking repair therefore seeing extensive service around the UK coast.

In August 1968 the vessel was sold to Epirotiki lines of Greece and entered dockyard in Greece to be converted to a mini cruise ship, originally renamed Orpheus, she commenced her first cruise in May 1969. the vessels name changed in quick succession, becoming the Semiramis II, then Achilleus, before becoming the Apollon XI, later changed to Apollon 11. After many years of good service with a seemingly loyal clientele she was laid up and put up for sale following her last summer season in 1980. In 1981 she was sold to Corporation Naviera Intercontinental SA of Panama and renamed Regency. Control was transferred to Triton Holding Corp., based in Bermuda in 1982 whilst vessel was laid up in Miami. At some time she transferred to Batangas in the Philippines where in 1989 she foundered after being struck by typhoon 'Dan', declared a CTL by the insurers she was sold for scrap in Manilla.