Astomos Energy Corporation's liquefied petroleum gas (LPG) carrier newbuild Laurel Prime was named on 13th December at Japan's Mitsubishi Shipbuilding shipyard. The new 83,000m³/ 48,300dwt and 47,963gt ship will be the seventh vessel of its type built for Astomos Energy. Completion and delivery of the 230m long/36.60m beam vessel, which will be operated by Nippon Yusen Kaisha (NYK Line), was scheduled for the end of December, 2018.
Babcock Schulte Energy's new 8,070gt/2018 built Kairos, the world's largest LNG bunker supply vessel, began operations in Northwest Europe on 11th December 2018. Chartered by Blue LNG, a joint venture of the Hamburg-based LNG supplier Nauticor (90% share) and the Lithuanian energy infrastructure provider KN (10% share), the ship was handed over by owner Babcock Schulte Energy in the port of Klaipeda. The construction of the vessel started in 2016 when the joint venture signed a time-charter agreement with Babcock Schulte Energy. In February 2018, steel cutting took place at Hyundai Mipo Dockyard (HMD) in Ulsan, South Korea, and in October 2018 the vessel was delivered by the shipyard. With a tank capacity of 7,500m³, the ice class vessel also features the ballast-free design and installation of a CNG tank to store vapour return gas from vessels that she bunkers.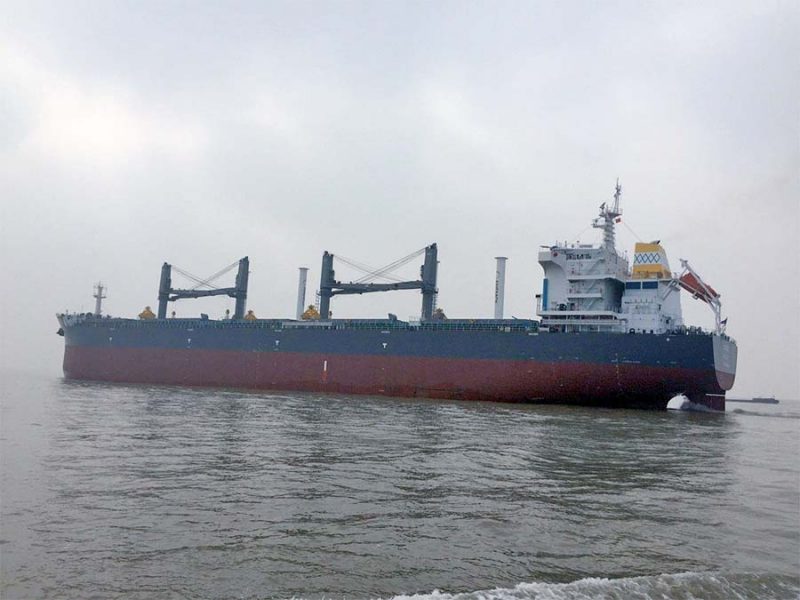 Blue Planet Shipping's 36,452gt/2018 built Ultramax bulk carrier Afros (above), which was fitted with an Anemoi Flettner Rotor system, was named 'Ship of the Year' at the Lloyd's List Greek Shipping Awards 2018. The 64,000dwt newbuild is the first geared dry bulk carrier to be equipped with Flettner Rotors and the installation includes four rotors which reduce vessel fuel consumption at sea and, when in port, can be moved along the deck clear of cargo handling gear, preventing any impact on port operations. The SDARI-designed vessel, which was built by China's Jiangsu Haitong Offshore Engineering Co. Ltd. and delivered in January 2018, is fitted with a Ship Energy Efficiency Management System consisting of variable frequency drives for primary pumps and fans, reducing onboard power needs. The Flettner Rotor system, designed and installed by British company Anemoi Marine Technologies, utilises the aerodynamic phenomenon known as the Magnus Effect to provide useful propulsion to the vessel by harnessing wind power to enhance vessel efficiency, reducing net fuel consumption and lowering harmful exhaust emissions.
BW Group of Bermuda has sold a fleet of 13 chemical tankers to Ace Tankers Management BV. The deal was finalised in December 2018 between BW Chemicals Pte. Ltd. and Ace Tankers Management BV. Once acquired the ships are intended to join the Ace-Quantum Chemical Tankers (AQCT) Pool, a joint venture between Ace Tankers and Eastern Pacific Shipping. The AQCT Pool currently manages a fleet of over 20 stainless steel 19,900dwt chemical tankers.
The Cool Company is the operating name of a new ship-owning entity being formed by three prominent LNG shipping companies to form a pool of 16 vessels built 2013-2015. The companies involved are Golar LNG (ten vessels), Awilco LNG (two 156,000m³ ships) and TMS Cardiff Gas (four 2014-built 160,000m³ vessels). Dynagas had been identified as a member of The Cool Company but this did not materialise.

Subscribe today to read the full article!
Simply click below to subscribe and not only read the full article instantly, but gain unparalleled access to the specialist magazine for shipping enthusiasts.