Berge Bulk of Singapore took delivery of the latest in the series of four 262,000dwt vessels, the 134,693gt, 327m long and 57m beam Berge Annapurna, on 21st July. The ship was built by China's Longxue Shipyard.
Gener8 Maritime agreed the sale in July 2017 of its three oldest vessels, namely two 1999-built Suezmax tankers, the 81,526gt Gener8 Horn and 80,058gt Gener8 Phoenix (sold for demolition) and the 57,683gt/2002-built Aframax, the Gener8 Elektra. The company also plunged $82.6 million into the red in the second quarter of 2017.
The Grimaldi Group took delivery of the pure car and truck carrier (PCTC) Grande Baltimora, the first of a series of three sister ships manufactured at Jinling Shipyard, China, on 21st July. The 199.9m long and 32.36m beam ship has a gross tonnage of 62,134gt and is fitted with four hoistable decks.
Pacific Basin Shipping Limited has completed a conditional agreement to acquire five dry bulk vessels worth $104.6 million. The acquisitions relate to two 2014-built Supramaxes worth $34 million, a 2014-built Handysize worth $21.1 million, a 2016-built Supramax worth $23.5 million and one resale newbuilding Supramax due for delivery in January 2018 worth $26 million.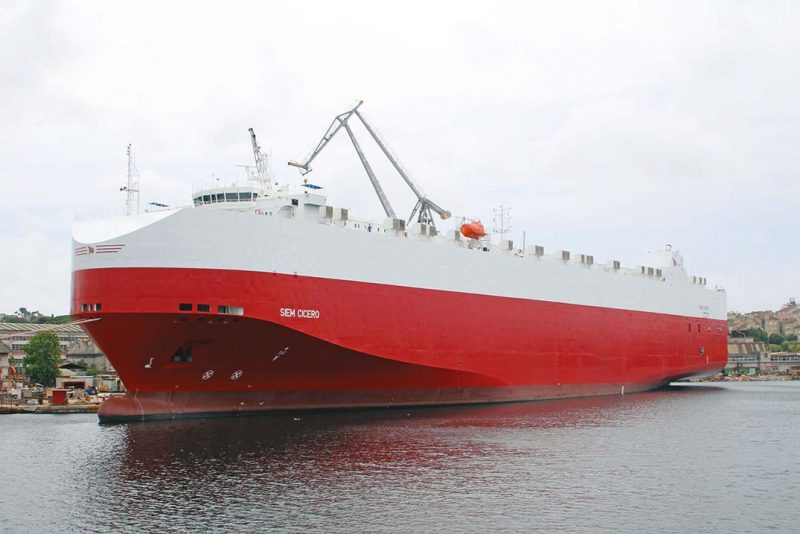 Siem Car Carriers' large car and truck carrier (LCTC), the 56,677gt/2017 built Siem Cicero (above), briefly ran aground on 13th July in the river Ems. The 7,000 CEU capacity/13-deck ship had departed from the Port of Emden and was bound for the Port of Halifax in Canada.
Teekay Offshore, a unit of Teekay Corporation, has entered into conditional shipbuilding contracts with Samsung Heavy Industries (SHI) to construct two new LNG-powered shuttle tankers. The contract comes with options to build two additional vessels. Financial details of the deal were not disclosed. The DP2 equipped Suezmax-sized shuttle tankers will be designed for greater fuel efficiency and have LNG propulsion technology to reduce emissions. The newbuilds, scheduled for deliveries in 2019 and 2020, will provide shuttle tanker services in the North Sea under a partnership with Statoil. Meanwhile, Canadian investment firm Brookfield Business Partners announced plans in late August to acquire 60% of Teekay Offshore Partners, a leading global provider of marine services and solutions focused on production and logistics to the offshore oil industry.
Tsakos Energy Navigation (TEN) of Greece has taken delivery of the eighth in a series of nine tankers, the 62,000gt/112,700dwt Aframax vessel Stavanger TS, one of four ships from this order with ice-class specifications. Built by Romania-based Daewoo- Mangalia, the 249m long/44m beam tanker has a capacity of 123,933m3. The final ship from the batch of 15 vessels, the Bergen TS, is scheduled to be delivered in the third quarter of 2017.
Yamal LNG/SCF's 128,806gt/2016 built Christophe de Margerie, the world's first ice-breaking LNG tanker, embarked on a voyage through the Northern Sea Route (NSR) to Boryeong in South Korea in late July where she delivered a cargo for Total Gas & Power. The 172,410m3 capacity ship is the first unescorted merchant LNG vessel ever to take this route, which makes it possible to reach Asia via the Bering Strait in 15 days versus 30 days via the Suez Canal. The Christophe de Margerie is the first in a series of 15 carriers being constructed for the Yamal LNG project which will be gradually deployed.