Arklow Shipping's 87.4m long and 15.2m beam Arklow Clan was launched sideways from the Ferus Smit Westerbroek shipyard in the Netherlands on 7th April. Nb. 427 Arklow Clan is the fourth in a series of 10 ships to be built of a new design for Arklow Shipping from Ireland. With a maximised hold volume of 220,000cft and a carrying capacity over 5,000 deadweight tons, the vessel falls under the 3,000 gross tons limit. The 2,999gt Arklow Clan has one single hold and an 1A ice class notation. She is propelled by a 1,740kW MaK engine with a single ducted propeller and delivery was scheduled for May 2017.
Eagle Bulk has taken delivery of the 35,812gt/2013 built Mystic Eagle, the first of 9 Crown-63 Ultramax dry bulk sister vessels the Company has acquired from Greenship Bulk Trust. With the addition of the Mystic Eagle, the current Eagle Bulk fleet consists of 41 vessels in service, including 3 Ultramax vessels, with another 8 Ultramaxes set to be delivered over the coming months. The Company's pro-forma owned-fleet will consist of 49 Supramaxes/Ultramaxes.
Engie, its parent company Fluxys, Mitsubishi Corporation, and NYK took delivery of the world's first purpose built liquefied natural gas bunkering vessel (LBV) from Hanjin Heavy Industries & Construction Co. Ltd., at the Yeongdo shipyard in Busan, Korea. On her delivery voyage from Korea to Zeebrugge the 7,403gt Engie Zeebrugge ran on LNG that was loaded by trucks prior to departure from the shipyard, a loading process that took some days to be completed. The ship arrived at Zeebrugge on 1st April and, with a 5,000m3 LNG capacity, will supply LNG as a marine fuel to ships operating in Northern Europe.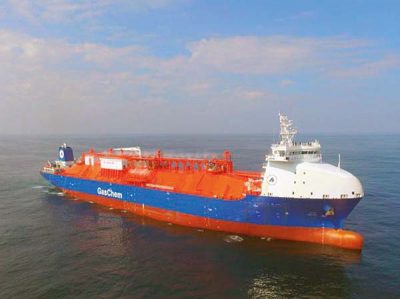 Hartmann Reederei and GasChem Services' 28,580gt/2016 built GasChem Beluga (above), a new liquefied ethylene gas (LEG) carrier operated by the aforementioned German companies, was named on Teesside on 27th April. The eco-friendly vessel carries shipments of ethane gas from Houston in the USA to SABIC's Olefins Cracker at Wilton on Teesside, UK, under a long-term time charter.
Subscribe today to read the full article!
Simply click below to subscribe and not only read the full article instantly, but gain unparalleled access to the specialist magazine for shipping enthusiasts.