APL, a subsidiary of CMA CGM, has added a new weekly Asia Latin America Express 3 (AE3-AW3) service that now connects China, Hong Kong, Taiwan and other key Asian markets to Mexico and the West Coast South America. Designed with the industry's fastest transit time from Ningbo to Mexico, Panama and Colombia in just 18, 24 and 27 days respectively, the AE3-AW3 service also facilitates market access to the South Chilean market with its port of call at San Vicente. Likewise, westbound shipments on the service from Mexico, Colombia and Panama to Qingdao will take a mere 17, 24 and 26 days respectively. The first sailing of the eastbound service departed Kaohsiung on 23rd August while the westbound leg from Balboa commenced on 22nd September.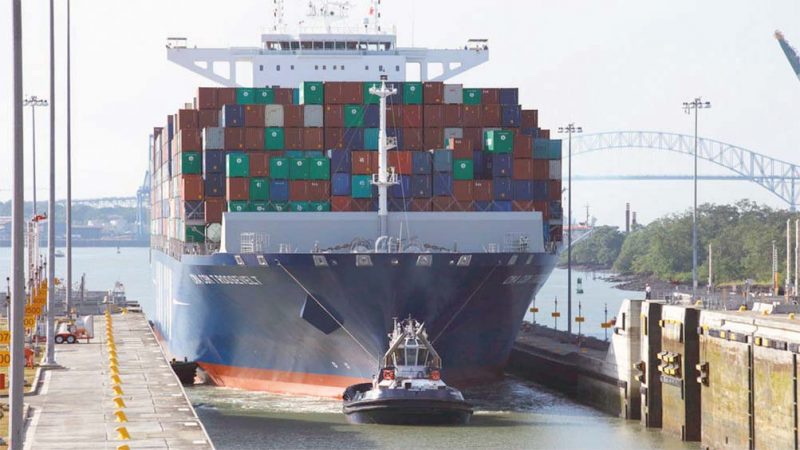 CMA CGM's 140,872gt/2017 built and 14,885 TEU capacity Neopanamax vessel CMA CGM Theodore Roosevelt became the largest ever containership to transit the Panama Canal on 22nd August (above). The CMA CGM ship is deployed on the Ocean Alliance's new weekly Asia-U.S. East Coast South Atlantic Express (SAX) service that commenced in early April with 11 vessels. The full port rotation of the service is Hong Kong-Yantian-Ningbo­ Shanghai-Colon (Panama)-Norfolk-Savannah-Charleston and back to Hong Kong. According to local new reports in China, CMA CGM also looks set to build nine of the world's largest container ships (22,000 TEU) at two Chinese shipyards, namely Shanghai Waigaoqiao Shipbuilding Co. and sister yard Hudong Zhonghua Shipbuilding (Group) Co. Both yards are owned by state-run China State Shipbuilding Corporation.
Diana Containerships Inc. entered into a time charter contract with CMA CGM on 15th September for one of its Panamax container vessels, the 40,085gt/2001 built Domingo, for a period of 8-11 months. The 3,739 TEU capacity ship was previously chartered to Nile Dutch Africa Line B.V. Diana Containerships Inc.'s fleet currently consists of 11 container vessels (6 Post-Panamax and 5 Panamax). The company also reactivated the idle 54,809gt/2005 built and 5,042 TEU capacity Pamina for a charter with OOCL that began on 13th September 2017.

Hapag-Lloyd christened another of the five new 10,500 TEU capacity and 333m long/48m beam vessels on 25th August. The 118,945gt/2016 built ship was named Callao Express in a festive ceremony in the Peruvian port of Callao (above) and later departed for Puerto Angamos and Valparaiso prior to returning to Europe after sailing the South American west coast. Earlier in 2017 the Guayaquil Express was christened in Hamburg and the last ship of the five Valparaiso Express class, the Santos Express, will be named in Santos, the largest port of Latin America, on 21st November. The company further enhanced its Northern Europe short sea network by introducing a dedicated service connecting Antwerp and Rotterdam with the Baltic as from 6th September. The port rotation is as follows: Antwerp-Rotterdam-Gdynia-St. Petersburg-Helsinki-Gdynia-Antwerp and the first sailing was undertaken by the 33,662gt/1996 built Milan Express. This new service was necessary following the merging of the Hapag-Uoyd and UASC businesses and it employs two of Hapag-Lloyd's highest ice class vessels which have a capacity of 2,500 TEU. Hapag Lloyd has also revealed that it has no plans to follow CMA CGM and MSC in building new 22,000 TEU capacity containerships after reporting strong second quarter earnings. The container shipping line, which is the fifth largest operator by vessel market share, expects the addition of its new fleet from the United Arab Shipping Company (UASC) merger to result in lower levels of investment in the future.
Maersk Line's brand new Munich Maersk became the largest capacity ship of her type to call at Hamburg when she arrived on 5th August during her maiden voyage, and likewise at Malta Freeport in August. The 20,568 TEU capacity second generation Triple E class ship was delivered in June. The 94,193gt/2008 built Maersk Taurus is the most recent vessel to arrive at Hamad Port from the Port of Salalah, Oman. The vessel arrived mid-August with a total of 3,798 TEUs including 407 reefer containers. Such calls are part of efforts to ensure continuous flow of supplies in light of the recent measures taken against Qatar by its neighbours. The 214,286gt/2017built Moscow Maersk made her debut at Felixstowe on 28th August whilst on her maiden voyage. She is the third of 11 second generation Triple-E ships. The Moscow Maersk's first trip had, rather fittingly, commenced in Russia. Maersk Line has acquired the final Hanjin containership to be sold, the 45,169gt/2013 built and 5,067 TEU capacity Hanjin Searle renamed Maersk Iyo.
Sign-up today to read the full article!
Simply click below to sign-up and read the full article, as well as many others, instantly!