APL announced on 5th October the addition of Durres, Albania and Thessaloniki, Greece as new ports of call to its Mediterranean Express 1 (MX1) service, as well as Novorossiysk, Russia Black Sea and Poti, Georgia to the seaports which its Mediterranean Express 2 (MX2) service is calling. Currently, the improved MX1 service is calling at the ports of Qingdao, Busan, Yangshan, Ningbo, Xiamen, Nansha, Yantian, Singapore and Malta where shipments are trans-shipped to Durres and Thessaloniki. The refined MX2 service is now calling at Qingdao, Yangshan, Ningbo, Kaohsiung, Hong Kong, Yantian, Singapore and Piraeus where cargoes are trans-shipped to Novorossiysk and Poti.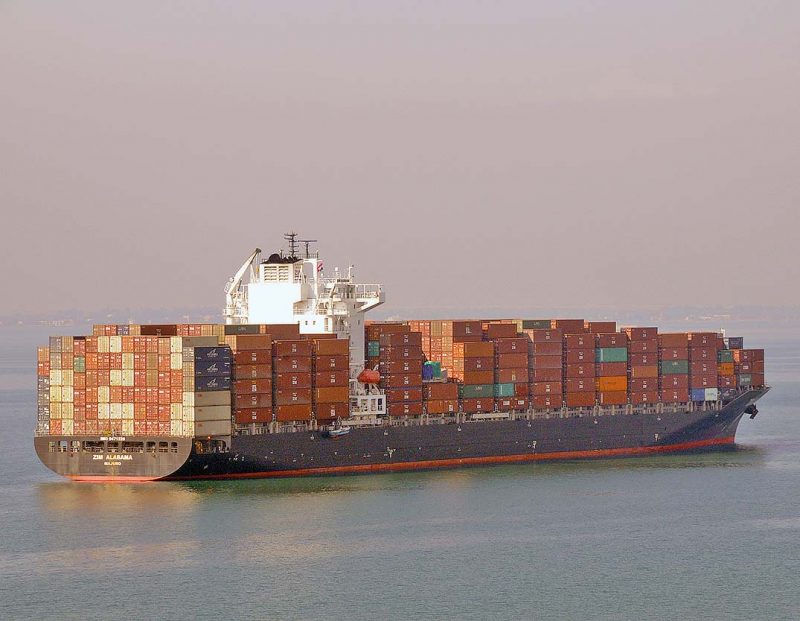 Awilco Containers AS has been established as the wholly-owned container line subsidiary of Norwegian shipping company Awilco AS. The Oslo-based container shipping company had purchased four containerships as of 11th September. The second-hand tonnage includes the 42,112gt 2010-built AS Mariana and AS Mariella, the 41,331gt 2010 built AS Morgana and the 42,112gt 2009-built AS Magnolia, each with a capacity of 4,395 TEU. The company also has 50% percent ownership in two more containerships, the 4,250 TEU capacity and 40,542gt 2010 & 2011 built Zim Alabama (above) and Zim Texas.

CMA CGM announced in mid-September that it had signed time charter extensions with Global Ship Lease, Inc., a containership charter company for two 2,207 TEU containerships, the 26,061gt 2002 built Julie Delmas and the 26,061gt 2003 built Delmas Keta. The vessels will be chartered for a period of 12 months (plus or minus 45 days at charterer's option) at a fixed rate of $7,800 per vessel per day, commencing 11th and 20th September respectively. Global Ship Lease owns 18 vessels with a total capacity of 82,312 TEU. On 19th September CMA CGM confirmed an order for nine 22,000 TEU capacity mega ships at Hudong-Zhonghua Shipbuilding (5 ships) and Shanghai Waigaoqiao Shipbuilding (4 ships) in China. The vessels will enter service from the end of 2019 on the Asia-Europe routes. On 2nd October CMA CGM announced that it had reached an agreement to purchase through its subsidiary, ANL, the majority of the shares in SOFRANA Unilines, a key player in the Pacific Islands regional maritime trade, by the end of October. SOFRANA Unilines operates directly or in partnership a fleet of 10 vessels on eight trade-lanes, serving 21 ports in Australia, New Zealand, Papua New Guinea and the Pacific islands. With successful operations in the South Pacific region for almost 50 years, SOFRANA will provide enhanced port coverage to ANL and CMA CGM in this area. ANL already offers 16 trade lanes servicing major ports throughout Australia, New Zealand, Papua New Guinea, North Asia, South East Asia, Indian Subcontinent and North America. The newly combined group, SOFRANA ANL, will join CMA CGM's large portfolio of regional experts, OPDR and MacAndrews in Europe and CNC in Asia. In addition to this, CMA CGM announced in June plans to acquire Mercosul Line to build up its operations in Brazil.
CMA CGM's newbuild New Panamax containership CMA CGM Lisa Marie suffered a mechanical failure during sea trials on 20th September upon becoming disabled in stormy weather and 6.4m waves. The ship was successfully taken in tow back to the Zhoushan Xinya Shipyard, where the ship was said to be undergoing necessary repairs. There were reportedly 164 people aboard the 10,926 TEU capacity ship at the time.
As of 15th November CMA CGM introduced an additional product to East Africa in the form of a direct service to Mozambique, an improved connectivity for Europe, North America origins and increased export East Africa capacity. Three direct weekly services calling at 11 ports in East Africa are offered with a total operated fleet of 14 vessels of up to 3,500 TEU capacity per ship. The launch of the NOURA 1 service offers a 2nd call in Mombasa to complement the Swahili Express service, plus a direct weekly call in Mogadishu. The current NOURA 2 service, dedicated to the Indian Ocean strategic market, will also expand to Mozambique in Beira and Nacala with fast transit times. The Swahili Express service remains unchanged.

Sign-up today to read the full article!
Simply click below to sign-up and read the full article, as well as many others, instantly!