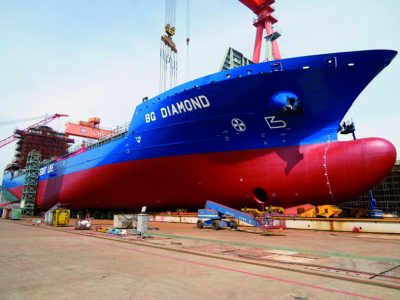 BG Freight Line's 12,831gt/2017 built BG Diamond (above) made her maiden call at Cork's Tivoli Container Terminal from Rotterdam in January. The brand new ship, developed by BG Freight Line in conjunction with designers CIMC ORIC and Arkon Shipping, is one of four brand new ships. The new BG Freight vessel is the maximum size of ship that the Tivoli Container Terminal can accommodate. The new facilities planned for Ringaskiddy Port Redevelopment, Cork Container Terminal will further improve the port's capability to handle the growing Lo-Lo sector. The BG Diamond is fitted with state-of-the-art features such as a modern wet scrubber system for exhaust cleaning which complies with Emission Control Area requirements.
Blue Atlantic of Portugal has announced new plans for an 800m quay to berth two Panamax vessels at the Port of Setubal.
Blue Net Chartering was born on 1st February when Greek ship owner Costamare and Germany's Peter Döhle Schiffahrts-KG officially teamed up in a joint venture. Headquartered in Hamburg, the chartering brokerage joint venture company began providing brokerage services for a fleet of 220 container vessels with an aggregate capacity of around 1.1 million TEUs.
Cargow has increased capacity by introducing the 9,717gt and 12,200dwt Frigg W as the primary member of a quartet of new and more environmentally friendly vessels. With this investment, Cargow BV plans to grow its liner traffic in Northern Europe, Norway and Iceland. The present services, operated for the past 5 years, include weekly sailings both northbound and southbound between Rotterdam and the West coast of Norway, and the East coast of Iceland.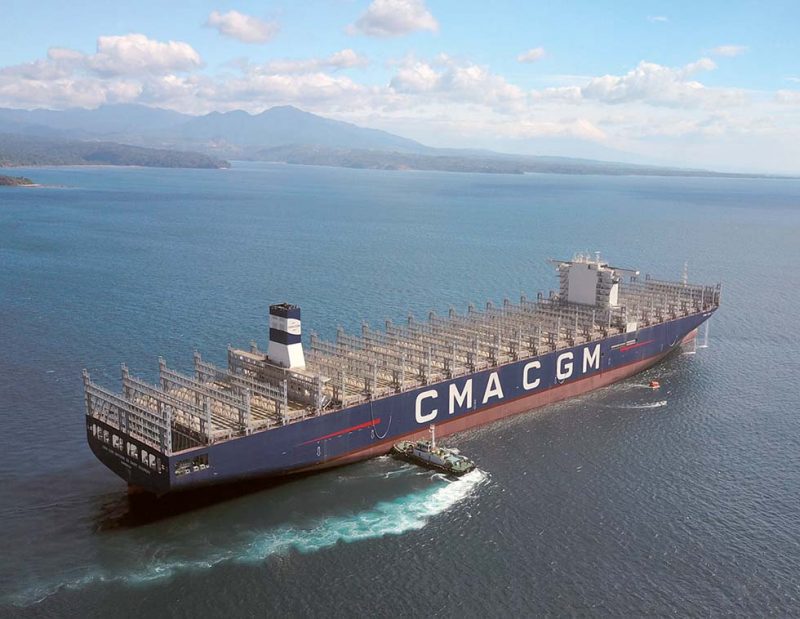 CMA CGM took delivery of the first 20,600 TEU capacity containership built at the Redondo Peninsula Shipyard in Subic, the CMA CGM Antoine de Saint Exupery (above), from Hanjin Heavy Industries and Construction-Philippines Inc. on 25th January. The 217,673gt ship is 400m long with a 59m beam and 33m hull depth. The ship takes her name from the French aristocrat and literary icon Antoine de Saint-Exupéry. The steel was first cut for the ship on 8th February 2016 and she was launched 19th August 2017. The ship is the first of three to be built at the yard, can carry 123km of containers, and made her service debut on 6th February on the FAL 1 service (French Asia Line 1), the longest sea route in the world which connects Asia to Northern Europe. This line offers a weekly service to 16 ports of call with duration of 84 days. CMA CGM also extended its charter of the 8,063 TEU capacity, 89,097gt/2005 built GSL Tianjin, owned by Global Ship Lease Inc., as of 26th January. The vessel is chartered for a period of 8-12 months at a fixed daily rate. An investigation was started into the loss of containers from the 140,872gt/2017 built CMA CGM G. Washington while she was en-passage from Xiamen, China to Los Angeles, California on 20th January.
Containerships and Viasea Shipping have partnered up on a new fixed weekly route schedule to Norway with sailings from Klaipeda and Gdynia to Oslo. The first departure from Klaipeda will take place on 5th April. Short-Sea operators Containerships and Viasea are working within each company's segments and areas. Containerships is operating in the Baltic Sea, whilst Viasea is mainly connecting the UK and continental Europe to Norway.
COSCO's first 20,000 TEU capacity container vessel, the 196,670gt/2018 built Cosco Shipping Aries, underwent sea trials from the Port of Nantong after her naming ceremony on 16th January. The delivery sets a new record in the country as the first 20,000 TEU ultra large container ship built in a Chinese shipyard with independent intellectual property rights. The 400m long, 58.6m beam and 197,000 deadweight vessel is owned by COSCO Shipping Container Lines. The ship entered service on the Far East to Northwest Europe route on 19th January and was due to arrive at Piraeus, Greece, on 12th February, becoming the largest container ship to arrive at the Greek port to date. COSCO won a majority stake in the Piraeus Port Authority in 2016. Currently Piraeus is able to handle three 19,000 TEU vessels with no draught limitation plus one 10,000 TEU ship with a maximum draught of 13.8m.
Hudong-Zhonghua Shipbuilding, part of China State Shipbuilding Corporation (CSSC), also delivered the 154,300gt Cosco Shipping Alps, a 14,500 TEU capacity containership, to Cosco Shipping Lines on 3rd January, 56 days early. The 366m long and 51.2m wide ship is the third such ship delivered to Cosco thus far, the previous two being the Cosco Shipping Himalayas and Cosco Shipping Kilimanjaro, which were handed over in July and December 2017 respectively.

Sign-up today to read the full article!
Simply click below to sign-up and read the full article, as well as many others, instantly!