APL announced the launch of the India Pakistan Express 2 (IP2) service on 21st March, a new weekly service that directly connects India, the Middle East and five major North European ports. Designed to strengthen APL's India Subcontinent (ISC) offerings, the new IP2 service will enhance APL's service coverage in the European markets of Belgium, France, Germany, The Netherlands and the United Kingdom. The IP2 service commenced from Jebel Ali on 1st April with a port rotation of Jebel Ali-Karachi-Nhava Sheva-Mundra-Jeddah-Rotterdam-Hamburg-London Gateway-Antwerp-Le Havre-Jeddah-Jebel Ali.
APL later revealed that the 14,308gt/2005 built APL Chu Lai, a 1,200-TEU vessel, had made her maiden direct call at the Chu Lai Tam Hiep Port on 24th March. This officially commenced APL's new weekly Chu Lai Haiphong Express (CHX) service that is delivering its first inbound shipment of automobile components from Japan trans-shipped via Shekou. Each week, the namesake vessel deployed on the CHX service will call at Chu Lai, Haiphong, Hong Kong and Shekou (China).
Two days later, APL today announced the launch of the Quetzal Express (QEX) service, a new weekly service that directly connects the key markets of China, Mexico and West Coast South America. The QEX service promises the industry's fastest transit time of 22 days from South China to Mexico. It is also the only service that offers a direct connection from Taiwan, Central and South China to Puerto, Quetzal and Guayaquil. The QEX service commenced from Kaohsiung on 6th April calling at Kaohsiung-Shekou-Hong Kong-Ningbo-Shanghai-Manzanillo, MX-Lazaro Cardenas-Puerto Quetzal- Buenaventura-Guayaquil-Callao-Manzanillo, MX-Busan-Kaohsiung.
Ten days later the China Bangkok Express (CBX) service was launched, a new shortsea service that directly links South China and Thailand each week. The CBX service commenced on 18th April from Hong Kong with ports at Shekou, Nansha, Bangkok and Laem Chabang.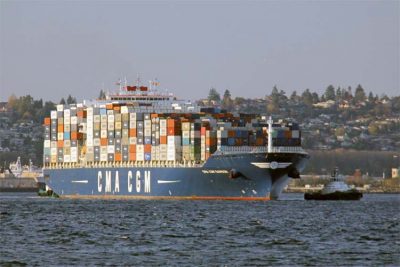 CMA CGM's 91,498gt/2011 built CMA CGM Samson (above) encountered a spot of bother whilst arriving at Cape Town's container port on 3rd April at low tide. The vessel got stuck and blocked the entrance to Cape Town harbour until being freed by tugs.
Cosco Shipping's 196,670gt and 20,000 TEU capacity containership Cosco Shipping Leo was named on 22nd March in Nantong, where she was built by Nantong COSCO KHI Ship Engineering Co., Ltd. (NACKS). Ms. Li Sixuan named the vessel and cut the ribbon. As a sister ship of the previously delivered Cosco Shipping Aries, the 'Leo' is the second ultra-large containership in a series of vessels built by the shipyard for Cosco. The new ship commenced sea trials on 27th March and joined the Cosco Shipping Lines fleet, serving on the Far East-Northwest Europe loop (AEU3), as from 10th April. The port rotation of AEU3 is Piraeus, Rotterdam, Hamburg and Antwerp, offering a rapid shipping service from North China, East China and Southeast Asia to the Mediterranean and Northwest Europe. It would appear that the sea trials did not go entirely to plan as press reports suggest that the 'Leo' collided with the general cargo ship Mercury Triumph, which was en-route from Japan to China with a cargo of steel, on 29th March in the East China sea, some 50nm south of Seogwipo port, southern Jeju. The cargo ship was damaged, reportedly including hull breaches, whilst the new container ship suffered damage to her starboard bow.
Subscribe today to read the full article!
Simply click below to subscribe and not only read the full article instantly, but gain unparalleled access to the specialist magazine for shipping enthusiasts.