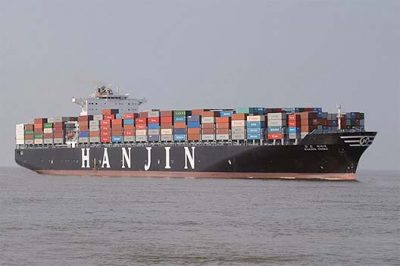 Capital Maritime, based in Greece, has found employment for the first of five ex- Hanjin Shipping container vessels acquired in March in a BNP Paribas auction. The 113,412gt/2011-built Hanjin China (above), which was renamed Athenian by Capital Maritime, has been chartered to Hapag- Lloyd for a period of four to six months at a daily rate of $33,000. Three of the remaining four vessels were delivered to the Greek owner in May with the fourth scheduled to arrive in June. The five 9,954 TEU capacity ships, which also include the 113,412gt Hanjin Korea, 113,515gt Hanjin Netherlands plus the 113,412gt Hanjin Spain and Hanjin United Kingdom, were built by Samsung Heavy Industries with the first delivered in 2010 and the rest completed in 2011.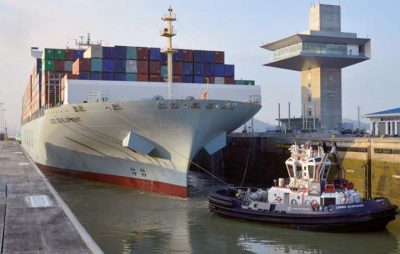 COSCO Shipping's 141,823gt/2011 built and 13,092 TEU capacity Neopanamax containership COSCO Development became the largest vessel both in dimension and capacity to transit the Expanded Panama Canal since it was inaugurated in June 2016 on 2nd May (above). The 366m long and 48.20m beam giant began her voyage in Asia and later became the largest ship to arrive on the US East Coast. The vessel is deployed on the new OCEAN Alliance weekly South Atlantic Express (SAX) service, connecting Asia-US East Coast ports via the Panama Canal. The SAX service is comprised of 11 vessels ranging in size from 11,000 to 13,000 TEUs. The Alliance includes China COSCO Shipping, Orient Overseas Container Lines (OOCL), CMA CGM Group and Evergreen, which are among the Panama Canal's top customers by volume. Containerships represent some 43% of traffic through the new locks, followed by liquefied petroleum gas (LPG) carriers and liquefied natural gas (LNG) carriers, which represent around 29.1% and 8.3% respectively.

Eimskip of Reykjavik has reached an agreement for the financing of the construction of two 2,150 TEU container vessels ordered in January 2017. The loan, secured by China Export & Credit Insurance Corporation (Sinosure), is for an 80% financing of the contract price of the vessels with a 15 year tenor in Euros taken upon delivery. Under the shipbuilding contract signed with China Shipbuilding Trading Company Limited and Guangzhou Wenchong Shipyard, the containerships are each priced at around $32m. The order was subject to financing and that has now been lifted.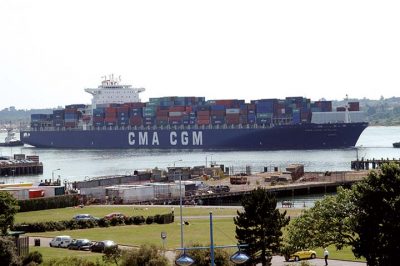 CMA CGM's 91,410gt/2005 built CMA CGM Otello (above seen in Southampton) arrived at Jakarta, Indonesia on 23rd April 2017 and became the largest container vessel to call in the country at the Jakarta International Container Terminal. The occasion also celebrated her impending maiden voyage for the industry's first direct service from Indonesia to the U.S.A. on 24th April.
Sign-up today to read the full article!
Simply click below to sign-up and read the full article, as well as many others, instantly!