Newbuilds for Princess
Princess Cruises announced a memorandum of agreement with Italian shipbuilder Fincantieri S.p.A. on 23rd July to build two new cruise ships on a next-generation platform designed to further enhance the cruise experience for its guests. The newbuilds are scheduled to be delivered in late 2023 and spring 2025. The two ships will be 175,000gt and accommodate approximately 4,300 guests (lower berths). Specification details for the ship design, along with anticipated features and amenities of this all-new platform design for Princess Cruises, will be released at a later date. The new vessels will be Princess Cruises' first dual-fuel powered LNG ships and the largest by capacity in the Princess Cruises fleet. They will be built at Fincantieri's shipyard in Monfalcone, Italy. Princess Cruises also has three new Royal-class ships on order with Fincantieri, including its next new ship, the Sky Princess, which is currently under construction and scheduled for delivery in October 2019. The two other Royal-class ships are planned for delivery in 2020 and 2022.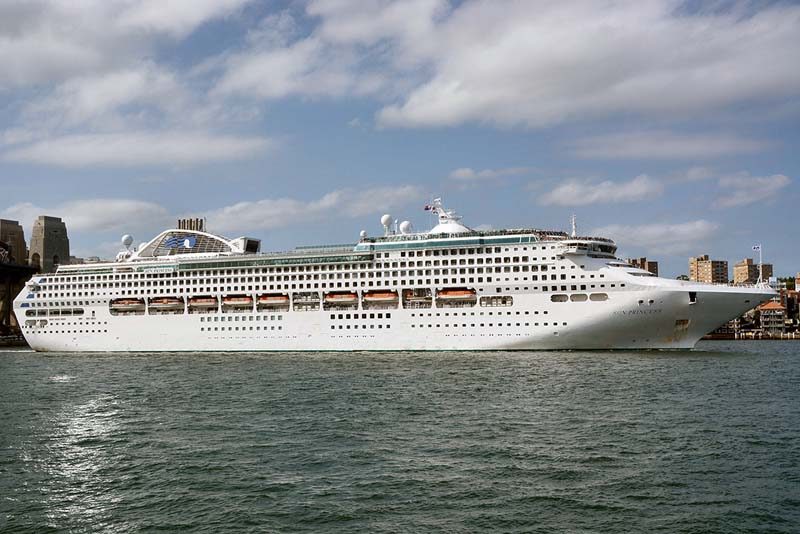 The company's 77,441gt/1995 built Sun Princess (above) completed a two-week multi-million pound refurbishment in Singapore in July. Enhancements included a redesigned youth centre, new premium Club Class mini-suites and upgraded on-board shopping. The ship also received the new Princess Cruises bow logo. The enhancements continue Princess 'Come Back New Promise' campaign, with £330 million being invested across the line's fleet of 17 ships. In 2020 the Sun Princess will be docked in Yokohama Port to serve as a floating hotel during the Tokyo Olympics to boost local accommodation. The vessel will be chartered by a Japan travel agency for 19 days.

TUI Newbuilds for Fincantieri
On 13th July the Italian Shipbuilder announced that it is to build two new-concept LNG powered ships for TUI Cruises, a joint venture between TUI AG and Royal Caribbean Cruises. The 161,000gt newbuilds will be built at the Monfalcone shipyard and delivered in 2024 and in 2026, respectively. The order is based on a prototype project developed by Fincantieri which enhances the well-established modern and environmental features of TUI Cruises.
Highlights of the Iona Revealed
On 9th July P&O Cruises released details of some of what the newbuild Iona will have to offer when she arrives in May 2020. A stunning glass SkyDome will be the crowning glory on top of the ship, providing a new home for onboard entertainment, along with a 'hidden' night club (the 710 Club) and boutique cinema. A brand new concept for P&O Cruises, SkyDome is a contemporary entertainment venue located on decks 16 and 17. A pool and retractable stage will also feature. Another first for P&O will be Ocean Studios, a boutique cinema with four cinema screens. The new ship will also offer 30 innovative and flexible dining venues including The Keel and Cow, a gastropub overlooking the three storey high glass walls of the Grand Atrium. The ship will also have a 'foodie' market in the form of The Quays Piazza, home to a wide range of self-service and takeaway venues. The Iona will exclusively offer Freedom Dining in all of her main restaurants, another first for P&O Cruises. The move is designed to give more flexibility to each and every guest. They can choose just where and with whom they want to eat, and when they will sit down for breakfast, lunch or dinner. The heart of the Iona will be the Grand Atrium, a lively focal point that encapsulates the spirit of the ship. Spanning three decks, each level of the Grand Atrium offers a different destination for guests but with the same views and natural light. The atrium's staircase will be a sculptural centrepiece with its sweeping arrival on each deck. The Grand Atrium will be home to The Glass House (Deck 7) serving an array of wines plus the Cellar Door at The Glass House that will offer wine talks, tastings and wine-pairing dinners. The aforementioned Keel & Cow will feature on Deck 8 of the atrium whilst Deck 6 brings a choice of places to relax and watch the world go by including the Vistas Cafe Bar and Emerald Bar.
Subscribe today to read the full article!
Simply click below to subscribe and not only read the full article instantly, but gain unparalleled access to the specialist magazine for shipping enthusiasts.