Two Veterans Sail On, Another Is Not So Lucky

The Cruise News in the April edition included news that the splendid 22,080gt/1965 built Marco Polo was to be retired from CMV's fleet in 2018. At that time information was being circulated by a Broker concerning the ship being sales listed, her 2018 schedule was not shown beyond spring 2018 and another respected publication had already run a story of the ship's sale. However, 2+2+2 did not make 6 on this occasion! Happily the Marco Polo remains with CMV and will sail on into 2019 and hopefully beyond.
Although updated in the May issue, the April issue also referred to the 16,144gt/1948 built Astoria leaving the CMV fleet in May 2017, as was still the case at the time of writing. For summer 2017 she has another charter to Rivages du Monde and, equally happily, she is back with CMV for spring 2018 due to popular demand. She is a fine ship and, hopefully, has several years of frontline service left in her.
Alas the 24,492gt/1973 British built favourite Saga Ruby, now named Oasia for a failed hotel scheme, was anchored off Gujarat, India, on 4th April awaiting the next suitable tide to be beached and scrapped. Following the failure of All Leisure Group, which saw the cruise lines Voyages of Discovery and Swan Hellenic cease trading, the former's vessel, the 15,396gt/1990 built Voyager, found herself laid up at Singapore. From new she had operated as Crown Monarch, a casino ship in Hong Kong named Neptune in 2001 and was Phoenix Reisen's Alexander von Humboldt II and Alexander von Humboldt 2008-2009 before passing to Voyages of Discovery. Now she is named Vidanta Alegria and has reportedly been purchased by a Mexican airline company, Hoteles Dinamicos.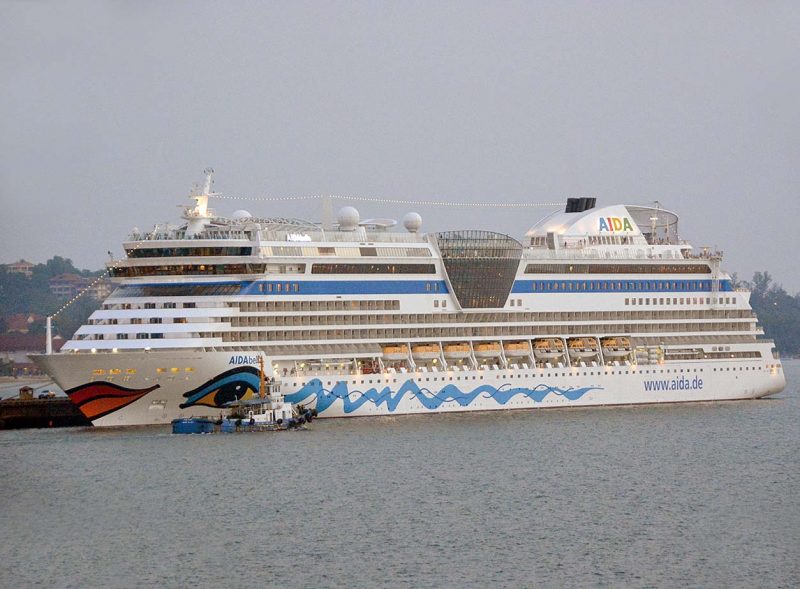 AIDA Cruises' 69,203gt/2008 built AIDAbella became the first ship to call at Shanghai when she arrived on 2nd April. Two days later she departed for Japan, Taiwan, Hong Kong, Vietnam and Singapore. After her season in Asia, the AIDAbella will spend the summer offering cruises from Kiel. On 5th April the 42,289gt/2002 built AIDAvita departed from Hamburg's Steinwerder cruise terminal on a short cruise following her refit at Lloyd Werft Bremerhaven GmbH 25th March-4th April. In addition to regular safety and maintenance work, many areas of the ship were remodelled or upgraded. The Waikiki Teens Lounge on Deck 10 has been transformed into a chilled-out Beach Lounge, where AIDAvita's guests will now be able to relax with ocean views. The Seaside Lounges on the stern have been equipped with windbreaks and heaters for all-weather enjoyment. The neighbouring outdoor areas of the Anytime Bar and the Ocean Bar on Deck 7 have also been refurbished. The former gourmet restaurant Rossini has been transformed into the new Selection Restaurant where guests can enjoy regional specialties and delicacies from around the world. In addition, 2,500 m² of new carpet has been laid in the public areas and the exterior of the ship was treated to 9,000 litres of paint.
Belfast Harbour announced on 3rd April that almost 90 cruise ships are expected to visit Belfast this summer, bringing with them 150,000 passengers and crew to mark a new tourism high for the city. Belfast's record cruise schedule for 2017 marks an unprecedented period of growth for city tourism and investment which has underlined the city's soaring appeal among cruise tourists from around the world, but particularly the UK, Europe and North American markets. By the end of this year almost 600 cruise ships will have visited the city since the first arrival in 1996. This year 88 ships are scheduled to arrive with the first arrival, the 22,080gt/ 1965 built Marco Polo, due on 21st April, while Princess Cruises, one of the world's leading cruise operators, which operates the Caribbean Princess, has strengthened its commitment to Belfast scheduling a record 14 stops this year.
Celestyal Cruises will begin cruising from Havana, Cuba, every Friday as from 1st January 2018. The 37,773gt/1982 built Celestyal Olympia will open the company's Cuba itineraries but will then be replaced by the 41,662gt/1992 built Celestyal Majesty. This ship currently operates as the Thomson Majesty but will conclude her charter to Thomson on 26th November 2017 to then begin work for Celestyal on 15th January 2018 followihg a refit. This will allow the Celestyal Olympia to return to her Mediterranean schedules.
CroisiEurope, inaugurated their new vessel, the Miguel Torga, in Porto as March came to an end. Attending the event included Ms Isabel Ferreira de Castro, godmother and director of tourism in Porto and Northern Portugal, and Mr Domingos Carvas, godfather and mayor of Sabrosa. This three-deck ship measures 80 metres long and 11.4 metres wide and can accommodate 132 passengers in 66 double-occupancy cabins, including four suites and one cabin for guests with reduced mobility. There is also a spacious lounge, panoramic restaurant, boutique, vast sun deck with sun loungers and a large 24m² pool. Furnished and decorated in Strasbourg, the Miguel Torga has a contemporary feel and features plenty of natural lighting and open spaces as well as designer furniture and stylish, sleek décor. Built in 2016 at the Sambre and Meuse Shipyard in Namur, the vessel is the fifth to join CroisiEurope's fleet on the Douro and the company's second premium rated ship on the river. The ship is named after Miguel Torga, a famous author and poet who was born in the Sabrosa region in 1907 and is considered one of the most influential writers of the 20th century. From April 2017, the Miguel Torga will cruise the Douro and cross Portugal from the Atlantic Ocean to the Spanish border on six and 8 day cruises.

Sign-up today to read the full article!
Simply click below to sign-up and read the full article, as well as many others, instantly!