NEWBUILD DEBUT AT LAST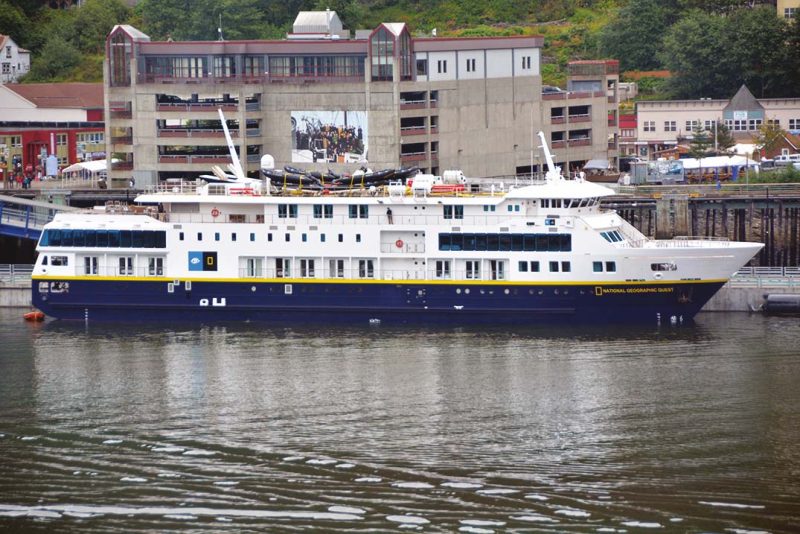 On 29th July Lindblad Expeditions' 2,920gt/2017 built National Geographic Quest, the company's first newbuild in its history, commenced her inaugural voyage when she set out from Juneau. The most state-of-the-art expedition ship designed and purpose-built in the USA, departed with very excited guests onboard for an 8-day expedition exploring Southeast Alaska. The 100-guest ship operated the popular "Exploring Alaska's Coastal Wilderness" expedition to 26th August and then concluded the Alaska season with a "Treasures of the Inside Passage – Alaska and British Columbia" departure on 2nd September 2017. The new ship will then remain in the Pacific Northwest for a series of new voyages between Seattle and Vancouver, with calls to the San Juan Islands, Victoria, Alert Bay, and more far reaching stop overs in British Columbia's channels and fjords. Beginning in December, the National Geographic Quest will reposition and operate expeditions in Costa Rica and Panama before embarking upon a series of new voyages in Belize and Guatemala from February. The vessel's maiden season was delayed when she was damaged during the launching process on 14th June when the stern section grounded, damaging one propeller and rudder. The incident resulted in the cruises on 8th and 15th July being cancelled. She is seen above at Juneau in August.
ECOSHIP FINALISED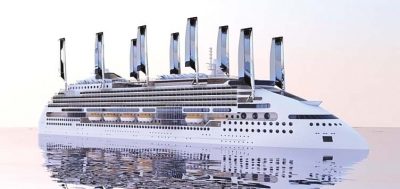 Peace Boat of Japan is planning to build five new ships that go further than the prototype Ecoship by using increased battery power and deploying fuel cell technology. The near sisters to the LNG dual-fuel Ecoship will be constructed subject to market conditions. Arctech Helsinki Shipyard Inc, is to construct the Ecoship, the world's most sustainable cruise ship. The design for the initial Ecoship was finalised earlier in 2017 and the vessel will be a 60,000gt ocean liner with a passenger capacity of 2,000 and 750 cabins. The ship will be 250m long with a beam of 32m and a draught of 8m. The maximum speed will be 21 knots and with a cruising speed of 17 knots. This overall project is unique in that it signals the first time that the advanced energy technologies on board will be incorporated on a large-scale ship rather than on experimental vessels, as in previous projects. The Ecoship aims to show ship owners and builders around the world that more sustainable vessels are possible.
The Ecoship's design includes 10 large retractable elements made up of solar panels, which can operate as large sails in suitable wind conditions. For preliminary design of this distinctive feature,
Oliver Design worked with German naval engineer Detlev Loell, who brought his expertise to the project as an internationally renowned expert on classic sailing ships. The sails can be used for both propulsion and power generation. The Ecoship is designed to include a total of 6,000m2 of solar panels with an output of 750 kW. The ship will also have a hybrid engine, capable of being powered by diesel or LNG, saving up to 20% in fuel consumption and reducing carbon emissions by up to 40% compared to a similar ship with conventional technology. The new vessel will also be equipped with all the latest advances in waste disposal and architectural design features based on what is known as the biophilia concept. Biophilia is a building concept that advocates maximum use of natural elements such as air, light and water, as well as materials and designs based on nature itself.

Sign-up today to read the full article!
Simply click below to sign-up and read the full article, as well as many others, instantly!