Virgin Voyages Becomes Reality
On 31st October the cruising world got a first look at Virgin Voyages futuristic looking ships when the keel for the first 110,000gt ship was laid at Fincantieri's Sestri Ponente Shipyard (Genoa). The renderings for the ship show a ship design that blends the bow profile of Celebrity Cruises' forthcoming Celebrity Edge and the stern outline of MSC's MSC Seaside. Virgin Group Founder Sir Richard Branson and Virgin Voyages President and CEO Tom McAlpin hosted a 'Ship Tease' at the keel laying ceremony, where key details were revealed about what guests can expect on the first of three Virgin Cruises coming to the cruising scene in 2020. Each ship will be 278m long with a breadth of 38m whilst delivery is scheduled for 2020, 2021 and 2022 respectively. The ships will feature over 1,400 guest cabins that can host more than 2,700 passengers, in addition to 1,150 crew members.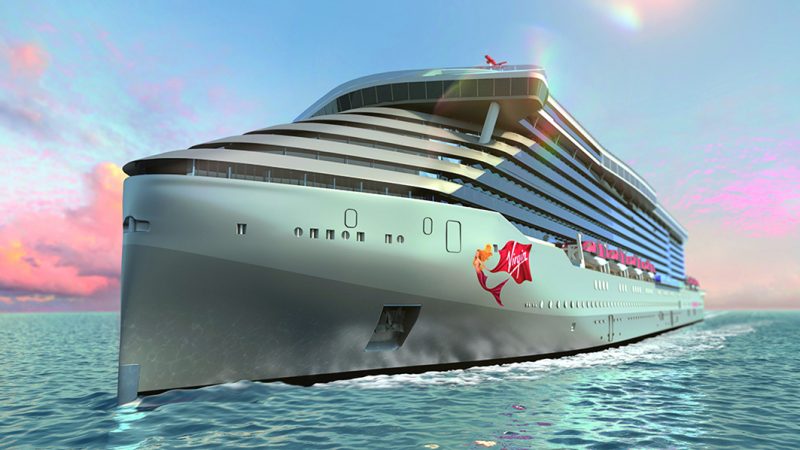 The entire ship will be built with an attention to detail, reflecting the craftsmanship and materiality inspired by super yachts. Designed to feel more intimate and connected to the sea, 86% of all cabins will feature a sea terrace and 93% an ocean view. Virgin Voyages says it is creating a sophisticated ship and a transformational experience that offers sailors (guests) a place where rejuvenating day-life meets exciting nightlife and everything in between. The ship will be "Adult By Design" for 18+ Adults only cruising. This decision was driven by feedback from future guests and travel professionals, who are looking for a more elevated and premium experience.
The ship's distinct livery will feature a sleek silvery-grey hull, with smoked glass and distinctive touches of red (above). The livery was designed by Ben Christie and David Azurdia from the multi-award-winning Magpie Studio in London. RWD from Beaulieu, England, who are leaders in super yacht design, created the iconic red Virgin funnel of the vessel. The Virgin Voyages fleet will be known as the 'Lady Ships', a play on the term 'your ladyship', giving a nod to Virgin's British heritage. The spirit of each ship will be represented by a mermaid design that will adorn the bow. The first Lady Ship is due to enter service in 2020 from Port Miami.
No.6 For Viking Cruises
The company's sixth ocean cruise ship had her keel laying ceremony at Fincantieri's Ancona Shipyard on 18th October. The first building block of the ship is around 11m long, 28.8m wide and weighed 380 tons. The newbuild, the sixth of eight sister ships, is scheduled for delivery in 2019 and, like her sisters, will have a gross tonnage of 47,842gt, 473 cabins and accommodation for 946 passengers, with a total capacity of over 1,400 people, including the crew. The first of the series, the Viking Star, was built in Marghera and delivered in 2015, whilst the second and the third, the Viking Sea and Viking Sky, were built in Ancona in 2016 and 2017. The last four units will be delivered respectively in 2018, 2019, 2021 and 2022. The Viking Sun was delivered in Ancona on 25th September whilst the Viking Orion was floated out on 28th September and is scheduled for delivery in 2018.

Crystal Revamp
On 2nd November Crystal Cruises announced the completion of the 51,044gt/2005 built Crystal Symphony's refit at Bremerhaven that involved a redesign of much of the ship. The ship's new Open Seating dining concept ushers in new restaurants onboard, while more of the spacious Penthouse accommodations were added. Throughout the ship, state-of-the-art technological upgrades were installed, enhancing guests' connectivity and access to entertainment and news on demand. The month-long dry dock redesign marks the most expansive makeover of the ship thus far.
P&O Refreshers
On the evening of 30th October the 84,342gt/2005 built Arcadia headed inwards through the western Solent prior to arriving at Southampton after midnight in preparation for her refit at Hamburg. The ship sailed for Germany on the afternoon of 31st October with contractors aboard getting the work underway. Both the Arcadia and Oceana are undergoing multi-million pound refits that will result in a fresher and more contemporary feel and improve the onboard guest experience.The Arcadia's refit comes ahead of her 99-night World Cruise which departs Southampton on 9th January whilst her first cruise ex-refit was a three-night minicruise to Belgium from Southampton on 15th November. The 77,499gt/2000 built Oceana proceeded to dry dock at the end of November. After the refit, the Oceana will embark on a 12-night Canary Islands & Portugal cruise round trip from Southampton, departing on 17th December.
New Polar Vessel For Lindblad
On 7th November Lindblad Expeditions Holdings, Inc., the global leader of expedition cruises, announced that it had signed an agreement with Norwegian shipbuilder and ship designer Ulstein to build a radically designed expedition ship (above). The new vessel will be built in Ulsteinvik, Norway and is scheduled for delivery in the first quarter of 2020, with an option for two additional ships to be delivered in subsequent years. The state-of-the-art polar vessel has been designed as the ultimate expedition platform with a focus on safety and comfort. A core feature is Ulstein's signature X-BOW®, a distinctive bow that provides fuel efficiency while significantly improving guest comfort in rough seas and a very high ice class for access deep into polar regions. The vessel's enlarged fuel and water tanks provide for extended operations in remote areas, while the zero-speed stabilizers will ensure stability underway, at zero speed when stopped for wildlife observation or embarking/disembarking the ship.
Cloud Has A Silver Lining
On 8th November Silversea confirmed that the 16,927gt/1994 built Silver Cloud had completed an extensive two-month refurbishment in late October at a total investment of over $40 million to become an ice-class expedition vessel. The ship has undergone comprehensive enhancements to bring guests the luxury, style and comfort synonymous with Silversea's classic vessels while maximising guests' expedition experience. The ship then sailed to Buenos Aires where guests embarked on her inaugural expedition voyage to Antarctica on 15th November.
Refits For Fred. Trio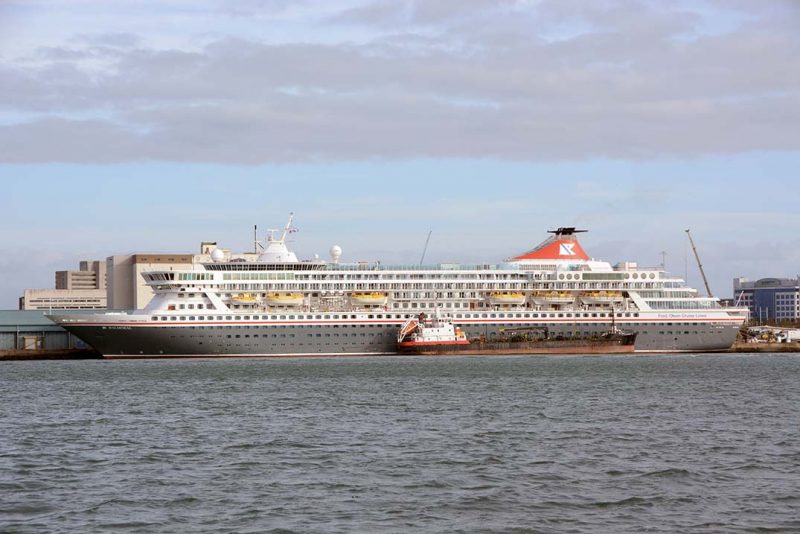 To add to the spate of overhauls across the cruise ship fleets recently, Fred. Olsen Cruises unveiled plans on 9th November to refit three of its ships ahead of the 2018/19 season. The 24,344gt/1993 built Braemar and 43,537gt/1988 built Balmoral (above) will be refurbished before Christmas with the third, the 28,551gt/1973 built Boudicca, is to be upgraded in March 2018. The Black Watch received an extensive refurbishment at the end of last year. The schedule for the Fred. Olsen ships includes the upgrading of existing public areas, creating new facilities (such as new restaurants and gelato bar on Balmoral, a new dining room on Boudicca, a new buffet restaurant on Braemar plus cabin enhancements across the fleet). The 929-guest Braemar departed from Southampton for Hamburg on 23rd November 2017 for a nine-day dry dock at the Blohm+Voss shipyard. Her first sailing after the refit will be a 16-night cruise to the Caribbean from Southampton on 5th December 2017. The Balmoral will arrive in Hamburg on 10th December 2017 for a nine-day dry dock, before the 1,350 guest-ship departs on a 16-night 'Canaries Christmas & Funchal Fireworks' sailing from Southampton on 21st December 2017. Lastly, the 880-guest Boudicca will undergo a more extensive 13-day refurbishment in spring 2018, entering dry dock on 16th March 2018. Her first post-refit cruise will depart from Dover on 29th March 2018.

Venice Restriction
In November the thorny issue of cruise ship traffic in Venice again rose to the surface. Ships in excess of 100,000gt will be asked to take a less glamorous route to the industrial port of Marghera, far from the famous Grand Canal in Venice. The Government decision follows a long campaign by Venetians and environmentalists who voiced concerns about the large cruise ships sailing close to the fragile city. Under the new rules, which follow a temporary limit imposed three years ago, the largest ships will need to call at Marghera. Perhaps we will now see a reshuffle of ships or itineraries by way of an adjustment to the new ruling, with ships under 100,000gt being based in Venice in favour of their giant counterparts. Only time will tell.