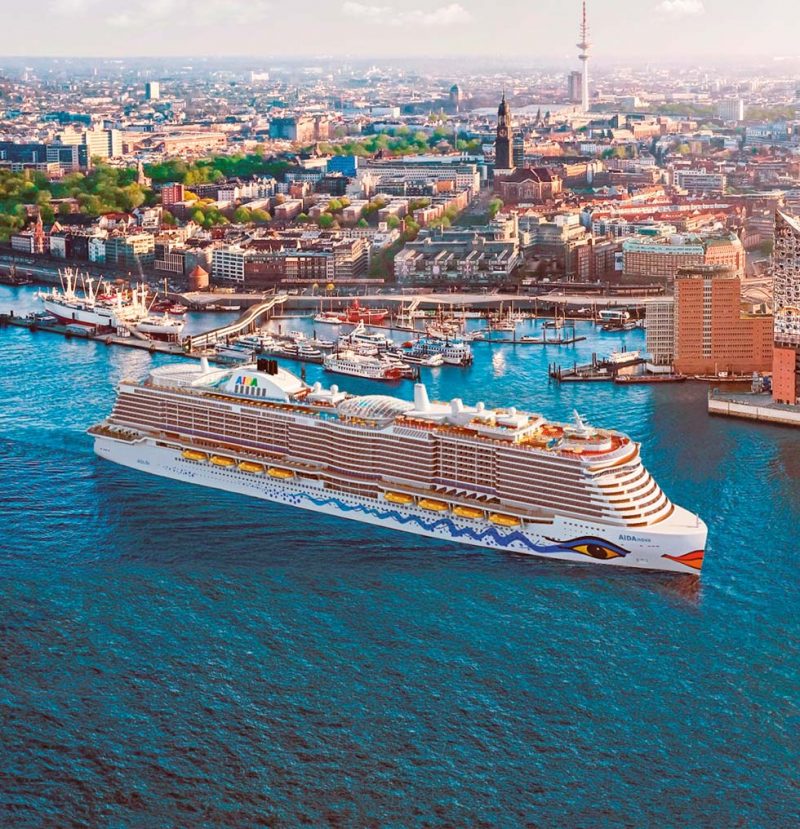 AIDA Cruises' new AIDAnova (above) is scheduled for delivery from the Meyer Werft shipyard on 15th November 2018. Guests will be able to experience the new flagship on a series of pre-premiere cruises before the AIDAnova's maiden voyage from Hamburg on 2nd December 2018 bound for the Canary Islands. The first 4 day trip will commence directly after the formal handover of the ship in Bremerhaven and will call at Oslo and Hamburg, where the AIDAnova will make her first call on 19th November. Further short cruises will also depart from the Elbe port to either Rotterdam or Oslo. The AIDAnova will be the first cruise ship in the world that can be powered entirely by LNG.
Australis officially added its second ship, the 4,528gt Ventus Australis, when she was christened in Chile on 2nd January during a ceremony at the ASENAV shipyard. The vessel will spend her first season sailing to Cape Horn and glaciers in Tierra del Fuego whilst based in Punta Arenas. The ship joins the Stella Australis as the company expands to two 210 passenger expedition vessels.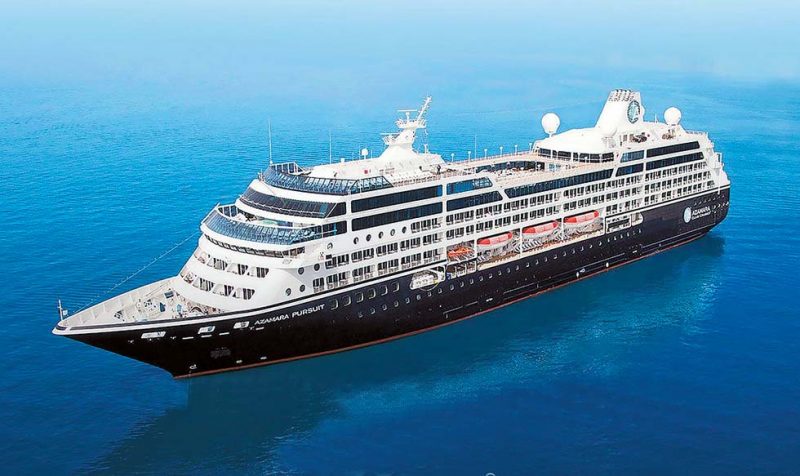 Among the design features, the ships offer large windows for passengers to enjoy passing scenery. Shore excursions are included in the cruise fare.
Azamara Cruises' 30,277gt/2001 built Azamara Pursuit (above), P&O's Adonia until March 2018 will make her service debut with a Norwegian fjord itinerary this summer after a refit at Harland & Wolff shipyard, Belfast. The refit will be fully managed by MJM Group, a marine interior outfitting company. Azamara took delivery of the ship in March in the Caribbean prior to repositioning to Belfast for a four-month refit period. This is the first time that any sector of Royal Caribbean International has used a UK shipyard for refit works of this scale.
Bahamas Paradise Cruise Line's 47,263gt, 1987 built Grand Celebration earned a reported $25,750,000 during her 90 day charter to the Federal Emergency Management Agency (FEMA) berthed in St. Thomas to provide accommodation to survivors and first responders following a number of devastating hurricanes that hit the U.S. Virgin Islands. The charter costs are extremely fair considering that a ship of this size should generate an estimated $25-$26 million in gross revenue for a 90 day operating period. The ship returned to service just prior to the holiday season, continuing to offer a two-day programme from Palm Beach to the Bahamas. The company is expanding, with a second ship, the 53,015gt/1991 built neoClassica (currently the Costa neoClassica), joining the fleet in 2018. FEMA also chartered the 70,538gt/1994 built Carnival Fascination at a cost of $74.7 million to provide housing for relief staff in the United States Virgin Islands following the hurricanes in September. The charter period ran from 11th October 2017 to 3rd February 2018. The 19,093gt/1992 built Gemini, formerly Celestyal Cruises' Celestyal Nefeli, was also chartered for 45 days to house emergency workers, contractors and other groups in the same region and was she berthed in St. Thomas. Her charter cost in the region of $10.6 million.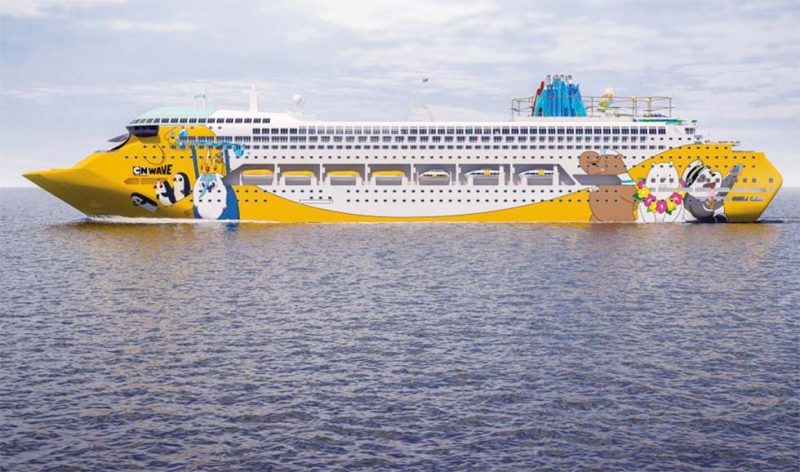 Cartoon Network is reportedly planning to introduce a cruise ship in late 2018 according to the Oceanic Group of Singapore. To be called the Cartoon Network Wave, the 11 passenger-deck, 2,000 passenger capacity ship will homeport in Singapore and sail to 13 destinations in the Asia Pacific region including Australia, Malaysia, Thailand, China, Taiwan, South Korea and Japan. The vessel's entertainment, activity and recreation features, retail, food and beverage options will be inspired by characters from Adventure Time, Ben 10, The Powerpuff Girls & We Bare Bears. The Cartoon Network Wave will also offer 800 cabins and suites, including two "world's first triplex suites" and cruises will be priced from US$150 a night. Renders of the vessel (above) sparked speculation as the ship featured was one of the trio employed by Princess Cruises as the Crown/Regal Princess 1990-1991. These ships now serve as the 70,310gt/1990 built Pacific Jewel and the 70,285gt/1991 built Pacific Dawn (both P&O Cruises Australia). However, none of these ships are in any way linked with Cartoon Network's plans.
Celestyal Cruises has reportedly dropped Cuba from its 2019 schedule in favour of the Aegean, citing a shift in demand for Greece. The company will also have three ships in the Aegean this coming summer, up from two last year as the 25,611gt/1980 built Celestyal Crystal will join the Celestyal Majesty and 37,772gt/1982 built Celestyal Olympia. The season is also being extended, now running from late March to mid-November with the next goal being to expand to year-round operations.
Cruise & Maritime Voyages' 16,144gt/1948 built Astoria will be the first vessel to use the new cruise terminal at Visby on the Baltic island of Gotland when she calls there on 16th April 2018. The ship will also be one of the first to use Poole's new Cruise Quay in August 2018 prior to operating turnaround cruises from there, returning also in 2019.
Crystal Cruises has confirmed that it has reduced the size of its three newbuilds announced in 2015 and that the 48 private apartments planned for the upper deck of each vessel will not now materialise. Originally announced as being 100,000gt with a 1,000 passenger capacity, the ships will now be around 65,000gt with a maximum passenger capacity of 800.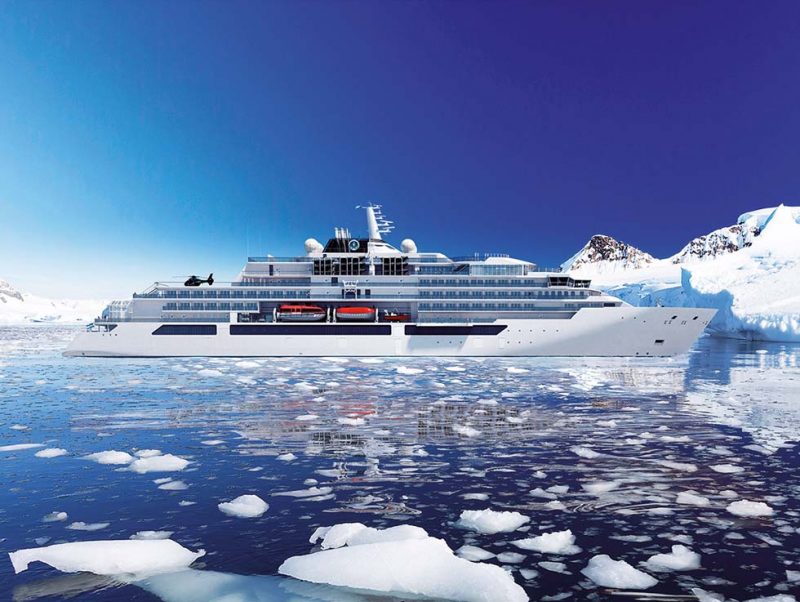 Crystal Yacht Expedition Cruises marked an important construction milestone in expansion on 15th January when the first piece of steel for the Crystal Endeavor (above) was cut at the MV Werften Shipyard in Stralsund, Germany. Set to debut in 2020, the Crystal Endeavor will be the largest and most spacious purpose-built Polar Class ship featuring Crystal's celebrated service and hospitality, all-suite, butler-serviced accommodations, and unmatched choices for bold adventure in the world's most remote destinations.

Lindblad Expeditions' first polar new build had her steel cutting ceremony in January at Ulstein Verft's Ulsteinvik yard in Norway. The ship, scheduled for delivery in 2020, will feature X-bow technology to improve comfort in rough seas, a very high ice class and expanded fuel and water tanks for extended operations in remote areas.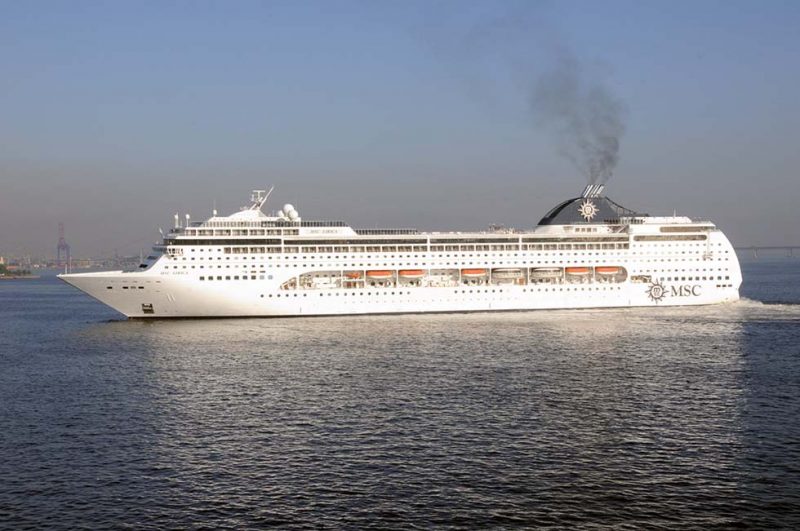 MSC Cruises has announced that the MSC Lirica (above) will be deployed to the United Arab Emirates for the 2018-2019 winter season from November 2018. Longer itineraries will be offered including two overnight stays in Dubai and cruises to India for the very first time. The 65,591gt/2003 built MSC Lirica will be offering ten cruises starting from either Dubai or Abu Dhabi with fly-cruise packages. The 137,936gt/2009 built MSC Splendida will also be based in the UAE for the winter 2018-2019 season offering 7-night cruises with the embarkation ports being Dubai and Abu Dhabi. In March 2018 MSC makes a welcome return to Southampton with the 95,128gt/2010 built MSC Magnifica.
Mystic Cruises' 200-passenger capacity World Explorer is taking shape ahead of a fourth quarter delivery at West Sea Shipyard in Portugal. The ship will debut into service on a charter agreement next winter with Quark Expeditions. Summer 2019 will see the ship sail under the Nicko Cruises brand in Europe. The ship is being built on a Rolls-Royce technical platform and is the first in a planned series of cruise ships. The 9,300gt and 16 knot ice-class vessel will be 126m long with a 19m beam and a 4.8m draught. Mystic Cruises belongs to the holding company Mystic Invest that also owns river brand DouroAzul and Germany's Nicko Cruises.
P&O Cruises' 84,342gt/2005 built Arcadia suffered an incident involving one of her lifeboats during a routine training exercise on 5th January. The lifeboat reportedly broke free from the cabling and fell from its davits into the sea while the ship was berthed in Ponta Delgada, Azores. Five crewmembers were injured.
Phoenix Reisen of Germany has extended the charter of the 22,496gt/1998 built Deutschland so the ship will remain in the fleet until at least 2025. Built at HDW shipyard in Kiel, the vessel was sold to Delos Cruise in January 2018 and also operates in her Semester at Sea role during the winter under the identity of World Odyssey.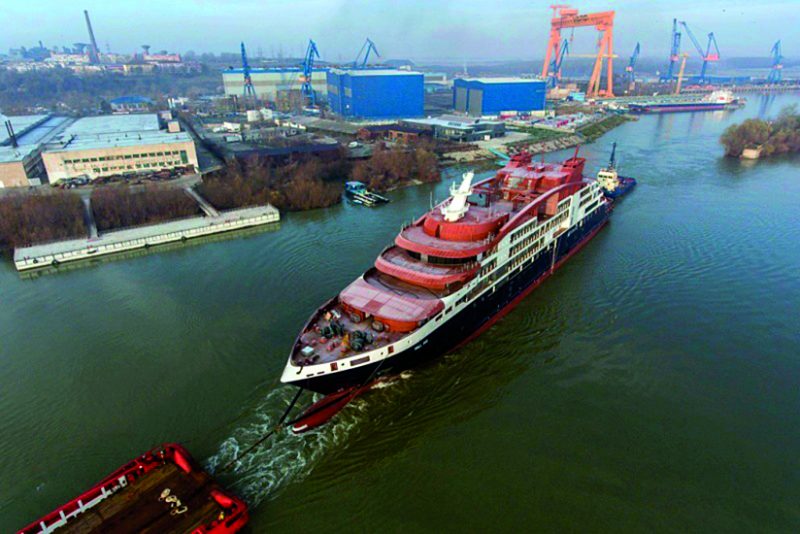 Ponant Cruises' first Explorer Class ship, Le Lapérouse (above), was launched at VARD's shipyard in Romania on 18th December. The ship (Hull No. 848) was then towed away bound for VARD's facility in Soviknes, Norway, where she arrived mid-January. The shipyard in Romania constructed the hull and superstructure, and did significant steel work, while the Norway facility has now taken over the final fitting out phase. Le Lapérouse will make her debut for Ponant in June, followed by Le Champlain in autumn 2018. Le Bougainville and Le Dumont-d'Urville will be operational in 2019. All four ships will have capacity for 180 guests.
The Ritz-Carlton Yacht Collection celebrated the keel laying of its inaugural vessel at the Hijos De J. Barreras Shipyard in Vigo, Spain on 11th January. Reservations for the first of three lavish "yachts" in this series will open in May 2018 according to the company.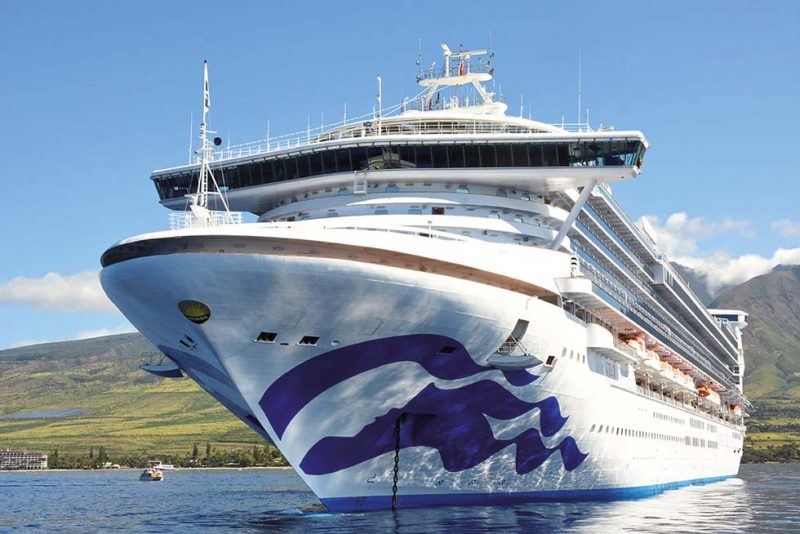 Princess Cruises' 108,977gt/2002 built and 2,600 guest capacity Star Princess (above) has received a multi-million pound refit. After a two-week dry dock, the refurbished ship emerged in January boasting improvements including redesigned youth centres, a wider choice of shopping, an enhanced spa and an updated fitness centre. The new livered ship is currently sailing the Hawaiian Islands on 15-night round trip itineraries from Los Angeles and Vancouver, before she relocates to Alaska in May 2018. All 1,300 staterooms have also received the line's signature Princess luxury beds and linens fitted whilst Sabatini's Trattoria, Princess' signature speciality restaurant, has a refreshed menu and décor. The casino has also received upgraded machines and tables. New carpeting and upholstery can also be found throughout the vessel. On 1st February the bow section of the new Sky Princess was launched at Fincantieri's Castellammare di Stabia shipyard following a ceremony. The 7,600 tonne section was then transported by sea to Fincantieri's Monfalcone Shipyard to be united with the rest of the ship being built there. The 143,700gt Sky Princess is scheduled to debut in October 2019 on a series of Mediterranean voyages and is a sistership to the Royal Princess, Regal Princess and Majestic Princess.
Scenic has revealed that the new Scenic Eclipse will be joined by a sister ship, the Scenic Eclipse II, in 2020. The latter will sail on her maiden voyage from Athens (Piraeus) to Lisbon before embarking on a debut season, which will include the European and Russian Arctic. Itineraries will venture to remote destinations including Russia's White Sea, a voyage to the Northwest Passage, Southern Greenland and Alaska to Russia across the Bering Sea. Construction of the Scenic Eclipse II will begin in 2019 in Pula, Croatia and the ship will be a similar design to the Scenic Eclipse. The vessel will be able to accommodate 237 passengers and 172 crewmembers.
Seabourn's 32,477gt/2010 built Seabourn Sojourn has received a 6 day dry-dock at the Grand Bahama Shipyard, Freeport during which a 150 strong team from UK specialist Trimline carried out an interior refurbishment. Maintenance and upgrades included suites, The Colonnade, the Panoramic Observation Bar, The Club, Grand Salon and more. Seabourn also added a new signature restaurant, The Grill by Thomas Keller.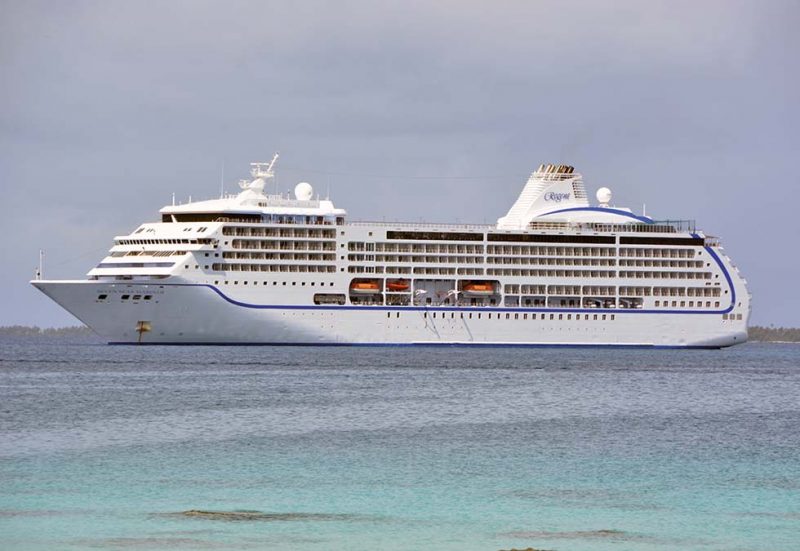 Regent Seven Seas Cruises has confirmed details for the upcoming refurbishment of the 48,075gt/2001 built Seven Seas Mariner (above), which will conclude the company's $125 million fleet-wide refurbishment programme. After a 20-day dry-dock in April 2018 at Chantier Naval de Marseille, the Seven Seas Mariner will re-emerge with new culinary experiences, new suite designs, and completely renewed modern guest spaces. The ship will then reposition to the Pacific Northwest to sail in Alaska.