Aurora Expeditions announced in early May the construction of the company's first ever brand-new purpose-built expedition ship. The vessel will be built by US-based SunStone Ships Inc, and is scheduled for delivery in time for Aurora's 2019/2020 Antarctic season. The new ship will make the most of Aurora's 25-year heritage of polar cruising and the exciting new design features the patented X-Bow technology. The ship will feature a platform for divers and kayakers, a mud room for climbers and skier preparation plus inflatable Zodiacs accessible via a dedicated sea-level Zodiac loading platform. Private bathrooms, balconies, a 180-degree indoor observation deck, gymnasium, sauna and spa will also feature.
Carnival Cruises brands will reportedly no longer call at Fremantle Port, Australia, after telling the state government that the facilities were not up to standard. The loss means the number of cruises planned from Western Australia annually could drop from around 60 to as low as 17, costing the economy approximately $130 million a year.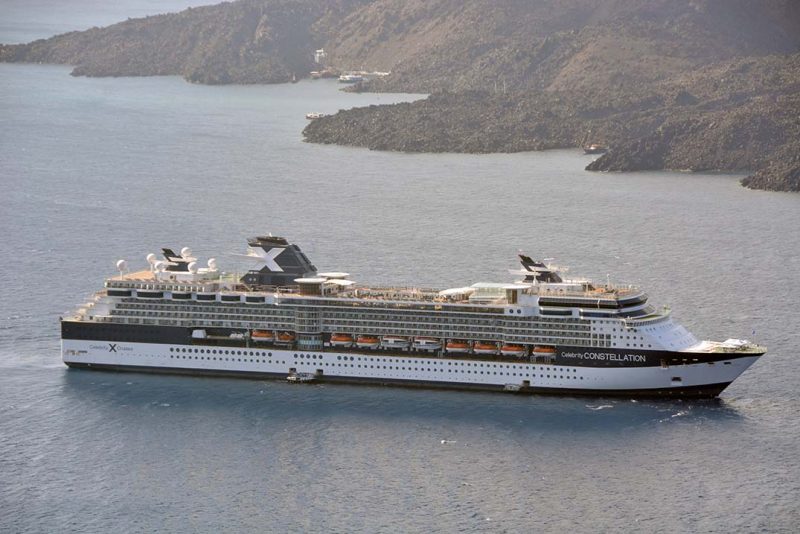 Celebrity Cruises' 90,940gt/2002 built Celebrity Constellation (above) entered dry dock on 12th May for a makeover that was due for completion on 26th May. During the broad expanse of work, the ship will receive the ever-popular restaurant Qsine, plus the all-new culinary experience, Top Deck Burger Bar, plus the new Rooftop Terrace and the iconic Taste of Film experience. The Top Deck Burger Bar is located up on the Pool Deck in the space formally known as Mast Grill whilst Qsine replaces the Ocean Liners Restaurant, following a complete renovation of the space. The popular Rooftop Terrace will also be added to Celebrity Constellation, a relaxing space featuring chic, cosy furniture, artistic elements, and a large outdoor soundscape and movie screen. The Rooftop Terrace is also home to the gastronomic adventure A Taste of Film – a unique fusion of film and food. Celebrity Cruises has named 19- year-old Nobel Laureate and UN Messenger of Peace Malala Yousafzai as godmother of the new Celebrity Edge. The cruise line has entered into a two-year partnership with Malala Fund, the charity co-founded by Yousafzai with the goal to secure 12 years of safe, free education for every girl. Yousafzai started her work as an activist at age 11, writing a blog about life under the Taliban and at 15, was shot on her school bus and survived.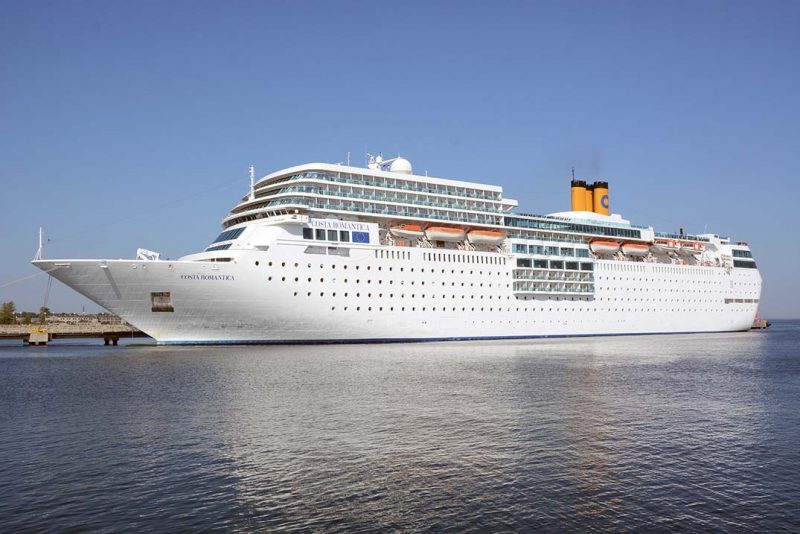 Costa Cruises' 56,769gt/1993 built Costa neoRomantica (above) has been deployed to Asia and becomes the fifth ship to operate under Costa Cruises' Costa Asia brand. From 26th April to 8th October, the ship is sailing from Fukuoka, Japan, offering new fiveto eight-day itineraries.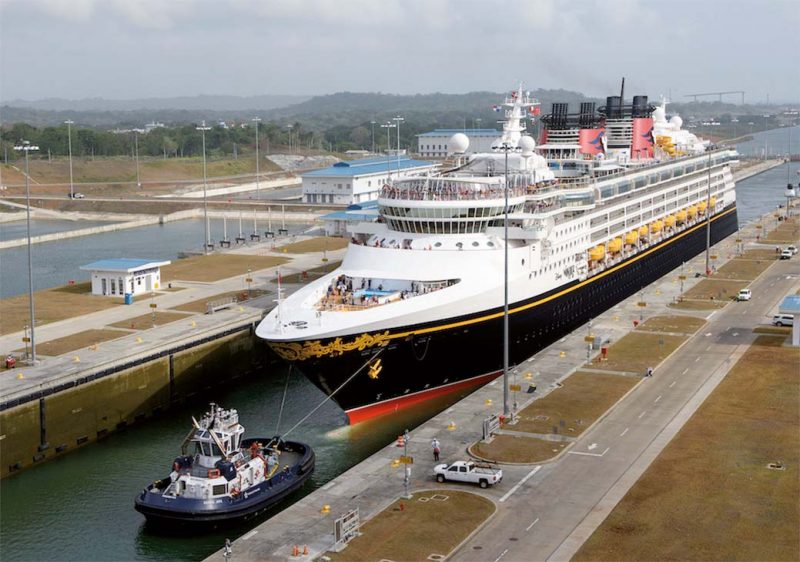 Disney Cruise Line's 84,130gt/1999 built Disney Wonder became the first cruise ship to traverse the new Panama lock system on 29th April (above). The Disney Wonder transitted in a southbound direction from the Atlantic to the Pacific Ocean. The ship's Panama Canal crossing was part of a 14-night voyage from Port Canaveral, Florida, to San Diego, where the ship will sail cruises to Baja, Mexico, before a summer season from Vancouver to Alaska. The 2,713-passenger ship was transformed in late 2016, increasing her length to 299.92m. By the close of the 2017 fiscal year, which ends 30th September, the total number of passenger ships is expected to reach 233, representing a total 237,298 passengers to have transitted both the original and new locks. On 1st April the Panama Canal began accepting booking requests for passenger vessels in the new locks. So far, 18 reservations have already been made for the 2017-2018.

Holland America Line's 82,862gt/2004 built Westerdam received a new block of superstructure for new guest cabins and retreat area whilst in dry-dock in Palermo, Italy, in April. In 2017 Holland America Line will celebrate its 70th year of Alaska exploration, and to commemorate the milestone anniversary the cruise line has planned special experiences and events that will take place on every Alaska cruise and on the popular "Land+Sea Journeys."
Lerwick Harbour is providing additional facilities for the cruise industry which is expected to deliver another two record seasons at the Shetland port, continuing a trend which saw record traffic in 2015 and 2016. The new £16.5 million multi-purpose jetty at Holmsgarth North, with capacity for vessels of up to 230m long, was completed in late 2016 and is set to be used by a cruise ship for the first time on 12th June when the Viking Ocean Cruises' ship 47,842gt/2015 built Viking Star berths there. The port is currently expecting almost 62,000 passengers this season, up 22% on 2016, with an increase of 18.2% in the gross tonnage of shipping to 2.6 million, both new records. The number of ships due is expected to be 76, three fewer than last year. July and August are due to be the busiest months, with 22 and 21 calls respectively. The 2017 com menced on 14th April with a visit by the 42,289gt/2002 built AIDAvita. There will be maiden calls by nine vessels, including Cruise and Maritime Voyages' new flagship, the 63,786gt/1989 built Columbus, on 9th July. Three new records are expected in 2018, with 90 ships currently booked, 4.1m gross tonnes of shipping, and an estimated number of almost 96,000 passengers, with the increase influenced by more bookings by larger capacity vessels.
MSC Cruise's new 137,936gt MSC Meraviglia completed her second round of sea trials on 30th April. The vessel joins the global cruising scene on 1st June and will spend her first summer cruising in Europe.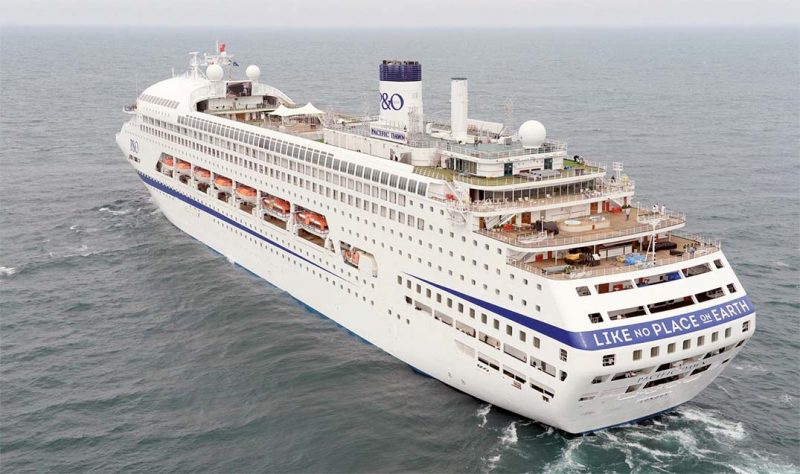 P&O Australia's 70,285gt/1991 built Pacific Dawn (above) returned to service after a multi-million pound refurbishment that was completed in March. With a team of over 100 trades people, marine interior specialist Trimline spent 12 days aboard in drydock in Singapore transforming many of the ship's public areas, including The Dome, The Orient Bar, Pool Café, Charlie's Bar, Reception, Spa, Ocean Bar, Techno Store, Decks 5, 6 and 7 Atriums and Deck 7 Promenade Bar. The ship now celebrates modern Australia and not only features the new look and feel which has been popular on P&Os latest ships, Pacific Aria and Pacific Eden, she also provides a taste of what's to come on P&O/s next ship, the Pacific Explorer, which Trimline began transforming in May.
Portland Harbour's berth extension was officially opened on 11th April in time for the summer 2017 cruise season. The cruise berth extension was the result of several years or careful planning and makes Portland Port one of only a few in the English Channel that can handle vessels with overall lengths of 340m. The first vessel to use the extension was scheduled to be Holland America Line's 99,836gt Koningsdam on 11th May followed by the 83,969gt/1998 built Disney Magic on 23rd May. Just along the coast, Poole Harbour Commissioners are busy constructing a cruise berth of their own, albeit for much smaller vessels.

Portsmouth International Port welcomed the first cruise ship of the season on 22nd April in the form of the Deutschland. The 175 metre long ship, which this year celebrates her 20th birthday, is operated by Phoenix Reisen. The 15,187gt/1997 built Deutschland will return to Portsmouth on 25th July.

Princess Cruises has announced that the 144,216gt/2017 built Majestic Princess will be based in Sydney over the 2018-2019 season, and will not be based year-round in China as previously announced. The Majestic Princess will be the largest Princess ship ever to sail in Australian waters, with her deployment confirming the cruise line's popularity amongst Australian and New Zealand cruisers, said Princess, in a statement. The ship will offer cruises in Europe and China before heading to Sydney where she will be based from September 2018 through to March 2019, when she will return to China. The Sapphire Princess will also move away from the Chinese market in 2018 and re-deploy the ship to Europe.

Saga Cruise's 18,627gt/1981 built Saga Pearl II arrived at Damen Shiprepair in Vlissingen, Holland, on 12th April for a routine visit to the yard's state-of-the-art enclosed drydock. The ship visited to undergo extensive exterior maintenance and receive a new paint job. Inside, new carpeting was fitted to public areas and, on the technical side, work was undertaken to the engine room, galley, electrical systems and more.