AIDA Cruises celebrated its 20th anniversary on 7th June 2016. On that day in 1996, the first ship in the AIDA fleet, Aida, was christened by former first lady Christiane Herzog in Rostock and put into service. From the very beginning, AIDA has stood for innovation and product diversity like no other company in the industry. This will continue in its 20th year.
Carnival Group shares dropped 11% on 27th June amid concerns that the economic fallout of the Brexit vote will affect demand for cruise holidays. The shares dropped to a four month low of £30.75. The markets are expected to be twitchy until the effects of Brexit are actually known, good or bad.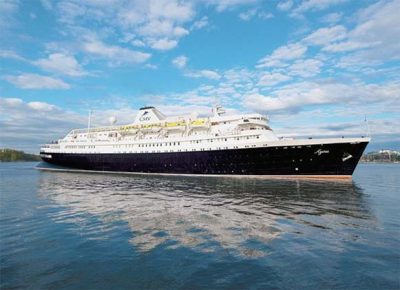 Cruise & Maritime Voyages' 16,144gt/1948 built and 550-passenger capacity Astoria (above) is set to leave the cruise line's fleet after the vessel completes a 2017 micro-season. CMV has announced that the world's oldest passenger cruise ship still in service will leave the fleet after her final cruise in April 2017, a 10-night round-Britain itinerary from Amsterdam to London Tilbury. The ship will once again be chartered to French tour operator Rivages Du Monde from May until September 2017. Whether the ship will be sailing with another operator after September 2017, or heading for the scrapyard is still unknown. The Astoria will operate 8 sailings with the cruise line between 9th March and 27th April 2017 from London Tilbury, with the option of also joining the ship in Amsterdam and Rotterdam.
Sign-up today to read the full article!
Simply click below to sign-up and read the full article, as well as many others, instantly!