AIDA Cruises christened the newest ship in its fleet, the 125,572gt AIDAperla, on 30th June during a ceremony accompanied by a light show and a firework display in Palma de Mallorca. The godmother was Model and TV host Lena Gercke whilst the christening bottle was a Balthazar (12 litres) of Moët & Chandon champagne. The 300m long and 37.6m beam ship has been sailing the Western Mediterranean since 1st July 2017.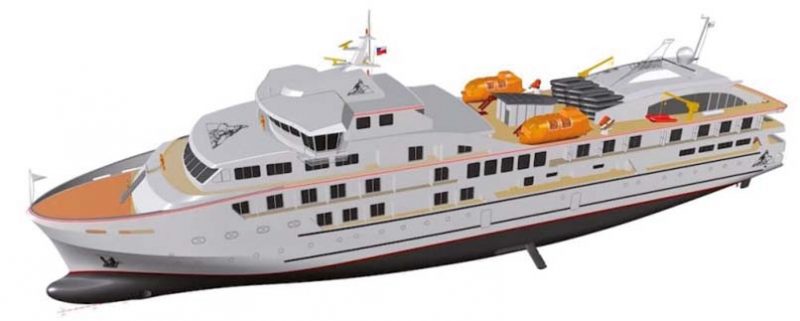 Antarctica XXI has announced an order for a new polar expedition ship from ASENAV for the 2019 cruise season. The 100-passenger vessel will be named Magellan Explorer (above). ASENAV has previously built expedition ships for Australis. Minke Shipping Company will be the owner of the ship, which is on long-term charter to Antarctica XXl. Built by Santiago-based ASENAV with interiors by the Chilean company Enrique Concha & Co., the ship will feature 50 passenger cabins in five categories of accommodation, including dedicated single cabins. The 4,900gt ship will be 90.7m long with a 16.2m beam and a 4.3m draught. Designed to ice class LR PC6, the vessel will be propelled at 14 knots by two MAN main engines with a total output of 3,440kW.
Carnival Cruise Line's 70,390gt/1998 built Carnival Paradise departed from Port Tampa Bay on 29th June on the company's inaugural cruise to Havana, Cuba. The occasion was marked by a celebration of Cuban culture, music, cuisine and libations, featuring the "World's Largest Cuban Sandwich at Sea" and a $25,000 charity donation to Tampa's Ybor City Museum Society. The departure marked the first of 12 four and five-day cruises, each with a daytime and overnight call at Havana to provide guests with a rare opportunity to explore the fascinating and historic destination.
Celebrity Cruises' new Celebrity Edge took a step forward on 21st June when the keel laying ceremony took place at the STX Europe yard in Saint-Nazaire, France. An 875 ton block was lowered in to the building dock after the placing of the traditional lucky coin. The Celebrity Edge will homeport in Fort Lauderdale, Florida, with her debut sailing scheduled for 16th December 2018.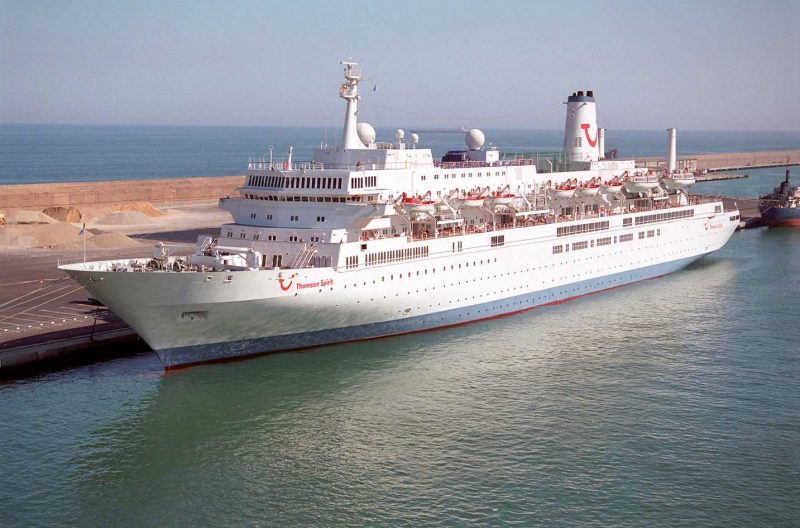 Celestyal Cruises of Cyprus announced in July that Thomson Cruises has confirmed a one-year extension of the 33,930gt Thomson Spirit's charter for the 2018 season. The ship has been chartered to Thomson Cruises, part of the TUI Group, since May 2003. According to the terms of the charter, the ship will operate as a Thomson Cruises vessel until October 2018, with all services provided by Celestyal Cruises through its wholly owned ship management subsidiary, Optimum Ship Management Services SA. The ship (above) was built at the Chantiers de l'Atlantique shipyard in 1983 as the Nieuw Amsterdam for Holland America.
Hapag Lloyd Cruises' first newbuild, the Hanseatic Nature, had her keel laid at the VARD shipyard in Tulcea, Romania on 21st June. The ship is the first of two expedition new-builds and the christening and maiden voyage of the Hanseatic Nature are planned for April 2019. The second ship, Hanseatic Inspiration, which will serve the international markets, will launch six months later in October 2019.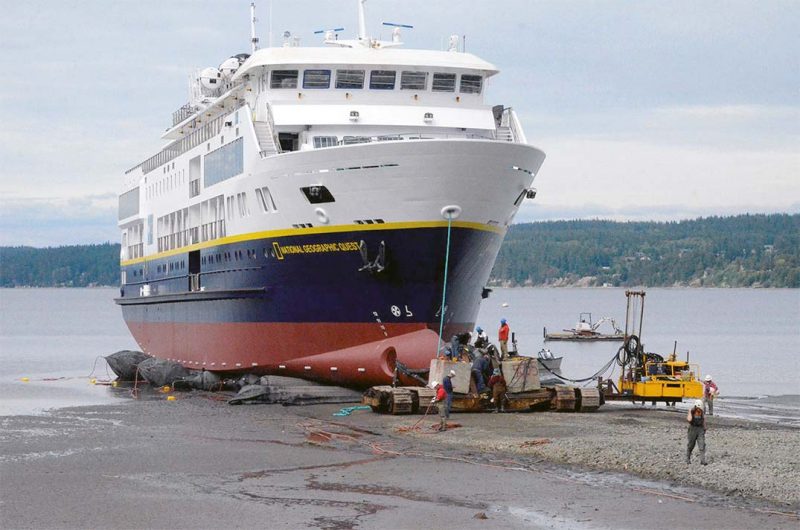 Lindblad Expeditions' new vessel, the 2,906gt National Geographic Quest, was damaged during the launching process on 14th June (above) so the cruises on 8th and 15th July were cancelled. The stern section grounded, damaging one propeller and rudder.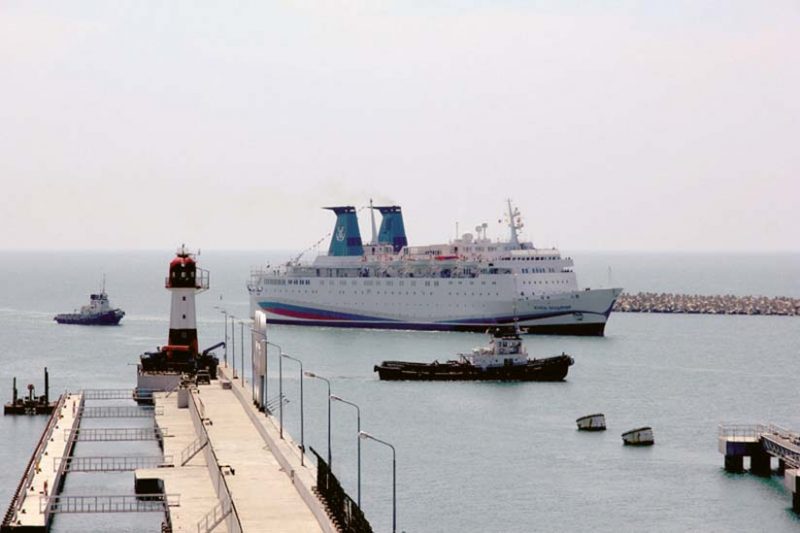 Rosmorport reported a successful first cruise for the Prince Vladimir (above) in June following the ship's debut in the Black Sea for a series of summer cruises for the Russian market. Rosmorport acquired the former Royal Iris earlier in 2017 from Mano Maritime and refurbished the ship. The first cruise operated as scheduled, departing Sochi on 11th June.
Saga Cruises announced on 11th July that the 18,627gt/1981 built Saga Pearl II is set to retire in style from the Saga Cruises' fleet with a 54-night farewell celebration cruise across Africa, departing from Portsmouth on 16th February 2019. The South African Farewell Adventure sailing features calls including South Africa and Namibia, Mozambique and the remote island of St Helena.
Costa Cruises' ill-fated 114,147gt/2006 built Costa Concordia has finally been scrapped. A statement from San Giorgio del Porto, the shipyard that carried out the work in Genoa in partnership with Saipem, was released on 7th July. The wreck arrived in Genoa on 27th July 2014 and the scrapping project employed up to 350 workers from 78 suppliers and subcontractors. The total of recycled material added up to over 53,000 tons, requiring just under 4,000 trips to recycling facilities in Italy.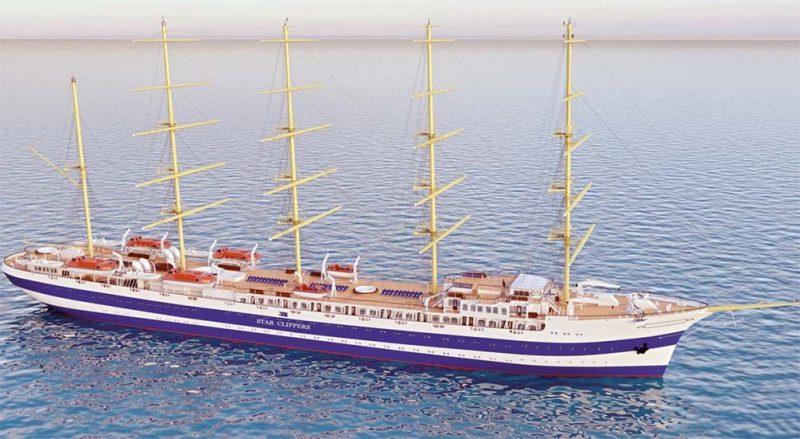 Star Clippers had their latest newbuild, Hull 483 and the largest square-rigged ship built thus far, launched on 10th June at the Brodosplit yard in Croatia. There were many representatives of Star Clippers present at the launching ceremony, while Mrs. Ann Krafft, the wife of the owner of the company Mr. Mikael Krafft broke a bottle of champagne over the bow and launched the ship. The Flying Clipper (above) is 162m long and 18.5 meters wide with a deadweight of 2,000t. She will have five masts and sails with an overall surface of 6.347sqm.
TUI Group of Germany has sold its 17% stake in compatriot container carrier Hapag-Lloyd. The company disposed of a total of 8.5 million shares in an open market block trade to a guaranteed minimum price. Prior to this trade TUI AG had already disposed of 6 million shares in individual open market transactions since March 2017. For 2018 and 2019 TUI AG is planning for the 76,998gt/1996 built Mein Schiff 1 and 77,302gt/1997 built Mein Schiff 2 to be passed to the British subsidiary TUI UK from TUI Cruises GmbH as a cash transaction.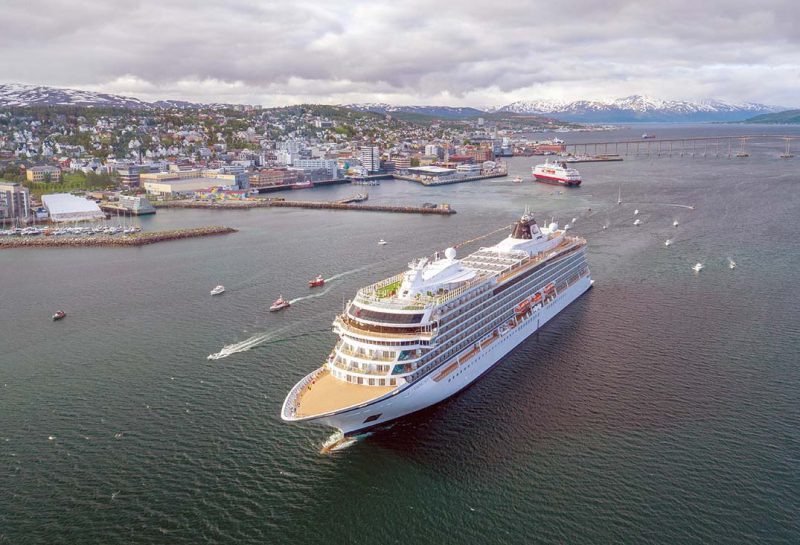 Viking Cruises' third ship, the 47,842gt/2017 built Viking Sky, was officially christened during a public celebration in Tromsø, Norway on 21st June (above).

Wärtsilä of Finland has been contracted to provide a comprehensive scope of solutions for three new 2,800 passenger capacity cruise ships being built for Virgin Voyages, a part of the Virgin Group of companies. The ships, which will be built at a Fincantieri shipyard in Italy, will feature Wärtsilä's engines, hybrid exhaust cleaning scrubber systems, selective catalytic reduction (SCR) systems and integrated navigation systems. The ships will each be powered by two eight-cylinder and two twelve-cylinder Wärtsilä 46F engines. Virgin Voyages' cruise operations will commence in 2020 from Miami with the delivery of the first of these three 110,000gt, 278m long and 38m beam ships. The sisterships are scheduled to join their owner in 2021 and 2022, respectively. Passenger capacity will be 2,700 in 1,400 guest cabins with a crew of 1,150 members.