Blissful Start
The newest member of Norwegian Cruise Line's Breakaway Plus class came one step closer to delivery on 17th February when the 168,800gt Norwegian Bliss emerged stern-first from the Meyer Werft building dock in Papenburg, Germany. As is customary, the ship remained at the shipyard for the final phase of construction, including fitting of the funnel, until her conveyance down the River Ems towards the North Sea, scheduled for mid-March. The ship will accept her first guests on 19th April at Bremerhaven for a two-night cruise to Southampton.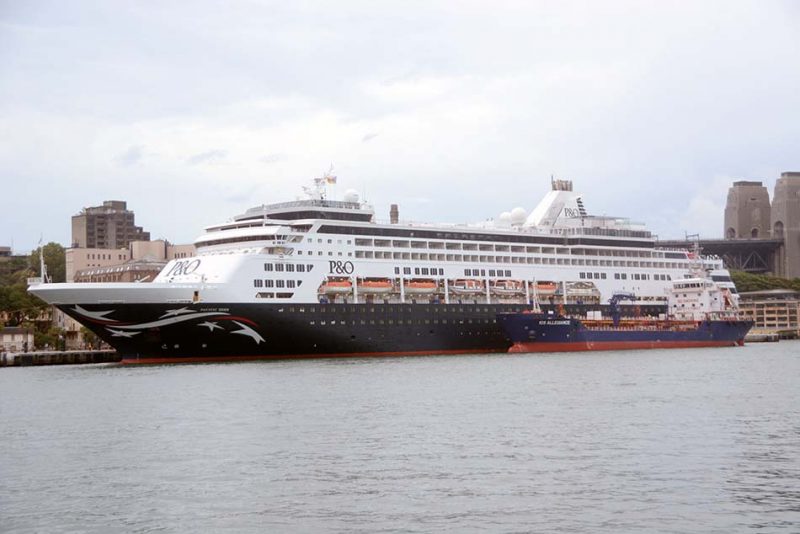 Sixth Ship For CMV
On 7th March CMV Group announced the addition of ship number six to their fleet, namely the 55,877gt/1993 built Pacific Eden (above) from P&O Cruises Australia. On 20th March it was announced that the Pacific Eden will be renamed Vasco da Gama and the vessel will join CMV's expanding fleet with delivery in Singapore in early April 2019 followed by a short dry-dock to include a livery change, re-brand and some preparatory works before she positions westbound to Northern Europe via the Suez on her inaugural voyage. She will operate alongside CMV's flagship, Columbus (1,400pax), Magellan (1,300pax), Marco Polo (800pax), Astor (600pax) and Astoria (550pax). Cruise and Maritime Voyages has also launched its 2019 cruise programme including departures from Wales for the third successive year. CMV's classic Marco Polo will offer four sailings from Cardiff in April and May 2019. The programme of cruises starts on 19th April 2019 with a short 3-night Easter break that actually starts from Avonmouth. The fourth cruise in the series departs from Cardiff on 15th May 2019. The Astoria's 2018 season did not have the best start. The 16,144gt/1948 built ship was delayed leaving Lisbon for Tilbury after refit so her first cruise departure on 8th March was deferred by 24 hours thus causing the Amsterdam call to be cancelled.
Subscribe today to read the full article!
Simply click below to subscribe and not only read the full article instantly, but gain unparalleled access to the specialist magazine for shipping enthusiasts.