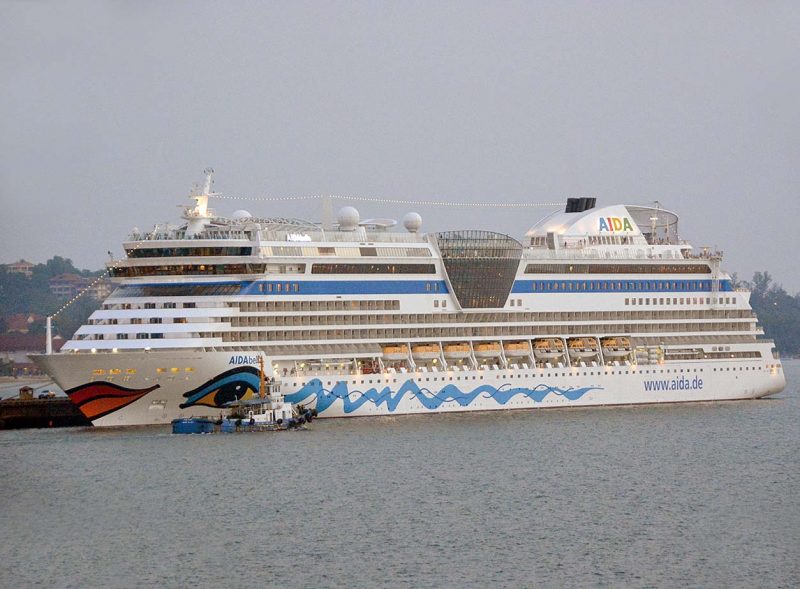 AIDA Cruises launched the first marketing campaign on the Chinese market on 9th August. From April 2017 the 69,203gt/2008 built AIDAbella (above) will make her maiden deployment in China all year round and, in close co-operation with Costa Asia, will be offering "Made in Germany" cruises from Shanghai as a new premium product for the booming Chinese market. The AIDAbella will be prepared for service in Asia during a refit in spring 2017. Without changing the essence of the successful AIDA brand, the ship and services will be orientated to the wishes and demands of Chinese guests. The ship will bid farewell to all her German fans with unique cruises to exotic dream destinations along the most splendid coastlines of Southeast Asia. From mid-December 2016 to the beginning of March 2017, the ship will depart from Bangkok on eight 14-day cruises through Thailand, Singapore, Malaysia, Vietnam and Cambodia.
American Cruise Lines floated out its latest vessel in July, the American Constellation, some nine weeks ahead of schedule. The ship has been designed and built in Salisbury on the Wicomico River, Maryland, and is now in the process of being fitted out in the lead-up to her official debut in early 2017. With capacity for 170 passengers, the American Constellation, ACL's ninth vessel, will operate a ten night Grand New England itinerary sailing round-trip from Boston, Massachusetts. The ship has been built by Chesapeake Shipbuilding In May ACL's previous new ship, the America, undertook her maiden voyage whilst ACL's other fleet members consist of four paddle wheelers and three coastal cruisers.

Aqua Expeditions' Aqua Amazon suffered a serious accident and sank 16th July. The mishap resulted in an explosion on board during a scheduled turnaround in Lima. No passengers were aboard but alas there were four confirmed fatalities amongst the five crew and two contractors initially missing after the incident. One person remained missing/unidentified. An investigation was launched with guests affected being relocated to other vessels. The Aqua Amazon was also used by Scenic Cruises on some itineraries. An additional eight crew members were recovering in hospital, three of which were in intensive care.
Subscribe today to read the full article!
Simply click below to subscribe and not only read the full article instantly, but gain unparalleled access to the specialist magazine for shipping enthusiasts.