No Change For The IOMSPCO.
The company announced on 11th October that, following a public consultation and a review of options, the Isle of Man Steam Packet Company had decided to retain its route between Belfast and Douglas in 2018. Following successful berthing trials of both its vessels, the Company had been considering the advantages and disadvantages of relocating services to the Northern Irish port of Larne and ran a three-week survey to gather public views. There were more than 3,000 responses to the online survey, run by a professional research company and promoted through the Steam Packet Company's website and social media channels as well as being shared directly with customers who have used the Douglas-Belfast route. While the idea of relocating to Larne received broad support as Belfast currently has some linkspan weight restrictions, the consultation also demonstrated many foot passengers appreciate the convenience of sailing into Belfast city centre. The company decided that for 2018 it will continue to operate to and from Belfast, but will seek further dialogue with Belfast Harbour authorities to improve the linkspan facilities to provide a service for the transportation of larger vehicles which can be taken on the Manannan from other ports.
Another Order For Austal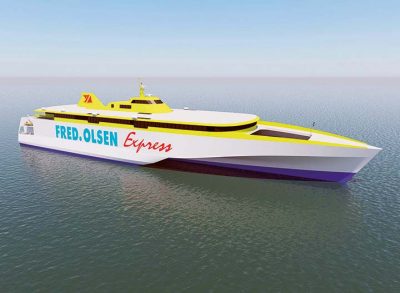 On 8th October the run of new orders for Austal continued with the announcement of a €126 million contract for two 117m trimaran fast ferries for long term customer Fred. Olsen S.A. of the Canary Islands, Spain. The aluminium trimarans (above), designed by Austal Australia, will be the second and third trimarans to be delivered to Fred. Olsen S.A. who already operate the world's first and largest trimaran vehicle passenger ferry, the 8,973gt Benchijigua Express, designed and built by Austal in 2005. The two new trimarans will each be capable of transporting over 1,100 passengers and up to 276 cars at speeds of up to 38 knots, with both commencing construction in 2018. The vessels are due for delivery in 29 and 36 months. The build location for the vessels will be announced separately.
New Name Revealed
On 8th October Irish Ferries revealed the name of its new €144 million cruise ferry. She will be christened W.B. Yeats after Ireland's most-loved poet upon arrival in Dublin next year. The name was chosen after it had drawn 'strong support' from the public in a competition that attracted nearly 100,000 entries from both sides of the Irish Sea. When delivered, the W.B. Yeats will have space for 1,885 passengers and crew, 1,200 cars and 440 cabins including luxury suites with their own private balconies. The new vessel, being built by FSG in Flensburg, Germany, is expected to sail on Dublin/Holyhead and Ireland/France routes from mid-summer 2018.

Sign-up today to read the full article!
Simply click below to sign-up and read the full article, as well as many others, instantly!