Mid-Solent Ferry Drama

On 19th January, a fine and sunny day, the 09.00 sailing from Portsmouth to Fishbourne operated by the 3,009gt/1990 built St. Faith encountered a fire whilst part way across the Solent. The source was believed to be an air conditioning unit behind the port side bridge wing. The plume of smoke could be seen far and wide. The crew quickly extinguished the fire and the ship arrived safely at Fishbourne where the 52 passengers and their vehicles all disembarked without incident or injury. Emergency services were waiting at Fishbourne. The ship was withdrawn from service for inspection, cleaning and repairs prior to resuming service the following afternoon. The crew is to be congratulated on the way that the incident was handled.
Technology First For Crosssolent Route

On 25th January Isle of Wight ferry operator Wightlink announced that it would shortly install a sophisticated state-of-the-art mooring system at Wightlink's car ferry terminals in Fishbourne and Portsmouth. This is part of the company's £45million investment in a new hybrid battery ship for the route and improvements to port facilities. MoorMaster™ automated mooring units from technology company Cavotec will cut turnaround times on both sides of the Solent and improve timekeeping and efficiency. From summer 2017, remote-controlled vacuum pads fitted along the berths in Fishbourne and Portsmouth will connect with the hulls of Wightlink's ships. They will hold the vessel securely in place while vehicles embark and disembark, without the need for additional mooring lines. The ship's Masters will initiate the MoorMaster™ system as the ferry nears each berth, then the pads will swiftly identify each ship and lock onto her within seconds. Although this is the first time the technology has been used for ferries in the UK, the tried and tested MoorMaster™ system is already in use by ferry lines, mining and shipping companies and ports around the world. MoorMaster™ uses large vacuum pads with an attraction force of 20 tonnes to create a fast and secure couple between shore and ship. The vacuum pads are monitored, controlled and positioned via a hydraulically actuated robotic mechanical linkage. The ships using the system already range from a 91m Ro-Ro ferry in Denmark (displacement 4,900 Tonnes) to 350m post panamax container ships in Salalah (displacing up to 130,000 Tonnes) and 310m bulkers with a displacement 210,000 of tonnes. Turnaround times will be cut by three minutes to 15 minutes which will help to improve punctuality. The new G-Class vehicle ferry will arrive in the Solent from her shipyard in Turkey during summer 2018. Efficient double deck loading of the company's current flagship St. Clare will begin in summer 2017 once the new facilities are completed.
Newbuilds For Balearia

Spanish ferry operator Balearia announced as February got underway that it had ordered two new LNG powered ferries from the Cantiere Navale Visentini shipyard at a cost of €200 million.
The 186.5m long and 810 passenger capacity ships will be dual fuel capable with capacity for 2,180 lanemetres of freight and 150 cars. Delivery is expected in late 2018. With the construction of these two units, the company has taken one step further in its bid to operate an eco-friendly fleet. The new ships will offer a service speed of 24 knots thanks to two dual engines with 20,600KW of power. The use of liquefied natural gas and other clean energy will reduce CO2 and NOx emissions by more than 40%, and eliminate emissions of sulphur and other particles. Both ferries, of identical characteristics, will have 123 cabins and Pullman 402 seats. These new ships will complement the cruise ferry commissioned in early 2016 and being built by La Naval Shipyard. With an investment of €187 million, this ship is expected to enter service to the Balearic Islands in 2019.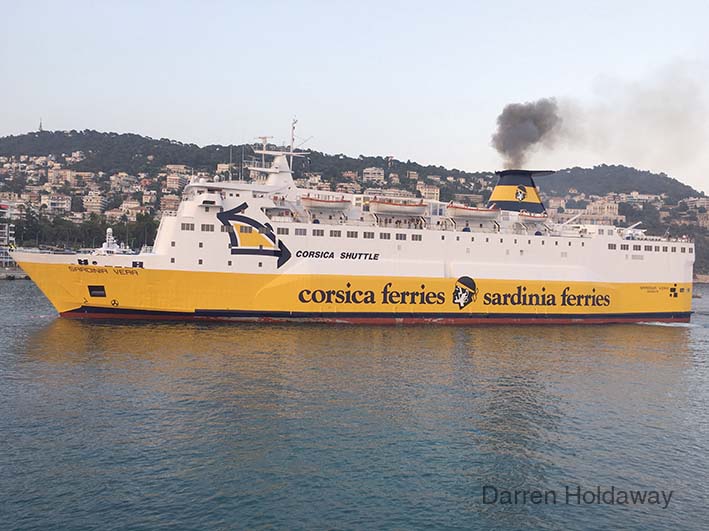 The 12,107gt/1975 built Sardinia Vera (above) has been chartered to Balearia to serve from Valencia, a stark contrast to earlier rumours that she had been sold for scrap. She will operate Valencia- Mostaganem for around 14 weeks until mid- May before resuming Corsica/Sardinia services for the summer.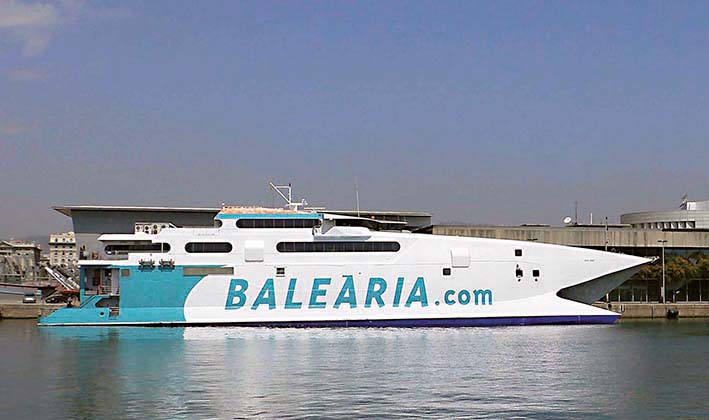 Baleària is also renewing the engines in the 4,112gt/1996 built Seacat Jaume II (above) to improve her performance, energy efficiency and ability to maintain 35 knots. The investment totalling more than €5.5 million is part of the company's fleet modernisation process. The work commenced week beginning 6th February at the Astilleros del Guadalquivir shipyard as an agreement has been reached with them to handle all fast ferry refits. Besides the engine work, the interior areas of the 81m long craft are being reformed for better comfort and a more up-to-date look. All of the seats and carpeting in the lounges are being replaced plus the cafés and counters will be remodelled and more light will be installed in all passenger areas.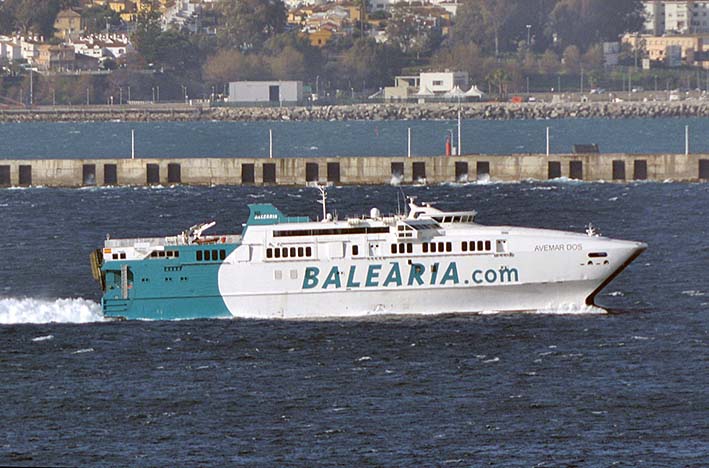 A €27.5m engine replacement scheme has already taken place aboard the 5,517gt/1997 built Avemar Dos (above).

Sign-up today to read the full article!
Simply click below to sign-up and read the full article, as well as many others, instantly!