Weco Calls It A Day

Weco RoRo, formerly operating as Nordana, ceased its regular breakbulk liner services in March citing huge losses. The 21,966gt/ 2016 built Frijsenborg and 21,801gt/2014 built Wedellsborg are to be employed elsewhere in the Ro-Ro industry. The latter exited the Weco services by 27th March whilst the Frijsenborg completed her final sailing with a last port of call of Izmir around mid-April.
Final Voyage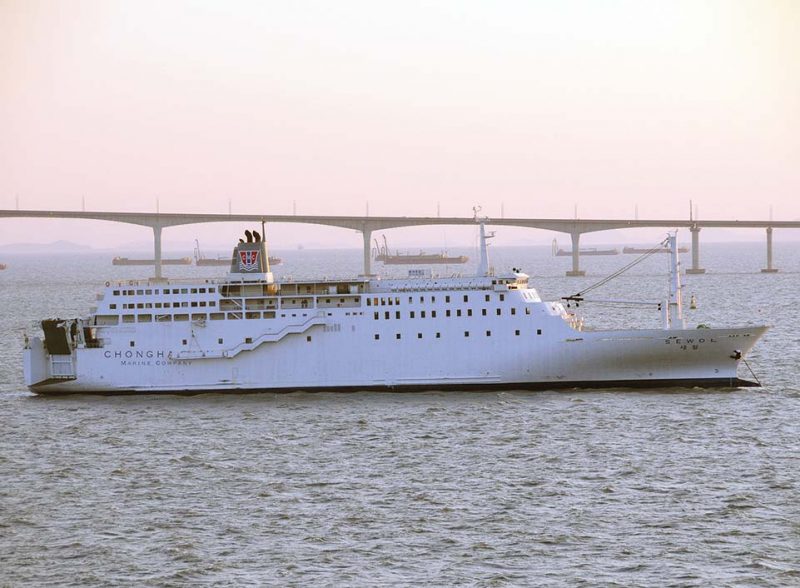 The wreck of the 6,825/1994 built ferry Sewol (above), which was raised to the surface on 23rd March was to be transported by the 51,065gt/2015 built semi-submersible heavy lift vessel Dockwise White Marlin to the Port of Mokpo, South Korea, on 30th March. The 146m long vessel sank off Jindo Island on 16th April, 2014, killing 304 people, 250 of which were high school students on a school trip. Nine persons are still missing. The salvage project, conducted by a Chinese consortium led by Shanghai Salvage, started in June 2016. However, bad weather and technical problems postponed the project, estimated to cost around $72 million, several times. The ship was salvaged intact rather than be cut up to ensure that the remains of those who perished aboard would not be disturbed.
First LNG Con-Ro Launched For Crowley

Crowley Maritime Corp. announced the launch of its first Commitment-class ship, the 36,796gt El Coquí, on 20th March. The ship is one of the world's first combination container/roll-on/roll-off (Con-Ro) ships powered by liquefied natural gas. The launch took place at VT Halter Marine's facility in Pascagoula, Mississippi, where the two Commitment-class ships are being built. Construction of the ships is part of Crowley's $550 million project to expand and modernise the company's shipping and logistics services between Jacksonville, Florida, and San Juan, Puerto Rico. The El Coquí, like her sister ship Taíno, will be able to transport up to 2,400 TEUs and a mix of nearly 400 cars and larger vehicles in the enclosed, ventilated and weathertight Ro/Ro decks. A wide range of container sizes and types can be accommodated, as well as up to 300 refrigerated containers.
Busy Times For P&O

P&O Ferries services from Dover carried more freight across the English Channel in the first three months of 2017 than in any first quarter in its modern history. The company's six ships on the Dover-Calais route transported 361,100 lorries, almost 11% more than the corresponding period in 2016 and 9% higher than the previous best ever Q1 in 2012. During this period the 28,138gt/ 1993 built Pride of Burgundy and 30,635gt/ 1991 built Pride of Canterbury went to the Remontowa shipyard in Gdansk, Poland, for life extension work. Both were intended as Superfreighters for the Dover-Zeebrugge service with the 'Burgundy' being converted to Ro-Pax whilst in-build and the 'Canterbury' was converted from the European Pathway as part of the two-ship Darwin Project in 2002/03, along with the European Highway (now Pride of Kent). The 22,986gt/1991 built European Seaway, the first of the Superfreighters, remains in service Dover-Calais and will act as refit relief ship on the Cairnryan-Larne service this spring when the European Causeway/ Highlander are overhauled.

During the week commencing 20th March P&O FERRIES formally relaunched its two Hull-Zeebrugge ships after a successful multi-million pound refit. Celebration events were held in Hull and Zeebrugge, where the transformation was showcased via guided tours on board. The 31,785gt Pride of York and 31,598gt Pride of Bruges, both built in 1987 for North Sea Ferries, can carry up to 880 passengers on their 12 hour overnight sailings and have received a refurbishment designed to improve the onboard freight facilities, shopping, dining and sleeping experience.