Farewell To A Loyal Servant
The final departure of the RMS St. Helena from Cape Town to St. Helena Island took place at 1730 on 24th January. A nostalgic time as another chapter in maritime history came to an end. Bagpipes, played during the ceremonial departure and the paying off-pennant was handed over before the vessel exited the Duncan Dock. The RMS St. Helena then departed on her final voyage from St. Helena Island to Cape Town on 10th February having served the island since 1990 and completed 268 voyages prior to her decommissioning. In addition to carrying passengers in comfort, the working ship has been a lifeline to St. Helena carrying all the Island's goods and supplies. The faithful ship will be sold on once her services are no longer required.
A Launch & A Disposal For Irish Ferries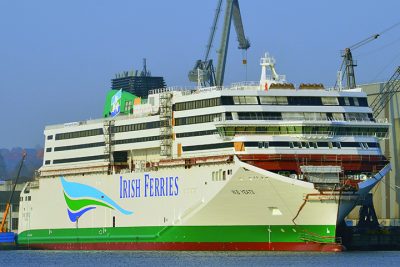 The completed hull of the new Irish Ferries cruiseferry W. B. Yeats, christened by Ms. Rikki Rothwell, was launched at midday on 19th January at the shipyard of Flensburger Schiffbau-Gesellschaft (FSG) in Flensburg, Germany where the vessel is being built (above). Fully painted in Irish Ferries livery, and bearing the name W. B. Yeats on her bow and stern, the hull took to the water to await the addition of the superstructure sections that were arriving in prefabricated form aboard barges from Poland. The ship's profile was complete by 9th February after each accommodation module was craned into position. The €150 million, 54,985gt ferry will arrive in Dublin during July 2018 when she will enter year-round service on the Ireland-France and Dublin-Holyhead routes.
A new ship for Brittany Ferries, the Honfleur, will also be built by FSG plus a second, even larger cruiseferry for Irish Ferries to be delivered in 2020 at a contract price of €165.2 million. Intended for service on the Dublin to Holyhead route, this second new vessel will be the largest cruise ferry in the world in terms of vehicle capacity with accommodation for 1,800 passengers and crew.

On 30th January Irish Continental Group plc. announced that it had entered into a Memorandum of Agreement for the sale of the 5,989gt/1999 built High Speed Craft Jonathan Swift to Balearia Eurolineas Maritimas S.A. She will be replaced in the Irish Ferries fleet by the 8,403gt/2001 built High Speed Craft Westpac Express, which was recently redelivered following a period of 20 months on external charter. She underwent a refurbishment programme in Belfast in the New Year to bring her up to Irish Ferries passenger service standards. The Epsilon went to Harland & Wolff, Belfast for 20 days from 5th February for her annual refit. The Oscar Wilde deputised for the ship on the Dublin-Cherbourg/ Holyhead services having completed her own refit at Cammell Laird, Birkenhead.
DFDS Newbuilds Announced
DFDS announced on 12th February that, owing to an expected requirement for a 30% increase in capacity on its Baltic route network (6 services), two new Ro-Pax ferries have been ordered for delivery & deployment on one of the routes connecting Lithuania with either Sweden or Germany in 2021. The ships are designed to each carry 4,500 lane metres of freight and passenger vehicles as well as 600 passengers, will be equipped with exhaust scrubbers and will be built by Guangzhou Shipyard International Co. Ltd. at their Nansha Yard in China.
New Spirits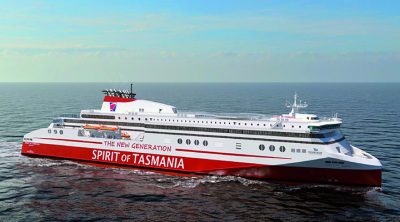 TT-Line Company Pty Ltd. and Flensburger Schiffbau-Gesellschaft GmbH & Co. KG (FSG) announced on 9th January that they had signed a Letter Of Intent for the construction of new ships (above) to replace the current 29,338gt/1998 built Spirit of Tasmania sisterships. These vessels were built as Superfast Ferries' Superfast IV and Superfast III respectively at the Kvaerner-Masa Shipyard in Finland. TT Line expects to place an order for the new vessels in the first half of the 2018 calendar year and for them to be delivered in time to commence operations on Bass Strait in 2021.

Sign-up today to read the full article!
Simply click below to sign-up and read the full article, as well as many others, instantly!