Attica Holdings S.A. (Attica Group), announced on 26th October that it has reached an agreement with Minoan Lines S.A. (Minoan Lines) for the acquisition by Attica Group of 37,667,504 shares in Hellenic Seaways Maritime S.A., representing 48.53% of the share capital of the latter, for a cash consideration of Euro 78.5 million. The transaction also features the sale of the 30,902gt/2002 built Superfast XII to an operator within the Grimaldi Group for a cash consideration of Euro 74.5 million plus the sale of the 4,927gt/2005 built Highspeed 7 to Minoan Lines for a cash consideration of Euro 25 million.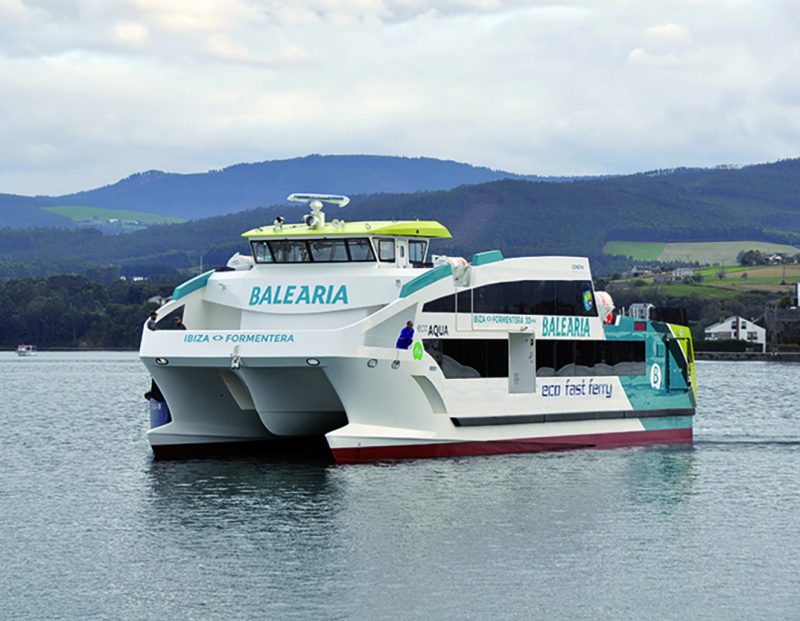 Baleària is adding an 'eco fast ferry' with a capacity for 350 passengers to the Eivissa- Formentera service this December. This vessel is the first of a series of four being built by the Asturian shipbuilder Gondan. The four ferries will receive the names of the four natural elements, Eco Aqua (above), Eco Terra, Eco AireE and Eco Lux.

Bay Ferries, the operator of the high-speed ferry service that links Yarmouth with Portland, Maine has reported that it carried 41,623 passengers in 2017 despite engine trouble that reduced the number of crossings during the second season of operation. This is an increase compared to the 35,551 passengers conveyed in 2016 but well below the figures of 90,000 to 100,000 that Bay Ferries registered in 2007-2008 when it previously operated the service. However, the 8,127gt/2007 built Alakai (marketed as The Cat) sailed on only 84 round trips this year when 112 trips were scheduled following the failure of the ferry's starboard outer main engine on 28th June.
Bore Line's 19,094gt/1997 built Bore Bay (converted back to a Ro-Ro from life as UECC's Auto Bay) has been chartered by GNV for their Genoa/Civitavecchia to Napoli/Palermo/Malta service.
Brixham Express ceased trading on 25th October, closing the troubled Torquay- Brixham passenger ferry service across Torbay. The company had been unable to achieve a commercially successful service and decided that it was therefore irresponsible to continue. The service has soaked up millions of pounds of public funds and been plagued with the predictable weather related disruption, a badly delayed and totally unsuitable new ferry in the form of the Brixham Express and high operating costs when having to charter in alternative craft to operate the schedule. It was a valiant effort but was always doomed to failure in its year-round format.

Sign-up today to read the full article!
Simply click below to sign-up and read the full article, as well as many others, instantly!