Bay Ferries Ltd.'s service between Yarmouth, Nova Scotia and Portland, Maine, is expected to open two weeks earlier (1st June) and close 2 weeks later in 2017 if negotiations are successful. Bay Ferries carried 15,000 fewer passengers in 2016 than Nova Star Cruises did in 2015. Some 35,551 passengers were carried, well below the 60,000 target.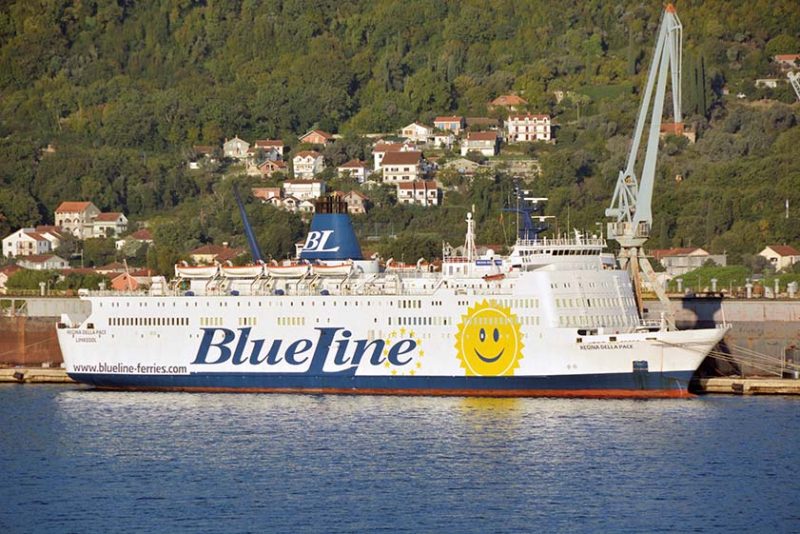 Blue Line Navigation's (BluNavy) 16,405gt/1979 built Regina Della Pace (above), has been sold to Ventouris Ferries and will be renamed Rigel III. The ship had been arrested for a while but is now set for a new lease of life.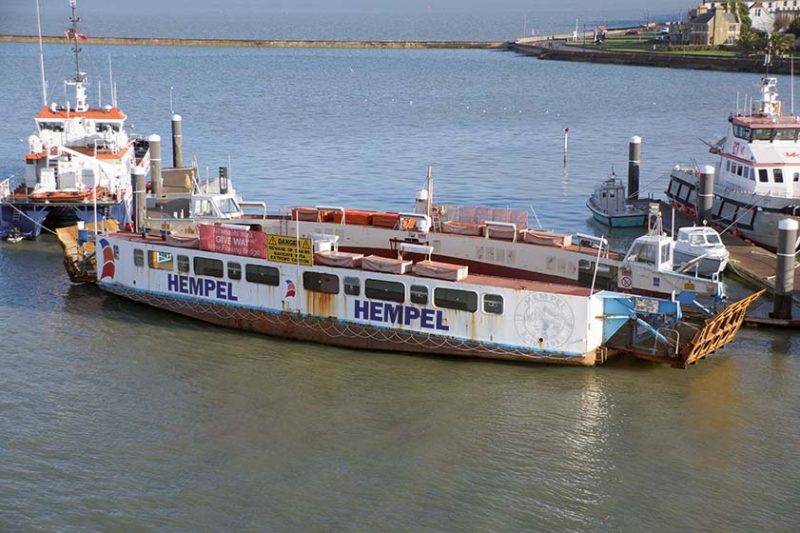 Chain Ferries (or cable guided varieties) operate across various rivers in the UK including the River Medina between East Cowes and West Cowes. These often receive little attention but Ferry No.5 (above), built in 1975 in Cowes, retired from service at 0030 on the morning of 3rd January. Slipway remodelling works followed and a new ferry will arrive in March from her builders in Wales.
Condor Ferries' Condor Rapide went for annual refit at Cherbourg on 5th January and the Condor Liberation again suffered high profile cancellations prior to the Christmas holiday plus on 13th/15th January when supposed to be deputising for the 'Rapide as well as operating her own service from Poole. The Jersey-St. Malo rotation on 15th January was operated by the Commodore Clipper, which required her to sail empty from Portsmouth that morning. The reason? Sea conditions were beyond the limits of the Liberation. This service then lead to the Portsmouth-Channel Islands Ro-Pax sailing being cancelled on 16th January.
Fred. Olsen officially purchased the 10,371gt/2011 built Bornholm fast ferry Leonora Christina, an Austal product, for Ferry Gomera on 14th December, a Fred. Olsen subsidiary in Tenerife. She will be chartered to F.rgen until their Bornholm contract ends on 31st August 2018.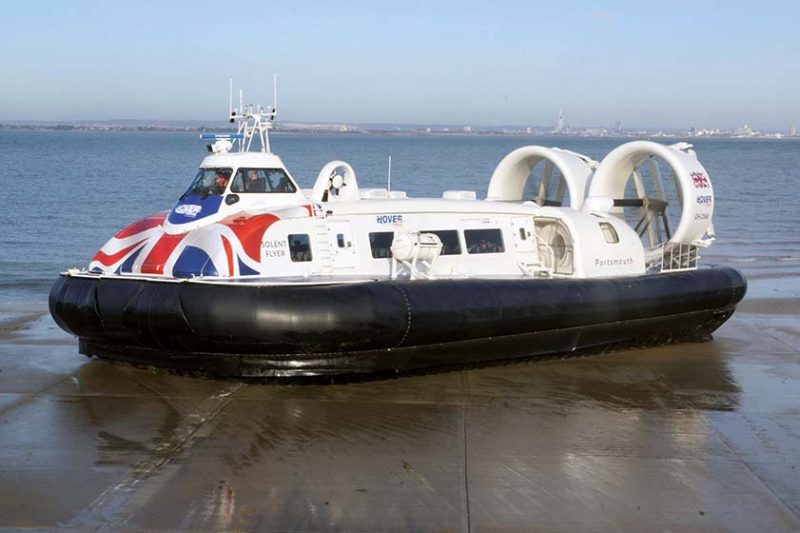 Hovertravel continues to experience reliability issues on the Southsea-Ryde hovercraft service. The new 12000TD craft Solent Flyer (above) and Island Flyer were approaching a combined total of 2,000 operational hours in early January, and during this time areas of improvements had been identified. The necessary remedial and upgrade work to enhance the performance was earmarked for January/February. Alas the two-strong back up fleet of AP1-88 hovercraft Freedom 90 and Island Express had been diminished by the perhaps unwise withdrawal of the Island Express. She had been sent for storage at Griffon Hoverwork's Woolston yard (Southampton) and components had apparently been removed to keep the Freedom 90 in service. So, when the latter was urgently needed back at Ryde in January she was unavailable until being made serviceable on or before 28th February once parts had been delivered/fabricated. So, with the need to work on the 12000TD craft, a backbone one craft service timetable was provided from 10th January until 28th February, thus cancelling 7 round trip flights each weekday. Additional services would be offered when a second craft was available, but supplementary to the timetable and unscheduled. The Freedom 90 herself suffered problems, but this is to be expected of a craft in her 26th year. Hovertravel has also invested in additional resources with a Project Director joining from Griffon Hoverwork to work alongside Hovertravel's teams to resolve and implement the new craft issues for the future of the business.
The Medway Queen Preservation Society will continue to improve its visitor offering and develop its structure and organisation in 2017 as the Heritage Lottery Fund Transition Project continues. The Visitor Centre on Gillingham Pier, and the ship herself will be open on Saturdays as usual in 2017 from 11th February until 16th December. Normal opening times will be 11am to 4pm. All 4 of the ship's public spaces are now accessible to visitors and the engine can be viewed. See www.medwayqueen.co.uk.
Mols-Linien A/S is planning to increase the passenger capacity of its two Incat craft that will be used on the Bornholm contract from 1st September 2018. The passenger capacity will increase from 1,177 to 1,400 and from 780 to 880 respectively.

Naviera ARMAS has reportedly purchased the 6,360gt/2000 built Highspeed 6, a 96m Incat craft delivered as the Milenium for TrasMediterranea, from Hellenic Seaways. She has been renamed Volcan de Teno for a new service linking Morocco with Spain and the Canary Islands. An open sea route from the mainland to the Canary Islands is perhaps not the most likely domain for a fast craft.
P&O Ferries handled more freight units at its Zeebrugge hub during 2016 than in any year since it began operations from the Belgian port in 1966, due to the continuing strength of exports to and from the U.K. P&O saw 420,000 freight units at Zeebrugge in 2016, surpassing the previous record of 398,650 units, which was set in 2015. From its Zeebrugge hub, P&O Ferries operates services across the North Sea to Tilbury, Hull and Teesport respectively. The terminal was enlarged by 14 hectares at the end of 2015 and now comprises four berths and enhanced rail infrastructure. The expansion is expected to give the ferry company the capacity to handle 700,000 units of freight every year at the Belgian terminal.

Scandlines' 24,000gt Copenhagen, the second new hybrid ferry for the Rostock- Gedser route, departed the Danish shipyard Fayard on 19th December 2016. She entered service from Gedser on 21st December. Christened in late October, the new ferry can accommodate up to 2,600 passengers, 920 cars and 192 lorries between Rostock and Gedser, doubling Scandlines' previous capacity on the route. Scandlines planned to rebuild the engine injection systems aboard both of the hybrid ferries, but the new injection modules could not be delivered until 1st January 2017, so the work was scheduled for January 2017. Indeed, the Copenhagen was off service for this work mid-January. The 16,071gt/1981 built Kronprins Frederik deputised for both ships at this time before resuming her new role as relief ship. The 16,071gt/1980 built Prince, formerly Scandlines' Prins Joachim, has been sold on to Africa Morocco Link and was handed over in Piraeus after Christmas and renamed Morocco Star. She had been serving Brindisi-Vlore for European Seaways.
Sealink (SNCF) stalwart Al Salmy 4 4,590gt/built 1974 and formerly the Express Santorini/Chartres departed Greece for the United Arab Emirates on 6th December 2016. Meanwhile another Dover Straits/Irish Sea favourite, P&O Ferries' 8,097gt/1978 built European Endeavour, since known as TEF's Gardenia and the Star Fighter, was beached at Alang on 6th December.
Seaspan Ferries Corporation (SFC) announced the arrival of the 4,810gt Seaspan Swift, the first of two new dualfuelled/ hybrid diesel, LNG and battery ferries to its fleet on 9th December. The new stateof- the-art vessel reached SFC's Tilbury Terminal in Delta after an eight-week journey that spanned a total of 10,661 nautical miles following construction at the Sedef Shipyard in Istanbul, Turkey. The vessel is powered by two Wartsila dual-fuel engines and a Corvus Energy Storage System (ESS) consisting of 84 advanced lithium polymer batteries, providing a maximum speed of 16 knots with a maximum displacement of 6,750t. The 148.9m ferry, which can accommodate up to 59 trailers, has a 200m3 LNG tank and underwent a series of regulatory inspections and crew training programmes throughout December before entering operation on 2nd January 2017.
The second vessel destined for the Vancouver Island services in Canada will be the Seaspan Reliant in 2017. SFC operates a drop trailer service between British Columbia's Lower Mainland and Vancouver Island. The current SFC fleet operates on two different routes, one from the Fraser River in Delta to Nanaimo, BC, and the other to Swartz Bay. These routes are approximately 40 nautical miles long and require the vessel to transit between fresh water and salt water.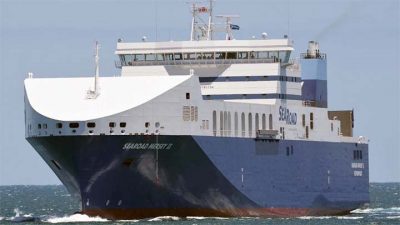 SeaRoad's brand new 25,409gt Searoad Mersey II (above) entered service mid- December and is the first coastal ship in Australia to use LNG fuel-and-power technology and the first pure dry cargo ship in the world to use a roll-on roll-off LNG supply system. The new 182m ship left her German builders Flensburger Schiffbau-Gesellschaft Shipyard in early November and sailed to Australia via fuel and supply stopovers in Las Palmas in the Canary Islands, Cape Town in South Africa and Fremantle in Western Australia before arriving at her home port on 12th December and making her debut commercial sailing for Melbourne from Devonport on 14th December. The ship has a cargo capacity of 6,750 metric tons and a speed of 20.5 knots. She offers 1,960 lanemetres of space for freight plus can carry 110 cars.
St. Peter Line has signed a new merger agreement with Moby Lines, an unlikely combination perhaps, which came into force in November 2016. As a result of synergy of two brands a new cruise product featuring the experience of Italian culture and the best traditions of Russian hospitality has emerged. From April 2017 the SPL Princess Anastasia will depart St. Petersburg every Sunday, call briefly at Helsinki the next day before continuing to Tallinn, Stockholm, Helsinki and back to St. Petersburg on a Thursday. Every Thursday/Friday night the ship remains in St. Petersburg as a hotel for foreign passengers under the 72 hour visa free arrangement. Friday to Sunday the ship operates a St. Petersburg-Helsinki-St. Petersburg round trip.
Starlite Ferries Inc.'s 1,497gt/1975 built Starlite Atlantic succumbed when Typhoon Nina battered the Philippines on 25th/26th December. The ship sank in rough seas off Tingloy, Batangas as the typhoon lashed southern Tagalog and Bicol. Fifteen crewmembers were rescued and 19 were missing after the ship had gone adrift off Mabini town, Batangas, prompting the decision to abandon ship. The Starlite Atlantic sank between Puerto Galera and Maricaban Island in Mindoro on Boxing Day. There were no passengers or cargo aboard. The 6,105gt/1980 built Ro-Ro ship Shuttle Ro-Ro 5 was blown aground at Mabini, Batangas, Philippines, whilst seeking shelter from the typhoon. Her 25 passengers and crew abandoned ship and were rescued after conditions overwhelmed the ship.
Tallink's 36,249gt/2007 built Helsinki- Tallinn shuttle vessel Star was converted to double deck loading in January to match her new fleet mate, Megastar, when delivered. New berth facilities are also being installed. The 36,277gt/2008 built Superstar maintained the route in the Star's absence (12th-27th January) with the 49,000gt Megastar expected to make her debut on 29th January. The first bunkering exercise for the latter took place at the new Skangas Pori LNG terminal in Finland on 4th January.