Acciona Trasm editerranea's 21,473gt/1981 built Almariya (formerly Olau Line's Olau Hollandia from new) suffered an engine room fire shortly after she departed Nador for Almeria on 8th September. The ship had 1,668 passengers aboard and the fire was quickly extin­guished but the event disabled the ship so she was towed back to Nador.
Attica Group has apparently gazumped rival Grimaldi Group to acquire a majority stake in Greek ferry company Hellenic Seaways (HSW). Minoan Lines, the Cretebased Grimaldi carrier in Greece, has long owned a significant chunk of HSW and has spent more than €30 million in the last two years to raise its stake to 48.5%, falling just short of control. When HSWs second largest shareholder, Piraeus Bank, put its holding up for sale earlier in 2017, Minoan Line duly bid for the shares but its offer has been rejected. Attica, which owns 12 RoPax ferries under its Superfast Ferries and Blue Star Ferries brands, has agreed to acquire more than 39 million shares of HSW, equivalent to just over 50% of the share capital.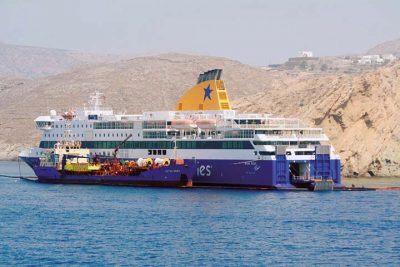 Blue Star Ferries' 18,498gt/2002 built Blue Star Patmos (above) ran aground on approach to los, los Island, on 30th August with 205 passengers aboard. The vessel suffered an 80m-90m hull breach with ensuing water ingress, which was kept under control. A shuttle transferred the passengers ashore and all were reported safe. Six tugs eventually refloated the ferry on 6th September and she was then towed to Piraeus for repairs.
CalMac 's 100m long newbulld Glen Sannox (Hull No.801) is set to be launched on 21st November, later than previously expected, to allow for a more comprehensive fitting-out process on the launching berth at Port Glasgow, where she is being built by Ferguson Marine Engineering Ltd. The Glen Sannox will be the first dual fuel equipped ship in the CalMac fleet. She and a sister ship, which is also under construction at the same yard will be capable of operating on conventional marine diesel or LNG. Each ship will be able to carry 127 cars and up to 1,000 passengers.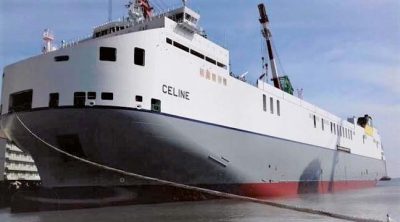 Cobelfret's new 60,000gt and 8,000 lanemetre capacity Ro-Ro ship Celine (above) got underway on 8th September from Hyundai Mipo in Ulsan, bound for Rotterdam.
The new Cowes Floating Bridge No.6 was withdrawn indefinitely on 4th September whilst issues with the chain ferry are resolved. The £3.2m vessel only made her debut in May, several weeks late.
Condor Ferries' Condor Liberation and Condor Raplde experienced bad weather and service disruption induding 2nd August and 11th September, the latter when both high speed services were affected by cancellations. An additional service was operated by the Condor Liberation on 14th September due to the cancellation three days earlier. The trip departed Poole at 2130 for Guernsey only and returned to Dorset at 0430. The Commodore Clipper departed Portsmouth tor her bi-annual refit at Falmouth on 7th September. The ship was replaced by the ubiquitous Ro-Ro vessel Arrow and was due back on 25th October, with the Commodore Goodwill following suit. The Arrow also covered for her absence. It was announced on 11th September that a restructuring of Condor Ferries is to lead to job losses in the UK.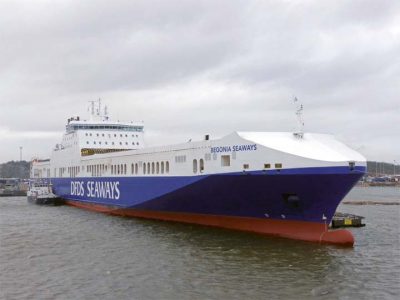 DFDS Seaways dropped the Ust-Luga call from its Kiel-St. Petersburg sailings as of 1st September. The service departs Kiel every Saturday evening, arriving in St. Petersburg on Tuesday afternoon. The 37,722gt/2004 built Begonia Seaways (above) ran aground on the Ghent-Terneuzen Canal near Terneuzen, The Netherlands. The vessel was en-route to Ghent when she suffered a mechanical fault and struck the canal embankment. Tugs were able to refloat the ship.
Flensburger SchlffbauGesellschaft (FSG) launched the new Ro-Ro ship Fadiq, destined for Alternative Transport of Turkey on 7th September. The 209m long, 26m beam, 21.3 knot and 283 trailer capacity (4,100 lanemetres) ship is scheduled to be deployed on the Turkey-Italy route. During Q1 2018. FSG's current order book contains 4 ships including two large RoPax ferries of which the last delivery will be in April 2019. The next ship to be built in FSG's building hall is the new Irish Ferries vessel.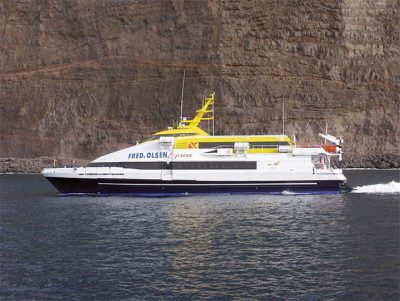 Fred. Olsen Express' brand new 28m long Benchl Express (above), which is to be deployed on La Gomera Island coastal routes in the Canary Islands, collided with a pier during a test run on 6th September. The hull was breached above the waterline so the vessel was lifted from the water for a week to permit repairs.
Seajets of Greece has bought the 2,695gt/1997built 60m long Austal fast ferry Cezayirli Hasan Pasa I from istanbul Deniz Otobusleri (100). The ferry will be renamed Andros Jet. The company is also reported as purchasing the 5,335gt/1996 built Austal Autoexpress Blue Power that began life as the TI-Delphin. This vessel was bound for Piraeus in early September. Seajets of Greece has bought the 2,695gt/1997built 60m long Austal fast ferry Cezayirli Hasan Pasa I from istanbul Deniz Otobusleri (100). The ferry will be renamed Andros Jet. The company is also reported as purchasing the 5,335gt/1996 built Austal Autoexpress Blue Power that began life as the TI-Delphin. This vessel was bound for Piraeus in early September.
Stena Line cut the steel on the first of four Stena E-Flexer Ro-Pax newbuildings at AVIC Weihai Shipyard in China on 25th August The new vessels will have around 3,000 lanemetres of vehicle/freight capacity and will be able to accommodate 1,000 passengers. Some 50% larger than today's standard Ro-Pax vessels the newbuilds are due for delivery in 2019 and 2020.
On 28th August the chartered Ro-Ro vessel Gute entered service on the GdyniaKarlskrona link due to increased demand. The 7,616gt/1979built and 138m long Gute is time-chartered from Gotland Rederi (Gotlandsbolaget) and will complement the Stena Vision, Stena Spirit and Stena Baltica, offering 8 additional trips per week, bringing the weekly total to 44.
The 27,522gt/2006 built Stena Horizon experienced technical difficulties on her Rosslare-Cherbourg crossing on 3rd September, arriving late in Cherbourg. The vessel was then withdrawn for repairs in Cherbourg prior to returning to service on 9th September. The 13,017gt/2006 built Stena Hibernia also suffered problems in late August and was laid up in Belfast for repairs. Her place on the Belfast­ Birkenhead route was taken by the Stena Precision.
Talllnk Grupp AS subsidiary Baltic SF IX Ltd. and Canadian ferry operator Marine Atlantic Inc, have agreed to extend the current charter agreement of the 30,285gt/2002built Atlantic Vision (exSuperfast IX) for one year, until November 2018. The vessel has been on long-term bareboat charter since 14th November 2008.
TS Queen Mary is to be permanently berthed on the River Clyde, at Glasgow Science Centre. The news was announced on 27th August and the berth will see the former passenger ferry situated beside the Millennium Bridge, just a stone's throw from the SSE Hydro and SECC complexes, and right in the heart of Glasgow's media village. The charity hopes to re-open the ship as a heritage destination, education and business centre in spring 2018.

Wight Shipyard Co. announced on 11th September that they had won an order to build a 21 metre passenger catamaran for Jacobite Cruises on Loch Ness. The order, the second for the Isle of Wight-based ship­ yard in as many weeks, follows the welcome announcement of a second 41 metre high speed craft for Red Funnel. Designed by One2three Naval Architects the hullform of the new catamaran is designed to provide through-life efficiency with low structural weight assisting lower fuel consumption. The new catamaran will accommodate 200 passengers who will board over the for­ ward and aft decks. Capable of reaching a maximum speed of 15 knots, the vessel will cruise at 12 knots on Loch Ness further slowing to 5 knots in the Caledonian Canal. Delivery will be ahead of the 2018 summer season.