New Year, New Build
Irish Ferries declared on 2nd January that the company had ordered a second new cruise ferry, which will enter service between Holyhead (U.K) and Dublin (Ireland) in 2020. The cruise ferry, larger than the present company flagship, the 50,938gt/2001 built Ulysses, will be built at Flensburger Schiffbau-Gesellschaft (FSG) in Germany at a cost of €165.2 million. The same shipyard is already building Irish Ferries' new 55,000gt ship W.B.Yeats which is due for delivery this summer. When built, the as yet un-named 67,300gt newbuild will be the largest cruise ferry in the world in terms of vehicle capacity, offering space for up to 1,800 passengers & crew, 1,500 cars, or up to 330 freight units (5,610 lanemetres).
Best Results In A Decade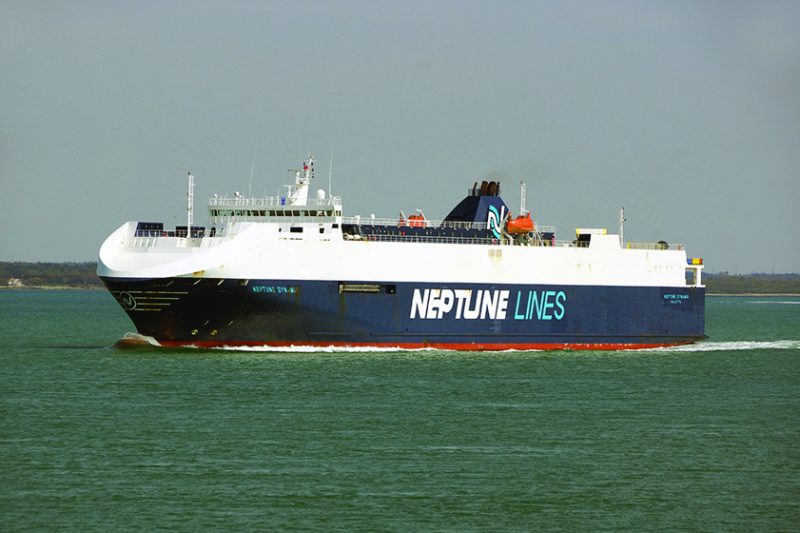 P&O Ferries began 2018 by reporting that it carried more freight between Zeebrugge and Tilbury in 2017 than in any other year in the decade long history of the route. The ferry company carried 185,908 freight units between January and December 2017, an increase of 4.3% on 2016 and surpassing the previous best 12 monthly figure set in 2016. The strategic location of Tilbury, which is the closest port to London and has 18 million people living within 75 miles of it, means that the vast majority of the goods carried on the route are consumables such as wines, spirits, dairy, water and a wide range of other supermarket products. P&O Ferries operates two ferries on the route, the 20,296gt/1999 built sister ships Norstream and Norsky, sailing 24 times a week in total on crossings with a duration of eight hours each. Zeebrugge is the company's main continental hub with dedicated freight routes from Zeebrugge to Teesport and Hull as well as Tilbury. P&O Ferries has chartered Neptune Lines' 21,554gt/2002 built Neptune Dynamis (above) for a two-month period this winter to cover freight traffic during the dry docking of P&O's Hull-Rotterdam/Zeebrugge ships.

Mishap For A Pride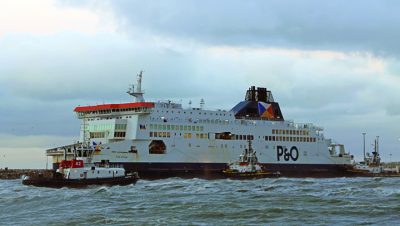 On 10th December P&O Ferries' 30,635gt/1992 built Pride of Kent (above) ran aground on a sandbank in Calais Harbour at around midday having been caught by strong winds whilst turning to depart for Dover. The harbour was closed when the incident happened and, after six hours, the ship was freed on a rising tide by port tugs and returned to her berth. The 313 passengers were disembarked from the ship and put on alternative sailings or accommodated in Calais overnight at P&O's expense. The Pride of Kent suffered hull, propeller shaft and gearbox damage and proceeded to Dunkerque for repairs in dry dock two days later.
Scotland-Scandinavia Proposal
P&O Ferries has indicated that it is willing to enter talks with the Scottish Government about a new ferry route between Scotland and Scandinavia. The company said that it is always looking for new opportunities after the Transport Minister was urged to call a summit with ferry operators to explore the potential for a new service between Scotland and Norway, Denmark or Sweden. Rosyth's freight-only ferry to Zeebrugge, operated by DFDS, is currently the country's only sea link to Europe. The ferry Rosyth-Zeebrugge route opened in 2002, but the passenger service ended in 2010 whilst the U.K's last passenger ferry service to Scandinavia ceased from Harwich in 2014.

CLDN
Cobelfret Ferries added a fourth weekly sailing between Gothenburg and Zeebrugge from 1st January following strong growth in Ro-Ro traffic. At the same time, the company switched from Logent to the Gothenburg Ro-Ro Terminal. The growth in Ro-Ro traffic between Gothenburg and Belgium has been almost unparalleled in recent years and the Port of Gothenburg now offers 18 departures per week to the country with the other Operators DFDS, Stena Line and SOL. CLdN's next new vessel, the Delphine, sister to the 74,273gt/2017 built Celine, began sea trials on 22nd November.