Bay Ferries' Portland-Nova Scotia service, marketed as The Cat, looks to be under threat as a result of Customs officials not providing the required inspection services in 2018 unless Portland's facilities are upgraded, but the city is struggling to accept the asking price of $7 million. Portland officials say the city will not invest such a huge sum of money at the city's Ocean Gateway terminal despite the Federal Government's demands. Customs and Border Protection agreed in 2014 to operate a two-year temporary screening facility at Ocean Gateway when ferry service between Portland and Yarmouth, Nova Scotia, resumed after a four-year hiatus, but permanent facilities have not been forthcoming. An investment of that size may also be out-of-scale for the ferry, especially when compared with the economic gains of increasing cruise ship traffic to Portland. In the past four years, cruise ships have paid $5.63 million in passenger fees to the city, compared with $672,250 from Bay Ferries.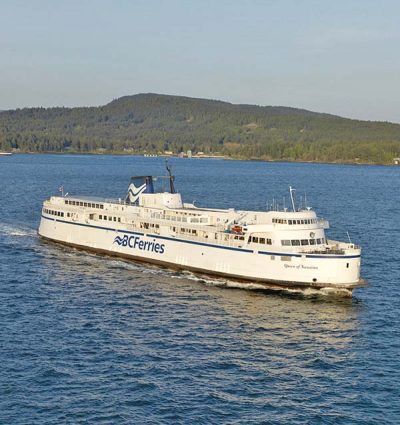 B.C. Ferries' recently retired 4,939gt/1964 built Queen of Nanaimo (above) completed an epic trans-Pacific journey to her new home in Fiji on 27th November as the third of the ferry corporation's vessels to find service with Goundar Shipping Ltd. Capable of carrying 164 cars and 1,005 passengers and crew, the Queen of Nanaimo served the Tsawwassen and Southern Gulf Islands route for three decades, but suffered maintenance problems with a propeller that kept her out of service and prompted an earlier-than-expected retirement of the vessel. The Queen of Nanaimo was expected to enter service on 11th December as the Lomaiviti Princess V. The company already operates the former Queen of Prince Rupert, re-christened as the Lomaiviti Princess I , and bought the former Queen of Chilliwack in 2014.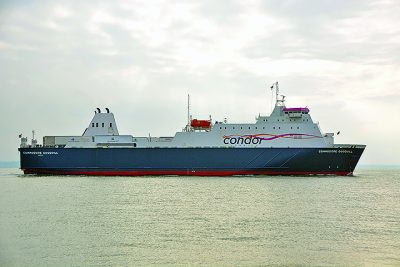 Condor Ferries' 11,166gt/1996 built Commodore Goodwill (above) encountered mechanical problems on 21st November due to extensive cracks in the starboard engine turbocharger and had to be assisted into St. Helier harbour by the resident tug. This had a knock-on effect on the 14,000gt/1999 built Commodore Clipper which then had to cover for both daily conventional sailings and deal with bad weather disruption that same week. The latter had also suffered a technical issue of her own that had caused delays on 18th/19th November. The 'Goodwill proceeded to Southampton's western docks for repairs. A 24 hour delay in supplies reaching the Islands then followed with the Co-Op probably wishing that it had not disposed of warehouses vital at times of bad weather or mechanical issue disruption.
Sign-up today to read the full article!
Simply click below to sign-up and read the full article, as well as many others, instantly!