Further Delays
On 12th June Irish Ferries regretfully announced that the delivery of the 50,400gt W.B. Yeats by German shipbuilder Flensburger Schiffbau-Gesellschaft & Co.KG (FSG), has been further delayed.  The new ship was due to commence sailings between Ireland and France from the 30th July 2018.  Because of the uncertainty caused by this additional delay, Irish Ferries had no option but to cancel all the planned sailings to France for the W.B. Yeats this summer, with the ship now likely to commence sailing in September.
The already embattled company had further woes on 27th June when the 50,934gt/2001 built Ulysses (affectionately known as The Big U) was withdrawn from service and sent to Harland & Wolff, Belfast, for repairs after only being able to achieve a maximum speed of 14 knots. The 26,375gt/2011 built Epsilon and 8,403gt/2001 built Dublin Swift were left to cope.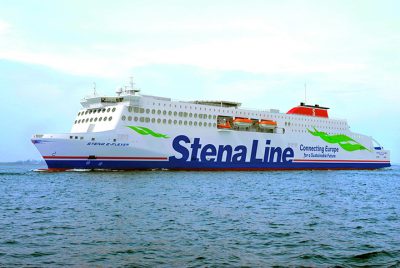 Stena Newbuild Confirmed
On 12th June Stena Line confirmed that the first of the company's trio of new Irish Sea ships will be deployed on the Dublin-Holyhead route. In 2017 Stena announced a new build contract for a new generation of Ro-Pax ferry vessels, the Stena E-Flexer (above), with planned deliveries during 2020 and 2021.  In total 6 such vessels are being built by the AVIC Shipyard in Weihai, China with three earmarked for the Irish Sea and three chartered out by Stena Ro-Ro to DFDS (1 at Dover) and Brittany Ferries (2 at Portsmouth for Spanish services).

Sign-up today to read the full article!
Simply click below to sign-up and read the full article, as well as many others, instantly!