Back on 21st March 2022 Formula 1 was delighted to welcome MSC Cruises as a Global Partner for the 2022 season. The multi-year deal began at the F1 Gulf Air Bahrain Grand Prix in 2022 when MSC Cruises became the Official Cruise Partner of Formula 1. The collaboration aimed to bring some of MSC's most technologically advanced and glamorous ships port-side during select Grand Prix weekends, enabling MSC Cruises' impressive fleet to complement the high-end experience of Formula 1 and drive global visibility for its brand. As global leaders in their respective fields, MSC Cruises has also united with Formula 1 to continue to drive towards sustainable change. Both companies have committed to becoming Net-Zero Carbon and are pioneering state-of-the-art environmental technologies and solutions.
On 15th March 2023 Formula 1 and MSC Cruises unveiled new fan hospitality packages offering unrivalled race weekend experiences at the 2023 Abu Dhabi Grand Prix. Formula 1 fans can purchase hospitality packages on the MSC Virtuosa, ranging from cabin only tickets, to the full F1 Experience, which will give fans insider access through a premium all-inclusive experience, with exclusive track activities such as a Pit Lane Walk and a Guided Track Tour.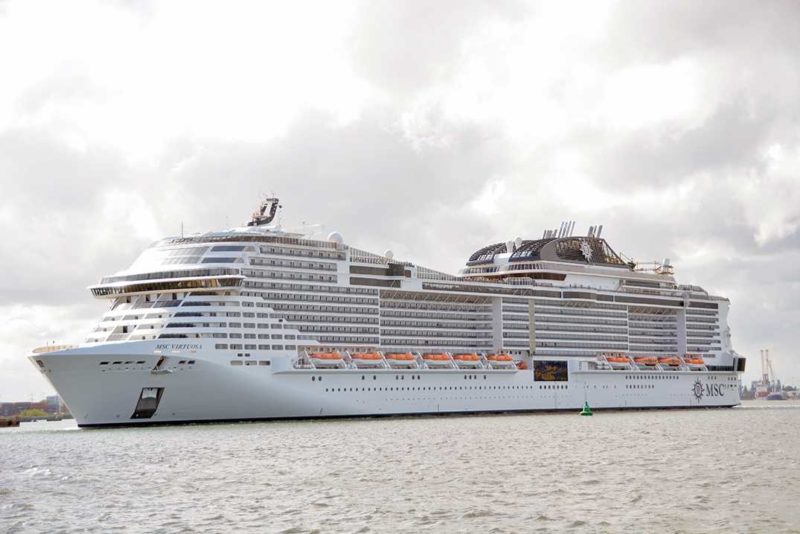 From 23rd to 27th November, the 181,541gt/2021-built MSC Virtuosa (above) will be docked at the Abu Dhabi Cruise Terminal and will serve as a hotel for guests. Fans onboard will be able to see out the 2023 season in style with a fully integrated Grand Prix experience plus MSC's specially designed programme of F1-themed activities and entertainment. Exclusive trackside activities and premium all-inclusive hospitality (Turn 1 Suite, Paddock Club and Legend) are on offer with the activities including exclusive insider access such as Pit Lane Walk, Guided Track Tour on a flatbed truck, Formula 1 personnel appearances, and more. This collaboration marks a new era for Formula 1's relationship with MSC Cruises. Through a shared passion for excellence, sustainability, and global entertainment, Formula 1 and MSC Cruises will take race weekend accommodation to the next level.
Over the weekend of 29th/30th July 2023 MSC Cruises and Formula 1 reached a new milestone together, celebrating the first Grand Prix with MSC Cruises as title sponsor. The Belgian Grand Prix, one of the most historic and prominent races on the F1 calendar, was held at the iconic Spa-Francorchamps Circuit. As the race's title sponsor and Global Partner of Formula 1, MSC Cruises brought the line's global reach and passion for excellence to this event, enhancing the experience for fans around the world. As title partner, MSC Cruises had greater track branding visibility, prominently featuring its brand on the start-finish line amongst other key locations around the undulating and fast track. Furthermore, the winning Driver and Constructor trophies were co-designed by MSC Cruises to be unique for the brand and this event, with Gianni Onorato, CEO of MSC Cruises, playing an integral part of the podium ceremony.
This collaboration further strengthens the partnership that has already achieved strong results for both brands with future title sponsorships will be revealed at selected Formula 1 Grand Prix events during the 2024 World championship season. This partnership runs until the close of the 2026 season with other ships featuring at other F1 destinations from the start of the 2024 season.