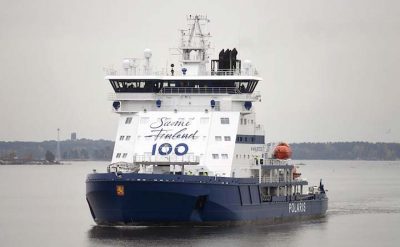 The Finnish Transport Agency's new icebreaker, and the world's first LNG-powered example, the Polaris (above), entered service on 1st November in the Baltic Sea. The ship was delivered in September by Finnish shipyard Arctech Helsinki to Arctia Ltd., a Finnish company specialising in marine icebreaking, offshore, and oil recovery. The 110m long, 17 knot and 9,333gt Polaris is the first icebreaker ever built that is capable of running on both liquefied natural gas (LNG) and ultra-low-sulphur diesel, making it the most environmentally friendly diesel-electric icebreaker anywhere in the world. With a total output of about 22 MW, it is also Finland's most powerful icebreaker to date.

Hyundai Heavy Industries reported $1.2bn in shipbuilding orders for the first nine months of 2016, a 75% plunge compared with the same period of 2015 according to an interim report released on 19th October. The troubled South Korean shipbuilder also recorded no new contracts for commercial vessels in September, following a score of zero in August. Offshore and engineering orders fell by 82% year on year in the period to $187 million, reflecting the drop-off in orders that has hit all South Korean builders in the sector since the price of oil fell in 2014. The total orders announced in August had been $497 million, indicating that some of the orders may have since been cancelled or suffered an impairment on their value.
Lürssen Maritime Beteiligungen's acquisition of Blohm+Voss shipyard in Hamburg was approved by the German Fair Trade Commission at the end of October. Following the official approval by the commission, Lürssen can now combine six shipyards with around 2,800 employees in Northern Germany. Founded in 1875, Lürssen's primary activity is the design and manufacturing of yachts over 60 meters in length and naval and coastguard ships.

Sign-up today to read the full article!
Simply click below to sign-up and read the full article, as well as many others, instantly!