Notable Incidents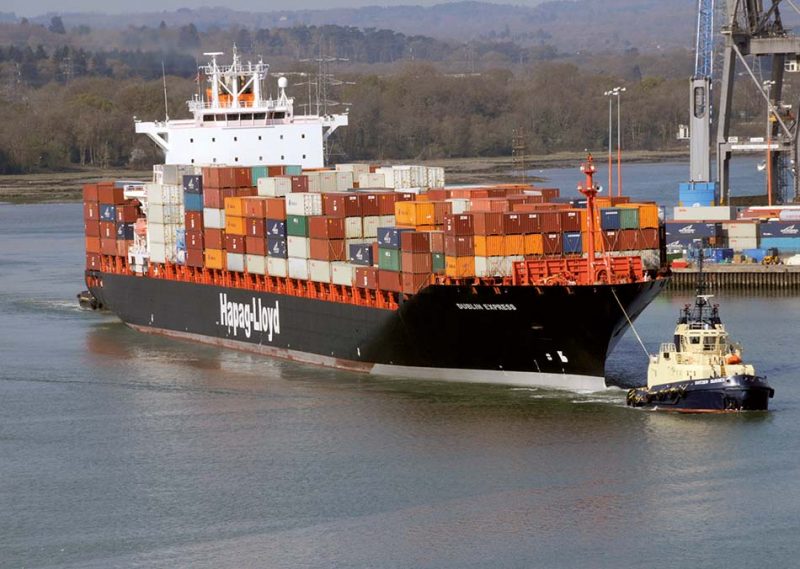 Hapag-Lloyd's 46,009gt/2002 built and 4,120 TEU capacity Dublin Express (above), which suffered an oil spill at New York Container Terminal in Staten Island, was cleared for departure on 4th April. Up to 100,000 gallons of heavy fuel-oil are believed to have been released by the vessel during her transit along the East Coast from Port Everglades to New York and a hole was detected on 28th March.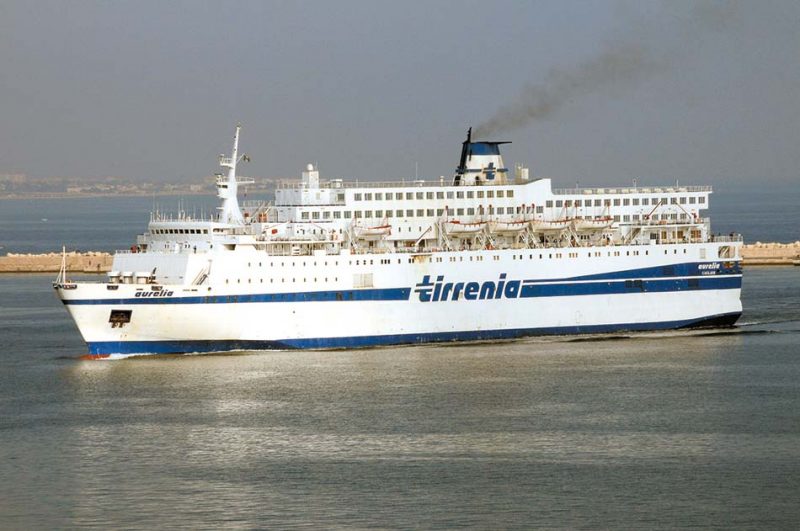 SNAV's 21,518gt/1980 built Aurelia (above) got into difficulty late on the evening of 9th May whilst en-route from Ancona to Split with 250 passengers, 92 crew and 50 cars aboard. One engine failed and the ship was then left adrift in poor weather conditions whilst the Engineers worked to fix the issue. Two tugs were sent to the vessel but had to turn back due to 5m seas. A larger tug then set out to rendezvous with the ferry, which was underway at a slow speed, off the Kornati Islands in Croatia and the stricken ship was taken to Split.
Container Fleets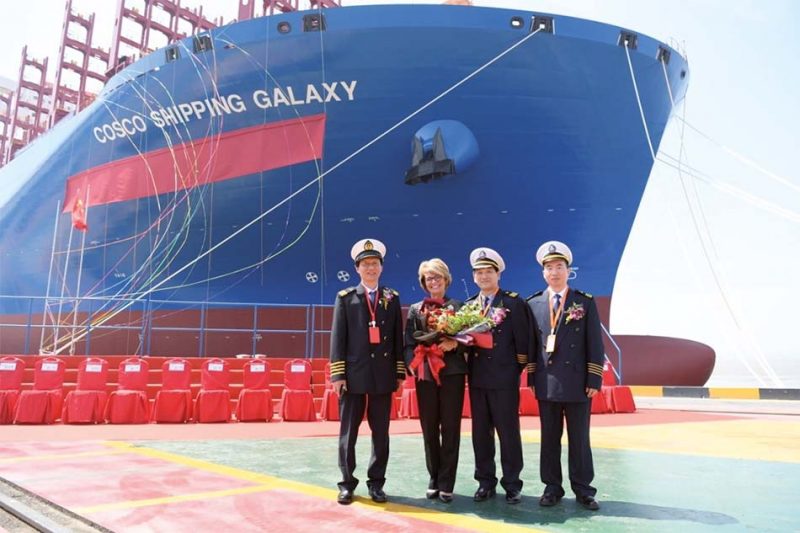 COSCO's third 21,000-TEU capacity newbuild, the 215,553gt/2019 built COSCO Shipping Galaxy, was delivered in April and joined the fleet in early May. The naming ceremony was held at the Jiangnan Shanghai Changxing shipyard (above). The 400m long, 198,500dwt ship is deployed on the AEU1 service.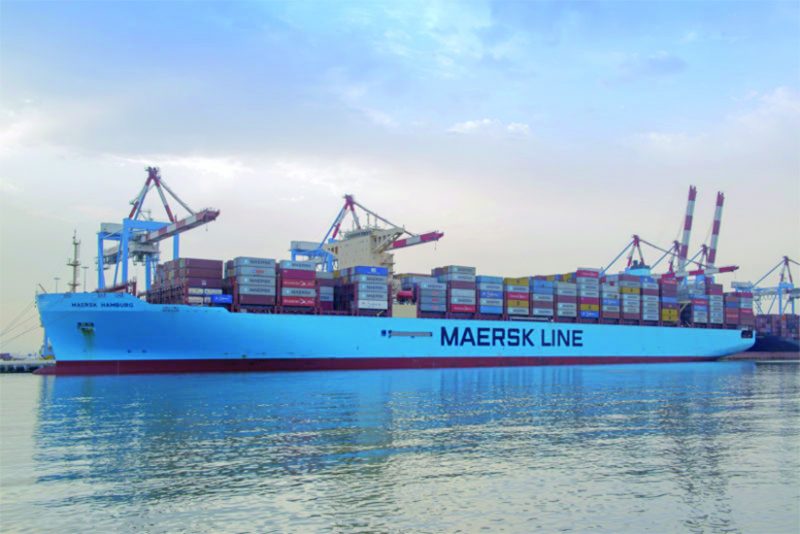 Maersk Lines' 153,744gt/2018 built Maersk Hamburg became the largest ship ever to arrive in Israel when she berthed at Haifa Port on 2nd May with a 2M Alliance call (above). With a capacity of 15,300 TEU, the 354m long, 54m wide and 15m draught ship was able to arrive after the completion of dredging works at the Carmel Terminal. The port has also acquired two new STS container cranes to handle such ships. The next ship of this size to call was the 153,744gt/2019 built Maersk Havana on 9th May.
Offshore News
Vroon Offshore Services (VOS) Aberdeen has been awarded a major new contract with BP Trinidad and Tobago LLC, for the provision of emergency response and rescue vessel (ERRV) services. Under this contract, three vessels are supporting BP's operations in the waters of Trinidad and Tobago. The multiple year, multi-million-pound contract award is a significant milestone for VOS, the North Sea's largest operator of ERRVs. The relocation of three vessels, the 1,325gt/2014 built VOS Fabulous, 1,969gt/2015 built VOS Gorgeous and 1,969gt/2015 built VOS Grace, has seen the Company establish a local presence in this Caribbean country.
Oceaneering International of Houston, Texas, has taken delivery of the 7,647gt/2019 built subsea construction support vessel Ocean Evolution. The Jones Act compliant, multi-service vessel (MSV) will start work in June and is equipped with a 250t heave compensated (AHC) crane, two work-class remotely operated vehicles (ROVs) with AHC launch systems, survey systems and subsea tooling all built for work in up to 4,000m water depths. The ship is 108m long, has accommodations for 110 persons, a 1,170m2 working/cargo deck, a helideck and a working moonpool measuring 7m x 7m. A second auxiliary crane on deck adjacent to the moonpool is capable of handling 40t. Five low-emission EPA Tier 4 diesel engines are fitted, with a combined generating capacity of 16 MW on a three-bus system. The vessel's position at a work site is held using two tunnel thrusters and a retractable thruster in the bow along with two Azipull thrusters in the stern.
Bulk and Tanker News
Mitsui OSK Lines (MOL) has taken its Indian energy shipping aspirations to the next level by investing in six very large ethane carriers that it had been operating on behalf of Reliance.
MOL will split ownership of the ships 50:50 with Reliance, one of India's largest conglomerates led by Mukesh Ambani. On 24th April the company took delivery of the 160,857gt/2019 built VLCC Phoenix Jamnagar from Japan Marine United Corporation. The 311,798dwt vessel will be placed under control of MOL's Singapore-based subsidiary Phoenix Tankers. The 339.5m long/60m beam Malacca Max tanker will primarily be employed for the crude oil transportation to India under a long-term contract between Phoenix and Reliance Industries Limited. MOL also named a pair of LNG carrier newbuildings for Tokyo Gas at Japan Marine United's Tsu Shipyard on 24th April. The 122,000gt/2019 built and 165,000m3 capacity Energy Universe and Energy Innovator were named by Tokyo Gas' Takashi Uchida, with his wife cutting the ribbon. The two new vessels will be used to transport gas from Cove Point LNG Project in the U.S.A to Tokyo Gas in Japan. The newbuilds bring the Tokyo LNG Tanker fleet to 11. The Energy Universe is 100% owned by MOL, while the Energy Innovator is 90% owned by MOL and 10% by Tokyo LNG Tanker.

Tristar Group of the UAE has placed an order for six new 25,000dwt oil and chemical tankers at South Korean shipbuilder Hyundai Mipo Dockyard. The order, announced on 16th April, was the result of long-term charter contracts with oil major Shell with delivery starting from May 2020.
Ports and Shipyards
DEME has been awarded a €238 million and long-awaited contract to dredge the River Elbe in Germany. The project consists of the widening and deepening of the 116 km long fairway between Cuxhaven and Hamburg to a level of 14.5m, which will allow ships to navigate the River Elbe with a draught of 13.5m, compared to the present 12.5m, and not be restricted by the tide.
Cruise News
by Andrew & Donna Cooke
Carnival Cruise Line's 102,239gt/1999 built Carnival Sunrise made her debut at Norfolk, Va. on 29th April following an extensive $200 million renovation that added a variety of food, beverage and entertainment innovations as well as stateroom upgrades. The inaugural season of the ship features 4 to 14 day voyages that visit destinations in the Caribbean, Bermuda, Bahamas, the Panama Canal, New England and Canada, with the first four cruises from Norfolk. The Carnival Sunrise will then serve New York until mid-October. An invitation only naming ceremony was held on board prior to the 23rd May departure with Kelly Arison, daughter of Carnival Corporation Chairman Micky Arison and his wife Madeleine, serving as the ship's godmother. The ship will return to Norfolk in October then reposition to Fort Lauderdale from 28th October.
TUI is to enter the river cruise market with three of its own ships in summer 2020 after acquiring three 155 passenger vessels that will sail seven-night adults-only itineraries along the Danube, Rhine, Main and Moselle. TUI has bought the ships from operators Werner-Tours and Reisebüro Mittelthurgau Fluss, which will continue to operate the vessels until October, after which Tui River Cruises will take control. The ships will then be refitted and renamed Tui Maya, Tui Isla and Tui Skyla, names chosen because of their close association with water and rivers. The vessels will also have a small spa area and whirlpool and 75-80 cabins will be available.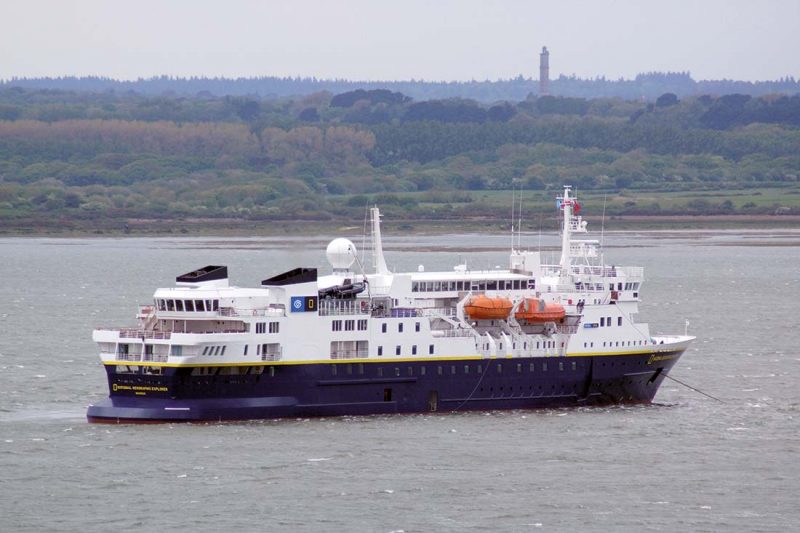 National Geographic's 6,471gt/1982 built N.G. Explorer called at Portsmouth on 9th May and then departed well ahead of schedule and sailed through the Western Solent. The ship dropped anchor just east of Hurst Spit (above) and zodiacs took passengers ashore at Hurst Spit to visit Hurst Castle. This was the first time in living memory that a cruise vessel has called at this location. The only cruise call in the Solent is usually Cowes.
Ferry News by Andrew Cooke
Solent Newbuild Takes Flight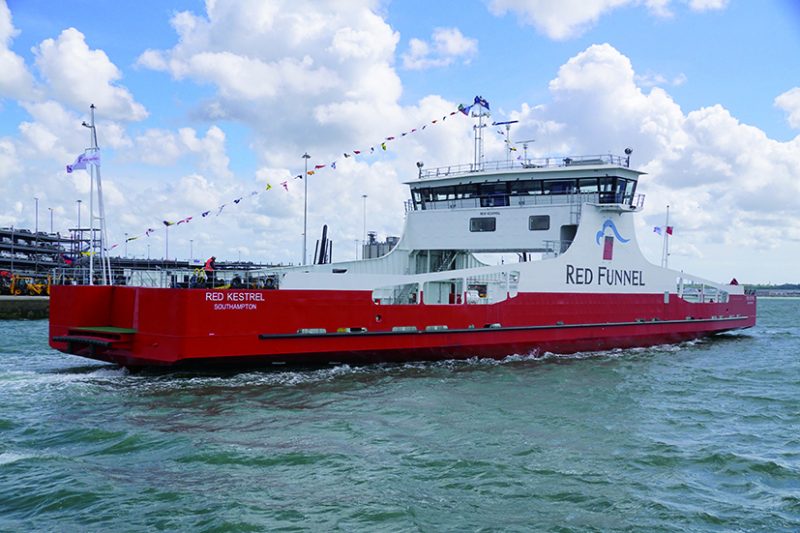 The 1,102gt/2019 built freight ferry newbuild for Red Funnel Ferries, the Red Kestrel, was towed away from her builders at Cammell Laird, Birkenhead, on 11th April by Williams Shipping's 140gt/2000 built tug Willpower. The keel had been laid on 31st March 2018, she was launched on 19th February, went out on sea trials on 8th April and was delivered on 11th April. The ensemble was assisted by the Vital navigating the River Mersey and a stopover was made at Pembroke Dock to avoid some bad weather for rounding Land's End. The Red Kestrel reached her new home of Southampton on the morning of 18th April and on 25th April she was named at the port's Ocean Cruise Terminal (Berth 46) by Karen George, wife of Red Funnel Chairman Kevin George (above). The 12-trailer and 12-driver capacity vessel is expected in service during May and will be the Newbuild of the Month in the August issue.
Catamaran Delivery for W.D.R.
German ferry operator Wyker Dampfschiffs-Reederei (W.D.R) confirmed on 7th May that it had taken delivery of the 250-passenger capacity Rüm Hart for operation on the Wadden Sea. The new vessel was developed by Conoship International. Construction took place at Thecla Bodewes Shipyards in Harlingen, The Netherlands, and, once transferred to Germany, the naming ceremony was scheduled to take place at Wyk on 15th May. Sea trials were completed on 3rd May. The vessel will enter service after the naming, on charter to Adler-Schiffe GmbH & Co. KG, a Westerland-based operator specialising in day excursions and Wadden sea passenger transport under the charter name of Adler Rüm Hart.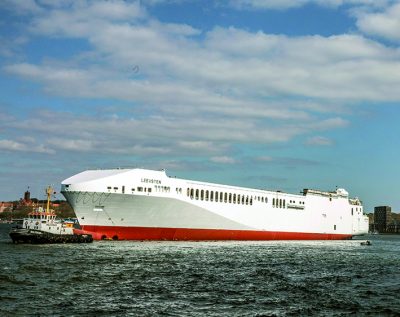 Flensburger Schiffbau-Gesellschaft launched its latest newbuild, the 32,336gt Leevsten (Hull No. 780), on 8th April (above). This latest member of the RoRo 4100 class is 209m long and has capacity for 283 trailers. The ship is the 7th Ro-Ro built for the SIEM Group and her name comes from the Lower German dialect and means "Dearest". Her sisterships, the 32,936gt/ 2018 built Alf Pollak and 32,887gt/2019 built Maria Grazia Onorato, have both been chartered to Moby Lines in the Mediterranean. The latter departed Munkebo after having scrubbers installed on 4th May bound for the Mediterranean, carrying Moby Lines and Tirrenia branding on her colourful livery. The Leevsten will be delivered in September and another sister will follow in 2020.
The Waverley has cancelled all 2019 sailings. The boilers must be replaced if the Waverly is to sail again in 2020.